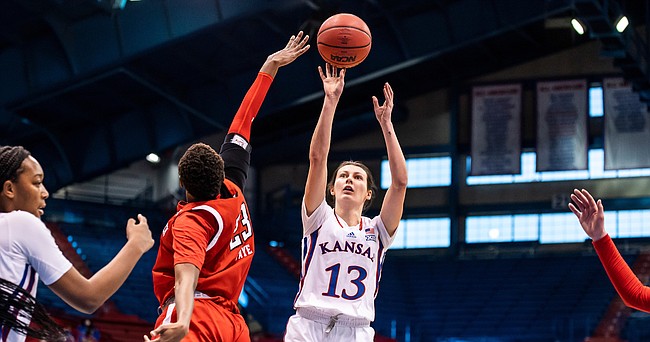 Brandon Schneider isn't focusing on the bigger numbers. He prefers the impact the smaller ones can make.
The Kansas women's basketball coach knows the results of games played at Iowa State in recent years haven't been pretty. The Jayhawks lost by 30 points in Ames last season. They lost by 22 points there the season before and by 20 in 2018-19.
But the two-point home loss to the Cyclones last season, an 84-82 defeat in which KU led into the fourth quarter, is to him the better indication of what should be expected from the Jayhawks heading into Wednesday's game.
"They have virtually the same players and we have a much different team, so I focus a lot more on those positive moments," Schneider said. "We haven't lived at all this year in the rearview mirror. It's a completely different team. New vibe, new attitude, and I think the players demonstrate that on a daily basis."
It has been in many ways a season of transformation for the Jayhawks (12-4, 3-3 Big 12) — as well as a season of firsts. In winning 70-66 at Texas on Jan. 12, they earned consecutive road wins over Big 12 opponents for the first time in Schneider's seven seasons and beat a ranked conference foe on the road for the first time since January 2012.
KU nearly secured another first four days later when it held a four-point lead over Baylor with less than 25 seconds remaining. The Bears, ever resilient, managed to surge back to claim an 82-79 victory and remain one of three Big 12 teams — Iowa State and West Virginia are the others — the Jayhawks have yet to defeat under Schneider.
A 69-61 loss at Kansas State followed, though Kansas rebounded to beat Texas Tech 71-57 at Allen Fieldhouse on Saturday. Those performances have been good enough that the Jayhawks earned one vote in the Associated Press poll on Monday, almost exactly nine years since they were last ranked.
To join the other five Big 12 teams that are on that list, they'll have to go through 13th-ranked Iowa State (16-3, 5-2 Big 12), which was ranked seventh a week ago before absences related to COVID-19 led to a pair of double-digit losses to Texas and Baylor.
"I think Wednesday is just another big opportunity," said junior guard Holly Kersgieter. "I think we're looking forward more to it. We've got more confidence going into this game against this team than we did in the past. Just something to be more excited about and look forward to, even coming off some losses."
In Iowa State, KU will encounter a team that could not play more different than Texas Tech, its last opponent. The Lady Raiders look to push the pace but shy away from taking 3-pointers. The Cyclones, meanwhile, have taken 535 3-pointers, the fifth most in the nation.
They make them, too. Iowa State is knocking down 37 percent of its 3-point shots, good for 16th in the country. That's primarily because of sharpshooters Ashley Joens, a senior who is second in the Big 12 with 20.2 points per game, and Lexi Donarski, a junior who is averaging 14.9 points a game.
Joens, who has scored more than 20 points eight times in 18 games this season, had 23 and 24 points in the two meetings with KU last season. She's one of the nation's best free throw shooters at 88.2 percent, and she has a knack for drawing contact and getting to the line.
"She's just one of those players on a top-ranked team that you have to focus more on," said Kersgieter, who is averaging a team-high 14.5 points per game this season. "You kind of have a different game plan when she has the ball. You know she's going to score and you know she's going to be aggressive, so it's just about maintaining her rather than trying to control everything about her. She's just a natural scorer, a natural athlete. She's a player you're going to have to focus on the most."
And while the focus will be on Joens, it will be on the Jayhawks, too. In recent seasons, an underwhelming nonconference schedule has inflated their record and left them ill prepared for the rigors of the Big 12.
Kersgieter said KU's success in conference games this season has given she and her teammates confidence and made games more fun. Schneider sees it paying off, too — but in bigger ways.
"I think the belief and the confidence is there that we can play with anybody," Schneider said, "but I think we just have to continue to have the humility and the maturity to prepare and focus and play the right way."