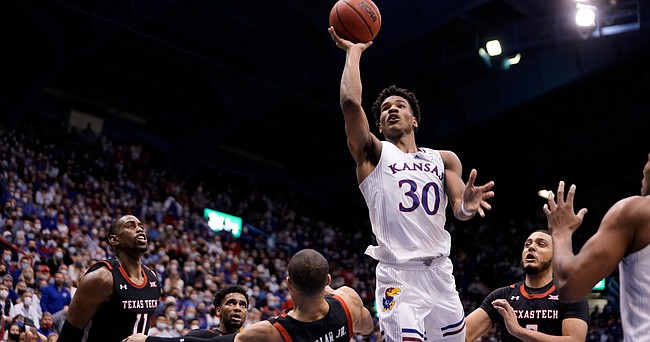 What started as a murmur from one of his teammates way back in early November has grown into a full-fledged roar within the Kansas basketball program.
To a man, the fifth-ranked Jayhawks believe their team has the country's best college basketball player in senior guard Ochai Agbaji. And nights like Monday night make it awfully difficult for others to dispute that.
For the second consecutive game, Agbaji went off, scoring a career-high-tying 29 points while willing KU past K-State over the weekend and following that up with a clutch 37-point effort in a double-overtime home win against, of all teams, Texas Tech.
"People don't do that to them," KU coach Bill Self said of the usually stifling Tech defense.
Get this: The most Texas Tech had given up to an individual player this season prior to Monday night came on Jan. 8, when Agbaji scored 24 against the Red Raiders in a Kansas loss in Lubbock, Texas. Other than that, just six other players have even crossed the 20-point plateau against Tech all season long.
Photo Gallery
Kansas Basketball v. Texas Tech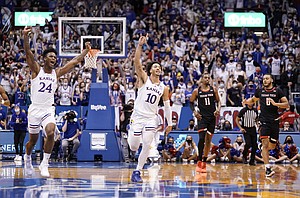 View a gallery of images from Monday night's game between the Jayhawks and Red Raiders at Allen Fieldhouse.
His 37 points were the most by a KU player against a Top-25 opponent in the past 25 seasons.
In two games against Texas Tech this season, Agbaji has made 20 of 35 shot attempts, with 13 of the makes and 21 of the attempts coming from 3-point range. And that's with Texas Tech and its fourth-rated defense gunning to stop him.
"We were trying to keep the ball out of his hands," TTU coach Mark Adams told reporters after Monday's game. "We were trying everything we could."
Technically, it was Kansas freshman Bobby Pettiford who was the first to publicly call Agbaji the best player in the country. The first-year KU point guard said that back on Nov. 9, 2021, with all of one game of experience playing with Agbaji under his belt.
"I told Ochai he's the best player in the country," Pettiford said after KU's season-opening win over Michigan State at the Champions Classic in New York City. "And I truly believe that."
Today, Pettiford has company.
Freshman KJ Adams said it on Monday night, after calling Agbaji "a bad boy," during the postgame press conference.
Junior guard Christian Braun has been saying it for weeks. And now Self, the hardest of all the Jayhawks to impress, has joined the club, as well.
"Let's not call him anything and hope he can keep doing what he's doing," Self said shortly after saying Agbaji's Monday night performance might've been the best individual performance he had ever coached.
"It's too early for any type of postseason awards," Self added. "But he's got to be in the conversation for top two or three for national player of the year. There hasn't been two or three of his equals out there. Now that could change overnight. But what he's done the last three games speaks volumes, not just because of numbers, but because of circumstances and how he did it."
Braun agreed.
"Ochai was huge," he said. "As he has been in every game we've played in. But that was probably his best performance of the year. First-team All-American. National Player of the Year. All the awards need to go to Ochai Agbaji. He shows it night in, night out. There's nobody better in the country."
In addition to soaring past his career-high on Monday night, Agbaji kept his efficiency numbers at a high level, as well.
He scored 37 points on just 23 shots and drained 7 of 12 from 3-point range. Very few of his shots looked forced — or ever do — and if he had hit all of his free throws, which Self was happy to rib him about after the win, he would've tied Andrew Wiggins (41) for the most points scored by a single player in the Bill Self era.
The fact that his biggest 3-pointer, an absolute dagger as pure as driven snow, came with 7.3 seconds left in the first overtime and kept KU's hopes alive merely added the element of Mr. Clutch to his monster night.
Perhaps the most endearing part about Agbaji, the fourth-year player from just down the road in Kansas City, Missouri, elevating his game to this level and having all of these compliments heaped onto him is that he's not having any of it.
He knows, of course, that he is having a strong season. But he views his performance and his individual success as a product of what his team has done. He also prefers to deflect a lot of the credit to his teammates.
"That's the way I am," he said Monday night. "That's the way I'm just going to stay. I'm not going to be over here gloating about it. I'm always going to give my credit to my teammates, because I wouldn't have gotten any of those points without them."
About the closest you'll see Agbaji come to making anything about him came next, after he was asked whether Monday was the best game of his life.
"Yes," he said. "It had to have been, yeah."
After a couple of off days to mend their bodies and minds, Agbaji and the Jayhawks will play host to No. 14 Kentucky at 5 p.m. Saturday at Allen Fieldhouse.