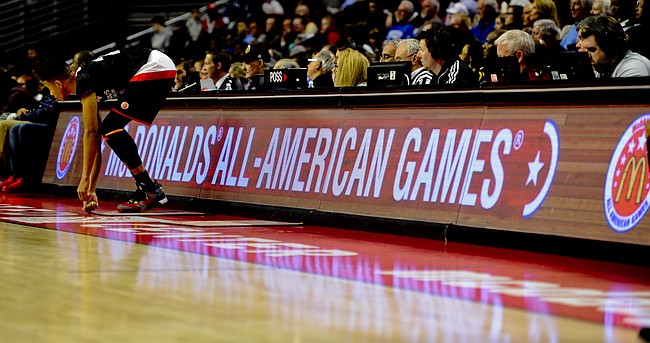 Three future Jayhawks landed spots on the 2022 McDonald's All-American teams, which were revealed on Tuesday afternoon.
Gradey Dick, MJ Rice and big man Ernest Udeh Jr., all earned spots as "Burger Boys," the modern nickname given to those who are picked for the famed annual all-star game.
It marks the first time since 2018 (Devon Dotson, Quentin Grimes and David McCormack) that the Jayhawks landed three signees on the McDonald's teams.
This year's game, the 45th annual playing of the event, is scheduled for March 29 in Chicago. The first McDonald's All-American game took place in 1977, and, since then, dozens of some of the biggest stars in basketball made an appearance in the elite prep showcase.
Dick, a standout wing from Sunrise Christian Academy in Wichita, recently climbed into the top 10 (No. 8) of the updated ESPN.com recruiting rankings for the Class of 2022. Through 16 games this season, Dick is averaging 19 points and five rebounds per game for Sunrise. Dick played his first two seasons of high school basketball at Wichita Collegiate before moving to Sunrise Christian Academy.
Rice, from Prolific Prep in Napa, California, and Udeh, an athletic big man from Dr. Phillips in Orlando, Florida, are both consensus 4-star prospects.
The 6-foot-5 Rice is avearging 19.2 points per game so far in the 2021-22 season. He is ranked No. 19 by ESPN.com and No. 23 by Rivals.com.
Udeh is a 6-foot-10 center with a 7-foot-2 wingspan. Ranked in the top 30 by both ESPN (23) and Rivals (29), Udeh is averaging 14.6 points and 11.1 rebounds per game this season.
That trio joins Zuby Ejiofor as the early signees in KU's 2022 recruiting class, which was ranked No. 1 in the Big 12 and No. 4 nationally by 247 Sports at the time it was officially announced in late November of 2021.
"Overall, this is an outstanding recruiting class and I don't think that we are done by any means," KU coach Bill Self said in November. "We went out to sign five and we got four. I feel great about these four because they are all impact players for us next year."
Here's a quick look at the complete team along with reactions from the future Jayhawks after finding out they had been named to this year's McDonald's All-American squads.
Here's a quick look at all of KU's McDonald's All-Americans:
Darnell Valentine (1977)
Greg Dreiling (1981)
Danny Manning (1984)
Rick Calloway (1985)
Tony Guy (1985)
Mark Randall (1986)
Mike Maddox (1987)
Darrin Hancock (1990)
Ben Davis (1991)
Calvin Rayford (1991)
Jacque Vaughn (1993)
Raef LaFrentz (1994)
Paul Pierce (1995)
Ryan Robertson (1995)
Lester Earl (1996)
Eric Chenowith (1997)
Kenny Gregory (1997)
Jeff Boschee (1998)
Nick Collison (1999)
Aaron Miles (2001)
Wayne Simien (2001)
J.R. Giddens (2003)
David Padgett (2003)
Mario Chalmers (2005)
Micah Downs (2005)
Julian Wright (2005)
Darrell Arthur (2006)
Sherron Collins (2006)
Cole Aldrich (2007)
Xavier Henry (2009)
Josh Selby (2010)
Perry Ellis (2012)
Wayne Selden, Jr. (2013)
Andrew Wiggins (2013)
Cliff Alexander (2014)
Kelly Oubre Jr. (2014)
Carlton Bragg Jr. (2015)
Cheick Diallo (2015)
Malik Newman (2015)
Udoka Azubuike (2016)
Josh Jackson (2016)
Billy Preston (2017)
Devon Dotson (2018)
Quentin Grimes (2018)
David McCormack (2018)
Bryce Thompson (2020)
Gradey Dick (2022)
Ernest Udeh Jr. (2022)
M.J. Rice (2022)