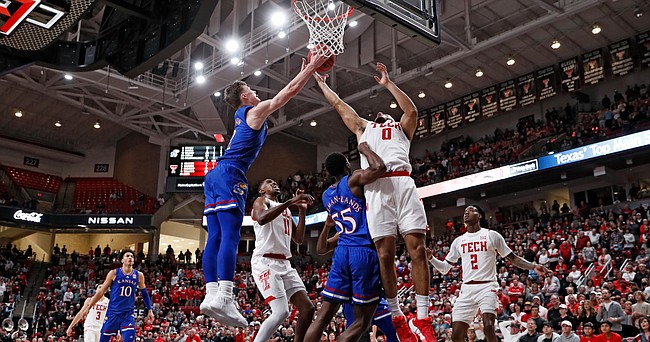 The Kansas men's basketball team will get five days between games this week, with a welcomed gap arriving in the heart of the grind that is the Big 12 Conference schedule.
But first the Jayhawks will have to get through another battle with Texas Tech on Monday night.
The Red Raiders are the first Big 12 program Kansas will see for a second time this season. They're also one of just two teams to have beaten Kansas so far this season. And, as such, Mark Adams' club has an opportunity to join a pretty exclusive list that includes just two programs.
In KU coach Bill Self's 19 seasons in Lawrence, a conference foe has swept the season series from the Jayhawks just twice — Texas a season ago and Oklahoma State in 2017-18.
While KU's focus in Monday's game will be on executing in key areas and competing better and harder than they did in a 75-67 loss in Lubbock, Texas on Jan. 8, keeping the Red Raiders from the season sweep is a byproduct of the Jayhawks' desire to keep their current hot streak rolling.
"We're looking to bounce back and get a win," KU junior Christian Braun said following the Jayhawks' 78-75 win in Manhattan over the weekend. "They're the only team that's beat us in the conference so far. They've got some guys back so they'll be a little bit of a different look, with two of their best players coming back."
That win on Jan. 8 came without Terrence Shannon Jr. and Kevin McCullar in the lineup for Texas Tech. Both average double figures in scoring. And both bring an added dimension of athleticism and experience to the Red Raiders' lineup.
"I don't think they are changing how they play," Self said. "They just have a pro in there (Shannon) in addition to how they played against us. Those two kids are good players. They're different (with them). It gives them more ball handling and more size."
In their most recent outing — a 78-65 home win over West Virginia over the weekend — Shannon scored 23 points to push his scoring average to a team-best 12.8 points per game. McCullar added seven points, five rebounds and four assists in the win over the Mountaineers.
While that duo will bring an added offensive punch to Tech's lineup, the Jayhawks are all aware that any game plan for the Red Raiders starts and ends with figuring out how to solve their defense.
"That game was great preparation for Texas Tech," Braun said of Saturday's win at K-State. "I think (KSU and Texas Tech) play similar. They play a little slower. Their defense flies around."
In looking back on the loss in Lubbock, Self lamented the fact that the Red Raiders completely took away KU's inside presence — David McCormack scored just four points and grabbed six rebounds — and forced the Jayhawks to win the game from the perimeter.
"And we didn't do it," Self said. "Even though we made it close late, they controlled the game in Lubbock and we've got to find a way to keep them out of the paint and find a way to get the ball to the paint (on offense)."
"They took David away for the most part and we've got to figure a way to have more balance," Self added. "I'm sure it will be a pretty juiced-up atmosphere."
Kansas has won four in a row — two at home and two on the road — since losing to Texas Tech. And the Jayhawks (16-2 overall, 6-1 Big 12) will follow up this one by hosting Kentucky at 5 p.m. Saturday in the Big 12/SEC Challenge.
Monday's tipoff is slated for 8 p.m. on ESPN's Big Monday, the first of three appearances by Kansas on one of college basketball's premiere television slots.