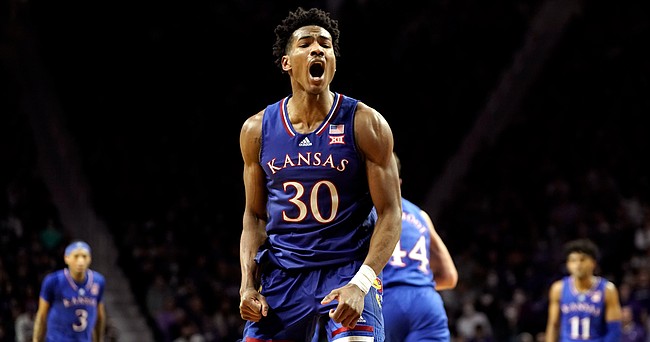 Manhattan — Kansas basketball coach Bill Self tossed one of the strongest compliments he could find toward senior guard Ochai Agbaji following Saturday's 78-75 victory over Kansas State at Bramlage Coliseum.
He called him complete.
No longer just a role player or a strong 3-point shooter or a reliable defender, Agbaji has emerged — and continues to excel — as the seventh-ranked Jayhawks' top offensive option in just about every situation imaginable.
"The way that Och has scored of late shows you that he's a complete guy," Self said Saturday. "Because he didn't shoot the ball well today and still scored 29."
The Big 12's leading scorer shot 10-of-18 overall but just 2-of-8 from behind the 3-point line. He also uncharacteristically missed four free throws, including three in a row on one trip to the line early in the second half.
Photo Gallery
Kansas basketball at Kansas State
View a gallery of images from Saturday's game between the Kansas Jayhawks and Kansas State Wildcats at Bramlage Coliseum.
None of those misses fazed him, though, and there was Agbaji, yet again, with the game on the line and the ball in his hands.
The last two times that situation presented itself — at home against Iowa State and Tuesday at Oklahoma — Agbaji passed the ball to a teammate for the game-winning shot.
Not this time.
With KU trailing by a point and the clock ticking inside of 30 seconds to play, Agbaji drove hard to the rim and hit a little pull-up from just outside of the paint. That put Kansas up by a point and that was all they needed to snag their third Big 12 road win in four tries so far this season.
Agbaji added a pair of free throws after another KU defensive stop just for good measure.
On the possession before that, with the game hanging in the balance, it was clear that the Jayhawks (16-2, 5-1) wanted to put the ball in Agbaji's hands.
David McCormack did and Agbaji, after taking a quick first step to get to the baseline, said it was all second-nature scoring from there as he hit the huge shot over the outstretched arms of K-State defender Selton Miguel.
"He was great for us," Kansas sophomore Jalen Wilson said of Agbaji, who tied his career-high with 29 points, matching what he scored in the season opener against Michigan State. "I don't know how many points he scored of our last points. He was the hot hand and I had full confidence in him making that shot."
Agbaji said it was the comeback-at-all-costs mindset adopted by the entire team on Saturday that helped keep him more focused on the big picture and less on his own play.
He took the shots that were open. He tried to contribute to stringing together stops. And he stayed ready to attack at all times.
"We kept saying it's a long game," Agbaji said after the victory. "Even in the first half, we were like, 'You know, it's a long game.' Things weren't looking up for us then, but we came to the locker room spirits high, positive, just ready to go out and keep chipping away at their lead in the second half."
When that lead was finally gone, just seconds after Agbaji's game-winning bucket and his ensuing rebound of a K-State miss with 0.6 seconds to play, Agbaji showed another key component of his game. Poise.
As the rest of the Jayhawks began to celebrate on the court and near the bench, Agbaji walked with the ball to mid-court and put one hand in the air toward the bench as if to say, "Not yet." Cool. Calm. Collected. Consistent. Never too high nor too low.
The result of yet another stellar showing by Agbaji made headlines on a national scale. Many college basketball analysts tweeted about his performance, with some saying that it made him a virtual lock for first-team All-American honors later this season. Stadium's Jeff Goodman wrote that if the season ended today, Agbaji would have as good a case as anyone to be crowned national player of the year.
While those things were surely nice to hear and read for the KU senior, who returned to Kansas for one more year to deliver performances just like this one, teammate Christian Braun said they were not nearly strong enough.
Four nights after calling Agbaji the best player in the country after KU's win at OU, Braun said it again on Saturday while scoffing at The Sporting News' recent mention of Agbaji as a second-team mid-season All-American.
"There's no question the guy's first team," Braun said emphatically. "He's the best player in the country, as you saw tonight. He played defense, played offense, played his heart out. He's one of the most complete players in college basketball right now. It's exciting to see him play at that level."