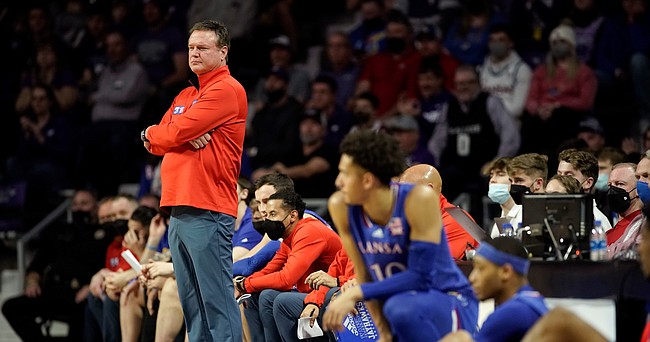 MANHATTAN — Bill Self didn't want the Kansas basketball team's game against Kansas State on Saturday to be about him. But after the death of his father, Bill Self Sr., early Friday morning, his players knew it had to be.
"We talked about how much this game meant to his dad," junior guard Christian Braun said after the No. 7 Jayhawks won 78-75 at Bramlage Coliseum. "And, you know, we felt like we would be letting him down if we didn't give our best effort. We talked about that when we went back on the court that second half. You know, we had to win for Coach."
Kansas trailed 50-34 at the half, and the 17-point deficit it later faced was the largest it has overcome in a road game in school history.
Self Sr., whom his son considered his basketball mentor, was 82. Self spent much of the past week with his family in his native Oklahoma and gave thought to missing Saturday's game, but once his father died, Self decided to return to Lawrence.
"My dad told me before the OU game (on Tuesday) he was upset with me because I missed practices before the game — 'you won't have your team ready,'" Self said. "So, after he passed (Friday) morning early, we decided it would be best if I came up here because that what he would have wanted me to do."
Self spoke to the players briefly after the game about how much the win meant to him given the circumstances, and he carried a small memento with him during the game to remind him of his father.
Photo Gallery
Kansas basketball at Kansas State
View a gallery of images from Saturday's game between the Kansas Jayhawks and Kansas State Wildcats at Bramlage Coliseum.
"To win this one like that was something extra because the way we won it would have been exactly the way he lived — grind it out and make the most of every situation," Self said. "That meant something to him."
Martin struggles; Pettiford out
Senior guard Remy Martin scored just two points on 1-of-6 shooting and missed all three of his 3-point attempts.
Martin, who missed the game against George Mason on Jan. 1 with a knee injury, played 20:08 — the most since he played 25:09 in the Big 12 opener against Oklahoma State on Jan. 4.
The Jayhawks were without freshman guard Bobby Pettiford, who did not warm up and was not in uniform while on the bench. Pettiford returned from an abdominal injury in the win against Iowa State on Jan. 11 after he missed seven games, but no reason was given Saturday for his absence.
Freshman forward Zach Clemence, who has not played since the Jan. 8 loss at Texas Tech because of a foot injury, warmed up but did not play.
Historic duo honored
KU players warmed up in shirts that honored LaVannes Squires, who became the Jayhawks' first black player during the 1951-52 season. Squires, who wore No. 6, appeared in 33 games for Phog Allen from 1952-54 and was on the Jayhawks when they won the NCAA championship in 1952. K-State wore similar shirts that honored Gene Wilson, who broke the color barrier for the Wildcats also in 1951-52.
This and that
The Jayhawks improved to 29-5 at Bramlage Coliseum, which opened in 1988. They have now won the last six games against the Wildcats and 14 of the last 15, and they are 202-94 against K-State all time in the series, which began in 1907. They have not lost to K-State at Allen Fieldhouse since Jan. 14, 2006; the rematch this season is scheduled for Feb. 22. ... Between the win over K-State and Kentucky's loss to No. 2 Auburn, the Jayhawks now only trail Kentucky by three wins for the most in NCAA history. The teams will meet on Saturday at Allen Fieldhouse. ... A season-high 9,737 were in attendance for the game, though it was not sold out. Capacity at Bramlage Coliseum is listed at 11,684.