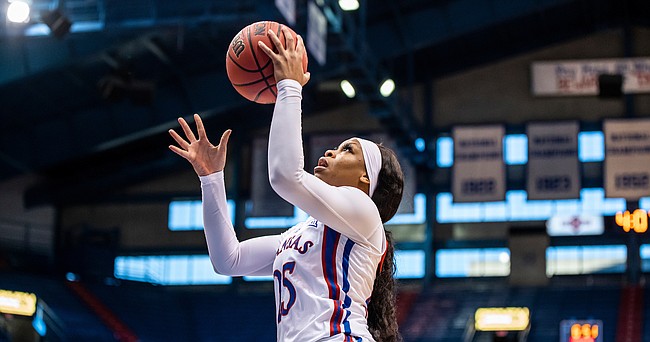 Chandler Prater scored a career-high 18 points off the bench and Holly Kersgieter added 17 as the Kansas women's basketball team defeated Texas Tech 71-57 on Saturday at Allen Fieldhouse.
Ioanna Chatzileonti added 11 points for the Jayhawks (12-4, 3-3 Big 12), who led 34-33 at halftime. They expanded that lead to 11 by the end of the third quarter and watched it narrow to five with 7:39 remaining before they went on a 10-1 run over the next five minutes to hold on.
"This is a really good win for us," coach Brandon Schneider said. "I thought we had a lot of people step up and I was proud of how we closed today."
Prater, a redshirt sophomore from Kansas City, scored 10 of her 18 points in the second quarter. She made seven of her 11 shots, as well as four free throws, to top her previous career high of 14 points, which she scored most recently in the win against Santa Clara on Dec. 12.
The 14-point victory is Kansas' largest over a Big 12 opponent since Feb. 15, 2020, an 82-67 win against Texas.
Vivian Gray scored 32 points on 10-of-22 shooting to lead the Lady Raiders (9-9, 2-5 Big 12), who shot a collective 40.8 percent.
"Texas Tech is a good team," Schneider said. "They lost some games in nonconference when Vivian didn't play, but they have conference wins over K-State and Texas. Any win in this league is a good win and I'm glad we got one tonight."
Kansas, which broke a two-game slide and a three-game losing streak against Texas Tech, made 19 of its 21 free throw attempts. It scored 27 points off Texas Tech's 18 turnovers and held a 34-20 advantage on points in the paint.
Taiyanna Jackson led the Jayhawks with seven rebounds, and Kersgieter and Chatzileonti each had six.