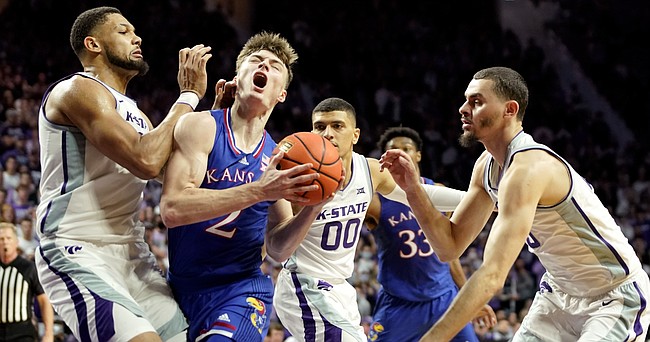 MANHATTAN — Ochai Agbaji made the go-ahead basket with nine seconds remaining as the No. 7 Kansas basketball team recovered from a 17-point deficit and defeated Kansas State 78-75 on Saturday afternoon at Bramlage Coliseum.
Agbaji matched a career high with 29 points and had seven rebounds, and David McCormack had 11 points and 15 rebounds for the Jayhawks (16-2, 5-1 Big 12), who have now won their last four games and stretched their winning streak in the Sunflower Showdown to six games.
Dajuan Harris Jr. rebounded Markquis Nowell's 3-point attempt with 24.7 seconds remaining and the Jayhawks got the ball in the hands of Agbaji, who gave KU its first lead since three minutes into the game.
Nijel Pack, who scored a career-high 35 points, tried a 3-pointer that would have tied the score with five seconds remaining. But his miss landed in the arms of Agbaji, who sank two more free throws with 0.6 seconds left.
Pack, a sophomore guard from Indianapolis, was practically unstoppable for the Wildcats — especially in the first half. He scored 22 points, one more than his season high, before halftime, and he made his first six shots, including a quartet of 3-pointers. His shooting lifted K-State, which went 19-for-32 (59.4 percent) in the opening half.
KU, meanwhile, made just one field goal over the final 7:55 of the first half — a 3-pointer by Jalen Wilson, who finished with 16 points and 10 rebounds. K-State closed the half on a 6-0 run to enter halftime up 50-34, and withstood a 7-0 run by the Jayhawks early in the second half but started to wear down shortly thereafter.
The Wildcats went nearly five minutes without a field goal to allow KU to pull within four at 63-59 with 8:50 to play, and the deficit had been trimmed to as little as three points with 4:35 to play when Agbaji made a pair of free throws that made it 70-67.
Christian Braun had 11 points for the Jayhawks, who shot 44.1 percent but went 21-for-30 from the free throw line. Kansas State (10-8, 2-5 Big 12), which had won its previous two games, shot 45.8 percent, but it went 29.6 percent in the second half after making 59.4 percent of its shots in the first.
The Jayhawks will be back on the court Monday night, when they'll face No. 18 Texas Tech at Allen Fieldhouse. The Red Raiders won the teams' first meeting, in Lubbock, 75-67 on Jan. 8.