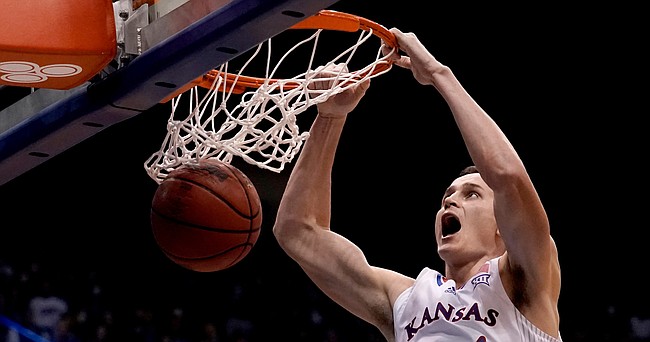 Jalen Wilson didn't know about the Kansas basketball team's success at Kansas State's Bramlage Coliseum until he asked about it on Friday afternoon.
After he was told the Jayhawks are 28-5 in the building since it opened in 1988, the redshirt sophomore forward embraced the history.
"I think the pressure will be on them more than us," Wilson said. "I think we're pretty comfortable there, I guess."
That would be a welcome change for the Jayhawks (15-2, 4-1 Big 12), who have been rather uncomfortable lately. They enter Saturday's game with a three-game winning streak — two of which were down-to-the-wire victories at home against Iowa State and at Oklahoma.
Even in the third, an 85-59 throttling of West Virginia at home a week ago, the Jayhawks only held a two-point lead at halftime.
The first installment of the Sunflower Showdown — the rematch is set for Feb. 22 at Allen Fieldhouse — pits KU against a team in K-State (10-7, 2-4 Big 12) that beat then-No. 19 Texas Tech and No. 23 Texas in consecutive games in the past week.
Those victories, which followed a pair of three-point losses, should give fuel to what could be a raucous atmosphere in Manhattan.
"I hope it's like the K-State we know, when it's jumping there and their fans are getting rowdy," said senior forward Mitch Lightfoot. "I think all of us can appreciate that. Playing in those environments is something that these younger guys need to learn to appreciate because not everybody gets the opportunity to do that. The hostile environments are usually the most fun to play in."
Acclimating those "younger guys" to the rigors of the Big 12 is becoming increasingly paramount for the Jayhawks, who will need contributions from their freshmen to help them through the rest of the season.
Guard Bobby Pettiford played 8:19 in the 62-61 win over Iowa State on Jan. 11, his first game back after an abdominal strain kept him out for nearly a month. Forward K.J. Adams started that game and had three points and two rebounds in a season-high 9:56. And Zach Clemence, who hasn't played since Jan. 8 against Texas Tech because of a foot injury, had been averaging nearly six minutes a game.
Against Oklahoma on Tuesday, Adams played just 3:32 and Pettiford did not leave the bench. Assistant coach Norm Roberts said Friday that Pettiford just needs to get used to playing. His ballhandling skills and ability to go to the post are on par with fellow KU point guards Dajuan Harris Jr. or Remy Martin, but asking Pettiford to play against a team like West Virginia and its usually stifling defense — which he did for nearly three minutes on Jan. 15 — is like "throwing him to the wolves," Roberts said.
"He's never seen that before in his life," said Roberts, who met with the media on Friday in place of head coach Bill Self. "He's getting better every day. He's got to let the game come to him. He's got to be aggressive, but he's also got to let the game come to him when he's out there. He'll get better as he gets out and gets more reps."
Lightfoot, a sixth-year senior, said having experienced players like Ochai Agbaji, David McCormack and even himself in the rotation helps with team chemistry. The Jayhawks entered the season with 10 new players, including a pair of senior transfers in Martin and Jalen Coleman-Lands and the three main contributing freshmen.
"Close games like that can bring teams closer together," Lightfoot said. "Figuring out ways to win those games where you don't play great, you have Ochai getting hurt, you're missing Remy — you find ways to win those close games, that helps teams take a step forward and come closer as a team."
But Lightfoot also believes their collective success shows the younger, more inexperienced players the importance of trusting in their development. Few can be like Duke's Zion Williamson or Kentucky's Karl-Anthony Towns, who took the sport by storm as freshmen, were All-Americans and became No. 1 picks in the NBA Draft. Believing the coaches and grinding is a much more common experience.
"Like, trusting the process has worked out for Och," Lightfoot said. "Trusting the process has worked out for [Christian Braun], Dajuan, Dave, myself. It's pretty evident. I don't think we have to go out there and preach it to them. They can see it."