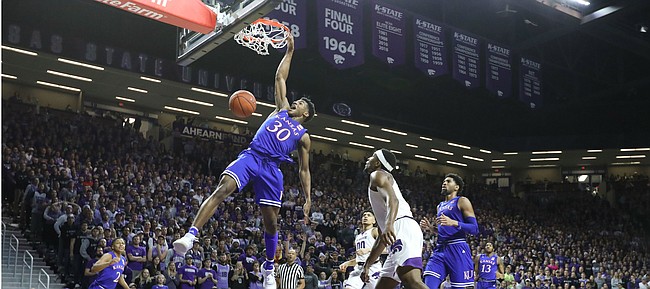 No. 7 Kansas Jayhawks (15-2 overall, 4-1 Big 12) at Kansas State Wildcats (10-7 overall, 2-4 Big 12)
Time: 3 p.m., Saturday, Jan. 22, 2022
Location: Bramlage Coliseum, Manhattan, Kansas
TV: Big 12 Now/ESPN+
Radio: IMG Jayhawk Radio Network
Keys for Kansas
1. 3-point shooting
In the Wildcats' two recent wins over ranked Texas Tech and Texas, the K-State defense limited both teams to 4-of-17 shooting from behind the 3-point line.
In addition to limiting the total points and momentum swings by keeping opponents from connecting from the outside, K-State's stout 3-point defense takes some of the pressure off of the Wildcats' offense.
K-State ranks fifth nationally in 3-point defense, per KenPom.com, and the Wildcats' overall defensive efficiency rating is the 29th best in the country.
"They play aggressively defensively," KU assistant coach Norm Roberts said Friday. "They take you out of what you want to do; they press you out of what you want to do."
Fueled by their recent string of upsets and a home crowd that always is out for blood when Kansas comes to town, this K-State defense should be as turned up as any the Wildcats have seen all season.
Just one team — Illinois at 52.1% back in late November — has topped 50% shooting in a game against the Wildcats this season. And roughly half of K-State's opponents (8 of 17) have shot worse than 40% in their matchup with the Wildcats.
Extending that out to the 3-point line, 12 of the Wildcats' 17 opponents this season have shot 30% or worse from 3-point range, with five of those 12 hitting 20% or worse.
Beyond the percentage, Kansas State's defense has held opponents to five 3-point makes or fewer nine times this season.
2. Size advantage in the backcourt
Kansas State guards Nijel Pack, at 6-foot-3, and Markquis Nowell, at 5-8, have been largely responsible for the Wildcats' recent surge.
Both have played terrific basketball on offense and defense and both have used their quickness and pest-like nature to create problems for opponents.
While that's easiest to see on defense, where the two KSU guards love to live in the personal space of opposing ballhandlers, Roberts said their offensive production also has been problematic for opponents. And that, too, is tied to their size and quickness.
"I think you try to make them uncomfortable as much as possible," Roberts said. "You don't want to give them too much space because once you give them space they can get into smaller cracks and then they're into the teeth of your defense and then you have a lot of problems."
KU sophomore Jalen Wilson said the Jayhawks are comfortable playing any style, whether that's run-and-gun against smaller teams or a physical battle with bigger squads.
"It doesn't matter," he said when asked how the Jayhawks match up with smaller lineups. "With our length and how big we are as a team, if guys want to (play small), we just have to take advantage of them on the offensive end."
One way the Jayhawks could do that is by utilizing Wilson, Ochai Agbaji and Christian Braun in the post. KU coach Bill Self said earlier this season that he planned to use his bigger guards in the post more than ever before, and he has shown that a few times per game on most nights.
As for the disadvantages of facing guards like Pack and Nowell, Wilson said the old adage "smaller is faster" comes into play. But with Dajuan Harris Jr. and Remy Martin on the smaller and quicker side, Wilson said he thought the Jayhawks "have the team to adjust to anything."
Roberts agreed and said the biggest key was to find a way to stay in front of those two when they have the ball in their hands.
"We've got to be able to keep them out of the lane," he said. "We can't give them easy baskets. We can't give them straight-line drives. They're really good at that."
Roberts also said the entire K-State roster does a good job of playing off of shot fakes, so staying down and disciplined will be a big key for Kansas.
3. Embrace the chaos
Roberts has a simple philosophy for how to handle the raucous K-State crowd that no doubt will be awaiting Kansas when the Jayhawks arrive at Bramlage Coliseum on Saturday — Embrace it.
"You have to. You have to," Roberts said on Friday. "We talked about that with our guys last practice."
While some players on this Kansas team have seen Bramlage at its best, several others have not.
Last year's crowd restrictions because of COVID-19 played a role in that. And even guys like Jalen Coleman-Lands, who played at K-State when he was a member of the Iowa State Cyclones, did not see anything in that one like he's about to experience in this one.
KU senior Mitch Lightfoot, who has been to Bramlage plenty of times, looked and sounded giddy when asked about his latest trip on Friday.
"They're definitely a good team and we've got to lock in and take this extremely serious," said Lightfoot, noting that the K-State student section can get "rowdy" and "jumping."
Wilson, who was injured when KU went to Manhattan during his true freshman season, has not experienced playing in front of K-State's loudest and proudest, but he remembers seeing it.
Typically, the K-State students come carrying dozens of signs, ready to fire insults and scream at the top of their lungs for as long as it takes. Wilson called it a good atmosphere and K-State coach Bruce Weber said he hoped the home crowd would help K-State and not hinder them.
"One of the things when we had the program come in here, the guy kept telling them, 'You don't get up for big games. Your habits and your discipline show up in big games,'" Weber said this week. "I think (that's) going to be really important."
Marquee Matchup
K-State senior Mark Smith vs. Kansas senior Ochai Agbaji
While there have been plenty of great individual battles and players and rivalries throughout the history of the KU-K-State series, this is a first.
One of the Wildcats' top players used to be a Missouri Tiger.
And Mark Smith is playing lights-out basketball right now.
"Smith has taken it to a different level," Roberts said Friday of the 6-foot-4, super-senior who transferred to K-State from Missouri in the offseason for his final year of eligibility.
Roberts said Smith's ability to score at all three levels — driving the slot, hitting 3s and getting to the rim — has made him a tough matchup for anyone. And he'll get the opportunity — at least at times — to prove himself against one of the top candidates for national player of the year to date in Agbaji.
Even after scoring just 10 points in KU's win over Oklahoma on Tuesday, Agbaji still leads the Big 12 in scoring at 19.9 points per game. His injured left wrist, which Roberts said was sore but fine on Friday, contributed to him struggling to score.
But he came through when the Jayhawks needed him the most, and he'll look to get back on track against Smith and the Wildcats after a couple of down days and some treatment.
Smith currently ranks 17th in the Big 12 at 11.3 points per game, but he scored 22 in the win at Texas on Tuesday and has a 25-point game at Oklahoma on his stat sheet this season.
Weber said he was surprised by Smith's athleticism when he arrived on campus, calling him a bull in a china shop, while adding, "and he's definitely not the china in that equation."
Weber also said Smith's recent hot streak has been the product of the 6-foot-4, 225-pound transfer having a better feel for the game of late.
"Understanding when to go and when not to," Weber said.
Jayhawk Pulse
On the road for the fourth time in six conference games already, the Jayhawks have spent some time this week reminding themselves of their mantra in hostile territory.
"It's just us," Roberts said, noting that the 15-20 Jayhawks in the huddle are often the only ones in the building who want to see things go well for the Jayhawks when they're playing away from Allen Fieldhouse.
"We've got to rely on each other," Roberts added. "We've got to talk to each other. We've got to play through mistakes. We've got to be here for one another. Coach (Self) loves that type of environment and our guys know they've got to embrace that."
Kansas is 28-5 inside Bramlage Coliseum and 80-47 all-time in games played in Manhattan.
Overall, the Jayhawks have won five in a row, 13 of the last 14 and 62 of the last 68 games against KSU. KU's 201 all-time victories over K-State rank as the most in NCAA Division I history by one opponent over another.
While KenPom lists KU as just a six-point favorite in this one, the site gives the Jayhawks a win probability of 71%.
The Wildcats no doubt would like to play this one in the 60s. But if the Jayhawks can push it into the 70s or above, that would bode well for their chances, both because it would break down the K-State defense and because the Jayhawks have a more talented offense from top to bottom.
KenPom currently lists Kansas with the third best efficiency rating in the country. The Jayhawks are also in the top 25 in effective field goal percentage, 2-point percentage and offensive rebound percentage.
If Kansas can make all three of those areas big factors in this one, the Jayhawks could be well on their way to moving to 3-1 in the conference away from home.

Probable Starters
No. 7 Kansas
G – Dajuan Harris Jr., 6-1, 180, Soph.
G – Ochai Agbaji, 6-5, 210, Sr.
G – Christian Braun, 6-7, 205, Jr.
F – Jalen Wilson, 6-8, 225, Soph.
F – David McCormack, 6-10, 265, Sr.
Kansas State Wildcats
G – Nijel Pack, 6-0, 180, Soph.
G – Markquis Nowell, 5-8, 160, Jr.
G – Mark Smith, 6-4, 225, Sr.
F – Selton Miguel, 6-4, 210, Soph.
F – Davion Bradford, 7-0, 270, Soph.