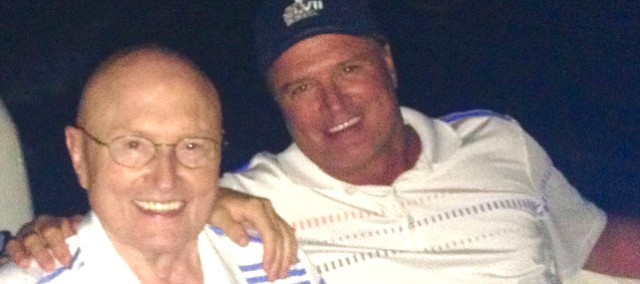 Bill Self Sr., the father and first basketball mentor for Kansas basketball coach Bill Self, has died, the Journal-World learned Friday.
He was 82.
Known throughout his life as a coach and educator who valued hard work and toughness over everything, Self Sr. is perhaps best known by Kansas fans for the mantra that stuck with his son throughout his playing and coaching life.
"Don't worry about the mules, just load the wagon," Self Sr., used to say.
The phrase, which emphasized putting your head down and going to work, was so engrained in Self's psyche that he chose it as the quote to add to the bench bearing his name outside the Naismith Memorial Basketball Hall of Fame.
Prior to his induction in 2017, Self received a photo of the quote on the bench and promptly sent it to his mother and father.
When Self Sr., asked where the bench was located, his first guess was KU. He then guessed the College Basketball Hall of Fame in Kansas City, Missouri. When Self told him that it was at the Naismith Hall of Fame in Springfield, Massachusetts, next to Jim Valvano's famous "Don't give up, don't ever give up," message and around the corner from similar inspirational words picked by Tom Izzo and Mike Krzyzewski, Self said his father "was just blown away by that."
"Hey, Bill Self Sr., from Hitchita, Oklahoma, you got your quote out there just like everybody else did,'" Self said in 2017. "I think it meant something to him."
In April of 2017, shortly after Self was announced as a member of the Hall of Fame's 2017 class, his father shared with the Journal-World the moment he first realized his son could be a heavy hitter in coaching.
"Before he left (Oral Roberts), I saw where he had some coaching ability," Bill Self Sr. said in a 2017 interview with the Journal-World. "And when I saw him coach against Nolan Richardson at Arkansas when he was at ORU and against Eddie Sutton at Oklahoma State, I could see then that he could coach with those guys."
Self Sr., also said then that one of the traits he admired most about his son's coaching chops was "his ability to keep his players cool."
"I have to say that's a little bit of a surprise to me because I wasn't that cool when I was coaching," Self Sr. added in 2017.
In addition to winning an Oklahoma state title with the Morris High girls program in 1966, Self Sr., worked for the Oklahoma Secondary School Activities Association from 1972-99, serving as its executive director from 1991-96.
Self Sr., was present at Self's Hall of Fame induction in 2017 and at several Kansas games throughout the past 19 seasons. Self Sr., also inducted his son into the Oklahoma Sports Hall of Fame in 2013.
Self did not attend Friday's press conference to preview Saturday's game at Kansas State. But assistant coach Norm Roberts said he expected Self to coach the game.
According to an obituary for Self Sr., in The Oklahoman, funeral services are pending.