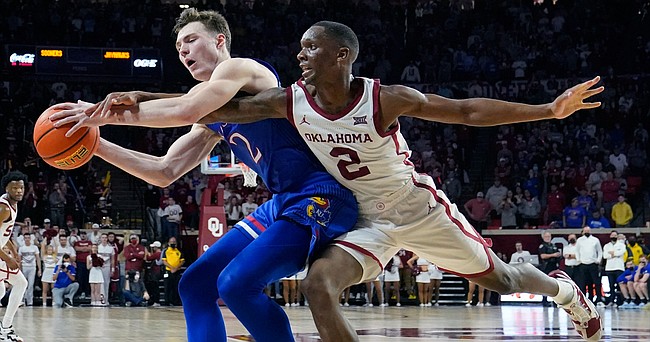 Most years, protecting one's home court is a major component of being in the Big 12 men's basketball title race all the way to the end.
But this season, perhaps more than ever, winning away from home could be a prerequisite for simply keeping pace.
In 28 Big 12 games so far this season, the road team already has won 10 times, with Kansas being responsible for two of those 10 wins — at Oklahoma State on Jan. 4 and at Oklahoma on Tuesday night.
Seven different Big 12 programs already have won at least one road game this season, with Baylor leading the pack with three wins away in enemy territory. KU and Baylor are the only Big 12 teams that have won more than one road game so far.
It's worth noting that the Bears also have lost two home games already, which somewhat evens out what the defending national champs have been able to do away from home.
Only Iowa State (0-3), Oklahoma (0-3) and West Virginia (0-2) have yet to win on the road.
To get an idea of just how strong the conference is this season, top to bottom, look no further than the national rankings. While five of the 10 Big 12 programs were ranked in the AP Top 25 heading into the week, the more impressive feat is that all 10 teams are currently ranked in top 61 of the KenPom.com rankings.
Oklahoma, which lost to KU at home in its most recent game, actually moved up in the KenPom rankings despite the loss.
Let's go one step further: Kansas, as the No. 7-ranked team in the AP poll and second-highest ranked team per KenPom at No. 8, currently ranks 33rd nationally in KenPom's defensive efficiency rankings. That puts the Jayhawks dead last among Big 12 teams in that specific category.
With defense being where most of the conference hangs its hat, going into a hostile environment and winning could be more common throughout the regular season because, as the saying goes, defense typically travels.
For years, Kansas has separated itself from the rest of the Big 12 by winning away from home at a much higher clip than anyone else. At one point, KU's winning percentage on the road in conference play was higher than any other Big 12 team's overall winning percentage, home or away. It's feats like that that can help you win an NCAA-record 14 consecutive regular season conference titles.
Even though that streak ended and KU has won just one of the past three Big 12 regular season titles (2019-20), the Jayhawks are off to a strong start on the road again this season.
Kansas is 2-1 away from home in conference play so far — 7-2 outside of Allen Fieldhouse overall — and will head back out on the road at 3 p.m. Saturday for the first edition of the Sunflower Showdown against Kansas State.
KU's stellar home record under Self (286-15) has been well documented and been a huge part of the Jayhawks' overall success during his 19 seasons in charge of the program. But Self has talked for years about road games giving the Jayhawks a chance to tighten their huddle and take on a rare us-against-the-world mentality not commonly seen with blue blood programs.
Junior Christian Braun said the significance of winning a three-point grinder like No. 7 Kansas did at Oklahoma on Tuesday night had a lot to do with that.
"We talk about becoming a team a lot," Braun said Tuesday. "Coach always tells us you're not a team until you go through some adversity, and games like that is the adversity he talks about. (When) you string some of those games together, that's kind of when you become a team and you're battle-tested a little bit."
One way Self tool uses to prepare his teams to survive the obstacles they face away from home is the approach he takes going into road them.
"Embrace ugly games, grimy games," Self said explaining his general philosophy on how to attack the Big 12 this season. "I don't think we did a great job of that (vs. OU) but we did a good enough job."