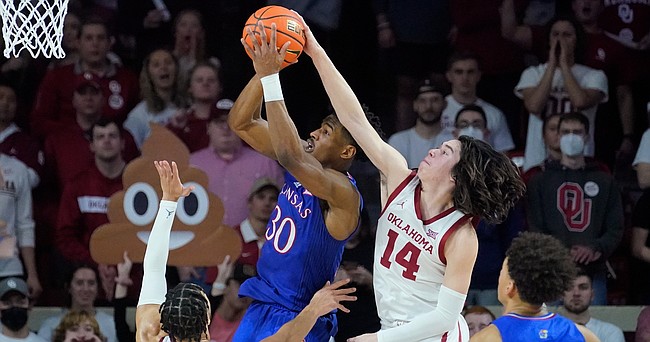 His Kansas basketball teammates never questioned whether Ochai Agbaji was up for the challenge or taking a big shot or playing through an off night.
But on Tuesday night in Norman, Oklahoma, the Jayhawks found out just how tough their leading scorer is.
After colliding with the scorer's table while trying for a steal midway through the first half, Agbaji bounced off of the table while grabbing his left wrist in obvious pain.
After initially staying on the floor to make sure the Sooners did not have a five-on-four advantage on the inbounds play, Agbaji checked out, with Jalen Coleman-Lands subbing in to replace him.
"He hit that thing pretty hard," junior guard Christian Braun said. "That just shows you Ochai's toughness."
Document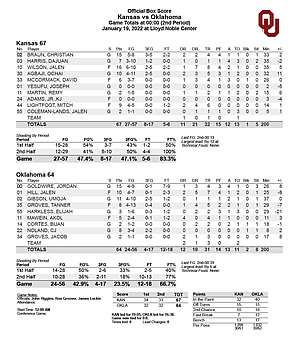 For a while, Kansas coach was unsure of what exactly had happened. Agbaji initially went to the end of the bench with head trainer Bill Cowgill. After a couple of minutes of examination on the bench, he went to the locker room for an X-ray at the Under-12 media timeout.
"I didn't know that he went to the locker room," Self said after the game. "When I said, 'Where's Och,' the manager came back and told us X-rays were negative and he'd be back out here."
"That's a good break for us," Self added. "If he broke his wrist or something, I don't know what we'd do in that situation."
As it went down, Self said Agbaji was likely dealing with some kind of sprain. The wrist was heavily taped when he checked back into the game about eight minutes of game time after checking out. And he left Lloyd Nobel Center with the wrist wrapped and packed in a huge bag of ice.
Prior to any of that, though, Agbaji gutted it out and showed his teammates what he was made of. His only chance to even test the wrist came when he inbounded the ball after checking back in. Before the official whistled for the play to start, Agbaji grabbed it, dribbled once with his left hand and then handed it back.
Thirty minutes later, he delivered one of the biggest stretches of his career to help KU escape with the victory.
"That's what the best player in the country does," Braun said of Agbaji following the Jayhawks' 67-64 win over the Sooners. "Big players have to make big plays when (the team needs) them. Hurt wrist. Taped up. Didn't make a shot all night and then (he) comes in and gets 10 points in a row down the stretch."
It wasn't exactly 10 in a row. Jalen Wilson hit two free throws with 1:28 to play to interrupt Agbaji's tear. But all 10 of his points were massive, including a pair of 3-pointers that kept the Jayhawks in it and a driving layup with 1:04 remaining that gave KU the lead and the upper hand heading into the decisive final minute.
"He was huge," Wilson said of Agbaji. "He came back and gave us some of the greatest plays of the game. When the time counts, he always steps up."
The fact that the Jayhawks (15-2 overall, 4-1 Big 12) were able to get to halftime with the lead speaks volumes about what Wilson and the rest of Agbaji's teammates were able to do in his absence.
KU led 13-9 when Agbaji checked out and 17-14 when he went to the locker room. When he checked back in, KU trailed 28-24, but, even with Agbaji not scoring or assisting on a single basket the rest of the half, the Jayhawks managed to take a 34-32 lead into the break with him back on the floor.
Mitch Lightfoot scored five points during the stretch and Braun and Wilson combined for the other five, while the Kansas defense held OU to just four points in the final 5:25 of the half.
"I just know that when a guy goes down, we all have to step up for him," Wilson said of KU's mindset without Agbaji. "It's our responsibility to play as a team no matter who goes down. (Tuesday night), I think we did that."
The Jayhawks were scheduled for an off day on Wednesday and will return to practice on Thursday to begin preparing for Saturday clash with Kansas State in Manhattan. Self said he expected the KU senior to be OK for that one, even if his left wrist is a little sore the rest of the week.
"He's got a sprained wrist or whatever," Self said. "But I'm not going to go into exactly what the prognosis is or if he'll practice on Thursday. I have no idea."
Saturday's Sunflower Showdown is slated for 3 p.m. on ESPN+.