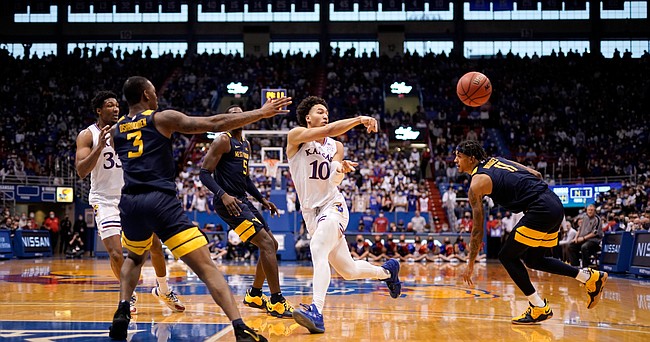 After coming off the bench in his first eight games of the season, Kansas forward Jalen Wilson's numbers have taken off during his recent stretch of four starts in five games with senior guard Remy Martin out with an injury.
The 6-foot-8 sophomore has recorded two 20-point games, knocked in six 3-pointers in 14 attempts in the past three games, and delivered back-to-back games of five assists, all while averaging seven rebounds per game, as well.
There might not be any scientific correlation between Wilson starting games and his solid stat lines, but Kansas coach Bill Self believes that being in that first five might be at least partially responsible for Wilson's recent success.
Photo Gallery
Kansas basketball v. West Virginia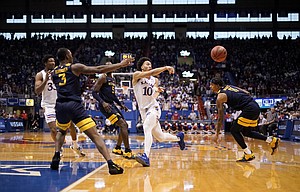 View a gallery of images from Saturday's game between the Kansas Jayhawks and West Virginia Mountaineers.
"I do think that that could possibly matter more with Jalen," Self said last Friday.
When discussing the perception associated with Wilson as a starter and Wilson as KU's sixth man, Self presented it this way: "Jalen's a guy that tried to go to the league (NBA) last year. Tried to go to the league and you're not a starter?"
After pouring in a career-high tying 23 points on 10-of-13 shooting in KU's win over West Virginia, Wilson was asked if being a starter mattered to him.
His answer?
"It's whatever," he said.
It turns out that the sophomore wing's recent surge has much more to do with Wilson operating with the right mindset than it does whether or not he hears his name called during pregame introductions.
"I'm just trying to bring as much as energy as I can," Wilson said after the win over West Virginia. "I think before I was focused on the wrong things, but now I'm just like, let me be the spark that we need, the energy that we need and just continue to make plays."
It was clear that Wilson's preseason DUI arrest that may have cost him a starting spot had some kind of impact on the way he began the season.
But until Saturday, Wilson had not really acknowledged that. After the WVU victory, however, which, coincidentally, he called one of the more fun games the Jayhawks have played in a while, Wilson admitted that the early-season suspension affected his play upon his return.
"After missing a couple games, I think I was just focused on, 'Let me just do this for myself,'" Wilson said Saturday. "And now I'm thinking, 'Let me do this for my team.' When I think like that, I play at my best. And I think we're all at our best when we're thinking (like that)."
Wilson's ability to impact a game goes far beyond whether he makes shots or gets to the rim off the dribble.
Last season, in 26 starts as a redshirt freshman, Wilson led the team in rebounding and he has shown again this season that getting on the glass is one of his strengths.
He also is one of KU's fastest players in the open court and, in recent games, has started to use that speed and attacking mentality in transition to create opportunities of others as often as himself.
"Jalen Wilson is a very good basketball player that can score eight points and play great or he can score 23 points and play great," Self said, hinting at Wilson's versatility.
Added KU senior David McCormack: "I think not only did the lid come off for him, he made the right reads. It seemed like the game kind of slowed down. He was able to see things before they happened. That's just a credit to him and his basketball IQ."
When he puts all of his skills together and plays with a clear head, Wilson is still one of the most dynamic weapons on this roster.
He can score from distance. Self called him "great" at attacking close-outs off the bounce. And he's an above-average free throw shooter, terrific on the glass and as competitive as any player on the team.
"He's getting it back," Self said Saturday. "He's back to where he needs to be."
Wilson agreed.
"It's just whatever now," he said after Saturday's victory. "Now it's just basketball. Big 12 basketball's the most important (thing) leading up to the next season in March. Right now, I'm just confident in myself and my team and after a game like this, we just have to keep moving forward and build off a game like this."
KU travels to Norman, Oklahoma, on Tuesday to take on the Sooners at 6 p.m. on ESPN.