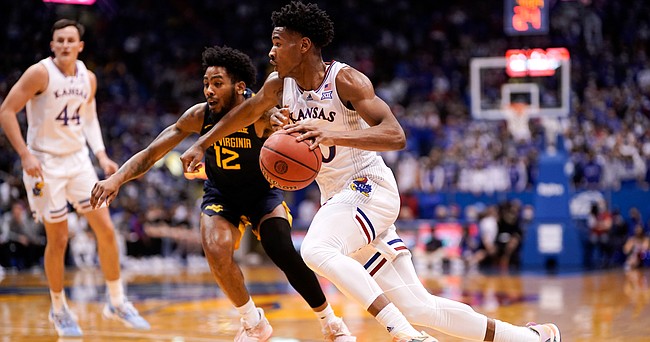 Already well established as KU's top scoring option, Kansas senior Ochai Agbaji earned Big 12 Player of the Week honors on Monday.
It marks the second time Agbaji has won the award this season and the third time in his career that he has received a weekly honor from the Big 12.
Last week, Agbaji posted back-to-back 20-point games in two Kansas Big 12 victories, with 22 points versus No. 15 Iowa State and 20 against West Virginia.
As he has done throughout the season, Agbaji was incredibly efficient in both KU victories. He shot 16-of-32 from the floor and hit four of eight 3-pointers in each game. He also made two of three free throws in the two games combined.
Agbaji had stretches in each game where he scored two or three consecutive baskets for the Jayhawks, and he said after the WVU victory that he thinks this team has a lot of players who can get on hot streaks like that.
Still, he enjoys it when it happens to him, both because of what it brings to the team and because of it adds to his role as the team's leading scorer and provides further proof to his teammates that he can handle the role.
"I like to get my team rolling by making shots or getting stops," Agbaji said. "But that's just how our team is. We see someone else kind of getting hot and that kind of lifts everyone else up, offensively, and that just turns up the entire team, just with even a shot going in."
The Kansas City, Missouri, guard made four 3-pointers in each game and shot 50 percent from beyond the arc. Agbaji has made four or more 3s in a game seven times this season and has made 14 from beyond the arc in his last three outings.
Agbaji also tied his season high with seven rebounds in both wins.
Recently named to the Wooden Award Mid-Season Watch List, Agbaji leads the Big 12 in scoring at 20.6 points per game, which is good for 13th nationally entering the week.
He also leads the conference in 3-point field goals made at 3.2 per game, which is 17th nationally, and 3-point field goal percentage at 47.7%, which ranks eighth nationally.
No. 7 Kansas (14-2 overall, 3-1 Big 12) will play at Oklahoma (12-5, 2-3) at 6 p.m. Tuesday on ESPN.