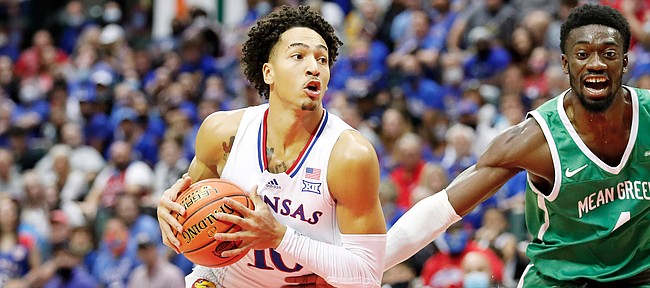 No. 7 Kansas Jayhawks (14-2 overall, 3-1 Big 12) vs. Oklahoma Sooners (12-5 overall, 2-3 Big 12)
Time: 6 p.m., Tuesday, Jan. 18, 2022
Location: Lloyd Noble Center, Norman, Oklahoma
TV: ESPN | Radio: IMG Jayhawk Radio Network
Keys for Kansas
1. Continue refining roles
By this point in the season, players at Kansas typically know where they fit, what their role is and what they'll be asked to do.
And while that's largely true for this group, there's still a significant feeling-out process that is taking place.
Whether you're talking about the three KU freshman who are logging minutes, newcomers like Joe Yesufu and Jalen Coleman-Lands or the different roles held by KU's most experienced veterans, the whole thing has taken a little longer than normal to piece together.
Injuries have not helped, but, now that we're closing in on late January, time is running out for those roles to be defined.
The recent absence of Remy Martin is obviously one of the biggest factors in this area, but Martin's role is no real secret.
It's guys like Yesufu and Coleman-Lands and Bobby Pettiford and KJ Adams who still need to fully settle into their spots. The sooner they do that, the easier it will be for guys like Jalen Wilson, Mitch Lightfoot and even Martin to do the same.
The fact that they're not there yet is not for lack of trying. Adding 10 newcomers to a program like Kansas is not easy to do on the fly. But the Jayhawks sure made it look easy last weekend against West Virginia, when they blitzed the Mountaineers in the second half and looked like a team that had fully clicked.
A big part of the reason that happened was the fact that Jalen Wilson and David McCormack returned to — and thrived in — the roles they're most familiar playing, with Wilson as a play-making, attacking weapon on offense and McCormack as a bullying, bruising menace in the paint.
If those two can keep that run going, then the rest of it comes together even quicker and smoother around them. That's not to say the whole thing hinges on what those two players do and don't do, but it's no coincidence that when they got rolling, KU looked unbeatable, and that was without Martin.
"I feel like today we were just up and down a lot," Wilson said after Saturday's win, referring to the team's pace of play and not their emotions. "Energy, everybody was smiling, nobody was pouting, we were all just happy."
Knowing what's expected and being asked to play to your strengths makes it easier to smile. And while there's still a whole bunch of X's and O's progress and development that this team wants to achieve before March arrives, clearly defining who plays what role on this roster should not be overlooked as one of the more key parts of the rest of the season.
2. Attack the rim
Those of you who remember Tanner from last year's first-round NCAA Tournament game against Eastern Washington Groves (more on him in a minute) probably remember that Groves, for all of his talents and the trouble he gave Kansas, was not exactly any kind of rim protector.
Oklahoma's KenPom.com numbers reflect that in a big way.
The Sooners enter this one ranked 333rd nationally in defensive block percentage at 5.4%, nearly four full percentage points below the national average of 9.1%.
OU, as a team, averages just 1.9 blocks per game, compared to 4.8 for the Jayhawks.
OU's starting lineup, though athletic, features just one player taller than 6-foot-6 and that's the 6-10 Groves, who, as we mentioned, doesn't exactly play above the rim and intimidate opposing offenses.
Kansas, as we've seen, is happy to attack the rim — both in transition and out of half-court sets — whenever the opportunity is there, and it could be there often in this one.
Look for Christian Braun to get back into attack mode off the bounce and for Jalen Wilson to pick up where he left off against West Virginia, driving hard at close-outs and either getting all the way to the rim or kicking to open shooters.
3. Remy or no Remy?
The senior guard has missed three games with a sore knee and his availability — or lack thereof — has been one of the hottest topics surrounding the program of late.
KU coach Bill Self said Saturday that he hoped Martin would be out there for this one, and Self also emphasized that Martin wants to play and the Jayhawks are eager to get him back.
There has been plenty of speculation on whether something more is going on with Martin's injury, but if he's able to play in this game, a good chunk of that would likely be put to bed.
Self has said from the beginning of this injury that there is nothing structurally wrong with Martin's right knee. So now it's about three things — pain tolerance, swelling and Martin's gut feel.
We know he wants to play. And if he feels like he can, he'll be out there. It doesn't do Kansas any good to have him out there hobbling, though. And, as plenty of people have pointed out, the Jayhawks are going to need Martin in a couple of weeks and in March way more than they need him right now.
For what it's worth, I watched Martin for a while during that weird postgame shooting workout he did with Jeremy Case on the Allen Fieldhouse floor last Saturday and he looked good. Not only did he rip the nets with most of his jumpers, he moved well, elevated fine and did not seem to wear down much.
That was a few days ago, though. And there's no telling how the knee responded or what's taken place since then. But my gut tells me Martin will be out there in this one.
Marquee Matchup
Battle of the Bigs: KU senior David McCormack vs. Oklahoma senior Tanner Groves
The circumstances are certainly different for this matchup tonight than they were the last time these two big men met.
No McCormack coming off of COVID. No NCAA Tournament pressure and intensity. Not even the same school, system or head coach for Groves.
But McCormack would do well to flashback to that game throughout this one because, simply put, even with COVID keeping his minutes down, the KU forward was nearly unstoppable in the Jayhawks' first-round tourney win over Groves' Eastern Washington squad.
McCormack scored 22 points and grabbed nine rebounds in that matchup and was physically too much for Groves to handle for much of his 25 minutes on the floor.
That's not to say Groves didn't have his fun, too. The now-former EWU big man hit Kansas for 35 points in 33 mintues in that game, draining 5-of-11 from 3-point range and hitting 11 of 18 shots overall.
Whenever McCormack was not in the game, KU had no answer for Groves' crafty skills and size.
What's that tell you? Not only does McCormack need to be sharp tonight, but he also needs to stay out of foul trouble.
It wasn't just Tanner Groves who hurt the Jayhawks in that NCAA Tournament game. Jacob Groves, who also transferred to OU with his brother in the offseason, also topped 20 points and got hot from the outside while grabbing nine boards.
He had a much bigger role on that EWU team than he does at OU so far. But when he's out there, don't expect him to be anything but confident going up against some of the same Jayhawks he torched in the tourney.
Jayhawk Pulse
After opening conference play with a pair of road games, the Jayhawks were home for two and will now head back out on the road for two more.
After tonight's matchup with the Sooners, who are led by first-year head coach Porter Moser of Loyola Chicago Final Four fame, KU will head to Manhattan on Saturday to take on a Kansas State team that just beat the Texas Tech team that handled Kansas in Lubbock earlier this month.
Given the fact that Self consistently puts more weight on winning away from home — particularly during conference play — this week could be pretty big for the Jayhawks, who are likely to be a road favorite in both games.
According to KenPom, Kansas is a 4-point favorite, with a 62% win probability in the matchup with the Sooners.
KU owns the advantage in just about every statistical category — points per game, rebounds, 3-point shooting, steals, blocks and more.
What's not yet known is whether facing Moser's system for the first time will be an advantage or disadvantage. The Jayhawks have plenty of film on the Sooners and even have a good book on some of OU's individual players.
But Moser is a coach known for his attention to detail and getting the most out of his players. Particularly on offense. He puts players in the right spots to take advantage of their strengths, coaches good motion, unique sets and unselfish basketball and also demands max effort on defense.
Ranked No. 33 in the latest KenPom rankings, the Sooners, despite sitting outside of the AP Top 25 are certainly no opponent that the Jayhawks will be able to ease up against. Like with Texas Tech and Iowa State in recent games, this one figures to be a fight from start to finish.
KU leads the all-time series with OU 152-69, including a 51-45 mark in games played in Norman.
Probable Starters
No. 7 Kansas
G – Dajuan Harris Jr., 6-1, 180, Soph.
G – Ochai Agbaji, 6-5, 210, Sr.
G – Christian Braun, 6-7, 205, Jr.
F – Jalen Wilson, 6-8, 225, Soph.
F – David McCormack, 6-10, 265, Sr.
Oklahoma Sooners
G – Elijah Harkless, 6-3, 194, Sr.
G – Jordan Goldwire, 6-3, 194, Sr.
G – Umoja Gibson, 6-1, 169, Sr.
F – Jalen Hill, 6-6, 218, Jr.
F – Tanner Groves, 6-10, 235, Sr.