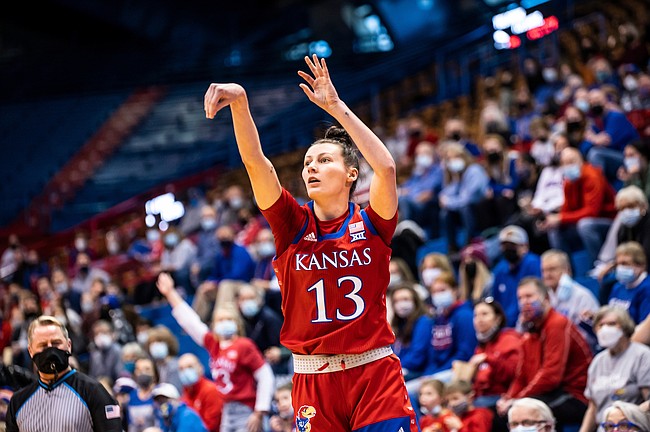 The Kansas women's basketball team came agonizingly close to knocking off No. 14 Baylor on Sunday at Allen Fieldhouse, falling 82-79 despite taking a lead into the final 15 seconds.
After playing with the lead for much of the final eight minutes, the Jayhawks took a 4-point lead into the final 30 seconds.
They got there by erasing a 75-71 deficit with a 7-0 run to take a 78-75 lead in the final minute. The Bears had two cracks to tie the game but misfired on a pair of 3-pointers. KU senior Aniya Thomas grabbed a rebound on the second miss and was fouled.
Thomas hit one of two free throws to put the Jayhawks up 79-75, but it was all Baylor from there.
The Bears closed the game with a 7-0 run of their own. All seven points came in an 11-second span, with five coming from Ja'Mee Asberry, whose 3-pointer with 14 seconds to play cut the KU lead to one.
The Bears (11-4 overall, 1-2 Big 12) then stole the ensuing inbounds pass in the front court when Ioanna Chatzileonti's pass for Holly Kersgieter slipped through her hands while facing intense pressure from the Baylor defense.
Asberry wound up with the ball and was fouled. She hit both free throws to put BU up 80-79 with 12.2 seconds to play.
During the KU timeout that followed, Kansas coach Brandon Schneider was seen repeatedly telling his team in the huddle, "We got it. We got it. We got it."
The Jayhawks (11-3, 2-2) certainly got their chance, but an off-balance jumper from Zakiyah Franklin out of a spin move near the free throw line missed left and the Bears cashed two more free throws to extend their lead to 82-79 with 1.5 seconds to play.
On KU's final possession, senior guard Julie Brosseau caught a pass on the wing and fired up an off-balanced 3-point shot toward the basket. The shot missed hard off the glass and likely would not have counted even if it had gone down because it appeared to come after the clock expired.
Sunday's rough final 30 seconds snapped KU's two-game conference winning streak and prevented the Jayhawks from snagging back-to-back wins against ranked teams for the first time since 2015.
It also extended Baylor's streak of consecutive wins over Kansas to 16 and kept KU from topping the Bears for the first time since 2014.
The announced attendance was 1,688, and KU coach Brandon Schneider said those who were there made an impact.
"The crowd was exceptional," Schneider said. "It's probably the best student turnout we have had at any time since I have been here. Hopefully they had a good time and they'll look forward to coming back and supporting this team. We really greatly appreciate everybody that made the effort to give us the best home-court advantage possible today."
Baylor now leads the all-time series with KU 36-8, including a 16-5 edge in games played in Lawrence.
Three Jayhawks reached the 20-point mark in Sunday's loss. Kersgieter led Kansas with 23 points. Chatzileonti and Franklin added 20 points apiece. The Jayhawks shot 50% from the floor and held Baylor to 40% shooting for the game, but BU hit 14 of 29 3-pointers and also won the turnover battle, forcing 16 and committing just 10.
Next up, KU heads back out on the road for three of its next four games, starting with Wednesday's trip to Manhattan to take on Kansas State in the Sunflower Showdown.
Tipoff is slated for 6:30 p.m. from Bramlage Coliseum. The game will be available on Big 12 Now/ESPN+.