In the aftermath of Saturday's 85-59 win over West Virginia at Allen Fieldhouse, Kansas basketball coach Bill Self provided a passionate update on the status of senior guard Remy Martin, who missed his third game of January because of a sore right knee.
As he has said throughout the past couple of weeks, Self again said on Saturday that Martin's status was "day to day," and that he would return from what Self called "a bone bruise" in his right knee when he feels good enough to play again.
Self said Martin practiced on Friday, "and looked great," but added that the timetable for his return was up to Martin and team doctors.
"It's day to day," Self emphasized. "That's what it'll be. If it feels good, he'll go. And if it doesn't feel good, he won't. And he didn't feel good today."
Twitter and KU message boards caught fire on Saturday with speculation about tension inside the program involving Martin's status. Without addressing any of it specifically, Self offered a not-so-subtle reminder about just how well informed he is on all things involving his players.
"Everybody's got an opinion on crap," Self said. "But I actually know more about what's going on than all the opinions out there in this particular situation. Maybe not on politics or world events, but on this particular situation I actually know a hell of a (expletive) lot more than some other people out there."
Self said he hoped to have Martin back in the lineup as soon as Tuesday, when the Jayhawks will travel to Oklahoma to play the Sooners at 6 p.m. For his part, Martin was on the Allen Fieldhouse floor working out with KU assistant Jeremy Case following Saturday's game.
He moved well, worked up a good sweat and got up shots in various situational drills with Case leading the workout and a team manager feeding him passes.
Photo Gallery
Kansas basketball v. West Virginia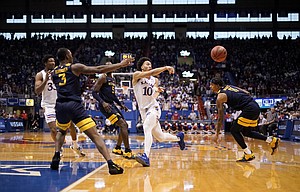 View a gallery of images from Saturday's game between the Kansas Jayhawks and West Virginia Mountaineers.
Asked how critical it was for his team to learn how to play without Martin, given the unknown nature of his return, Self said: "I think it's important. But I don't think that's who we are. Who we are is with him."
Self then added: "He wants to be out there. And I'm not pushing him to be out there. I want him to do it on his own schedule. But it is day to day."
Yesufu back in action
Sophomore guard Joseph Yeufu logged a little more than 12 minutes in Saturday's game, filling in for Dajuan Harris Jr. at the point guard spot, when Harris sat with foul trouble.
Yesufu did not play in Tuesday's win over Iowa State because of what Self called "a turned ankle."
"Joe had to play point and Joe's our fourth point guard," Self said after Saturday's game. "Today, he played without Juan in the game, and didn't play great offensively, but he got us four assists and I thought played with some personality and some athleticism."
In addition to the four assists, Yesufu added two rebounds and two turnovers while missing all five shots he took.
On one of the turnovers, a bad pass along the baseline, Self was shocked by what he saw.
"I can't believe he didn't try to dunk on the dude," Self said while looking back. "If he blocks it, he blocks it. … We can correct some of those things, but I thought he did a nice job today."
Architect honored
One day after the original blueprints of Allen Fieldhouse were unveiled inside the building, with original architect Warren Corman on hand to see them, Corman, along with his wife, Mary, was honored on the court at halftime of Saturday's game.
One member of a team of seven architects who designed the building nearly 70 years ago, Corman is, among other things, one of the biggest KU fans, a legacy Jayhawk and a bona fide historian of all things Allen Fieldhouse and Kansas basketball.
First-year KU Athletic Director Travis Goff said Friday that while the building that has been called one of the greatest venues in all of sports has been a huge part of the Kansas basketball tradition, it's "the lives that he's touched, the literal human impact he's made," that might be Corman's greatest gift.
"I don't have to tell anyone what this building means to basketball," Goff said during Friday's ceremony.
During a video that played before Corman was honored on Saturday, the 95-year-old World War II veteran said he was thrilled to have played a part in the story of such an historic venue.
"I think I'm most proud of the coaches and players that have played in here," he said. "And the crowd. We have the record for loudest arena in the country, and that's why it's well known."
This and that…
Kansas now leads the all-time series with West Virginia, 16-5. That includes a 10-0 mark in games played at Allen Fieldhouse… The Jayhawks are 8-0 in their home gym so far this season and 285-15 in the building under Self... KU had three players (Dajuan Harris, Jalen Wilson and Christian Braun) finish with five assists apiece, marking the first time that has happened in a conference game since 2015... KU is now 12-1 this season when leading at halftime... KU is now 34-6 over the past four years when McCormack reaches double digits in scoring.