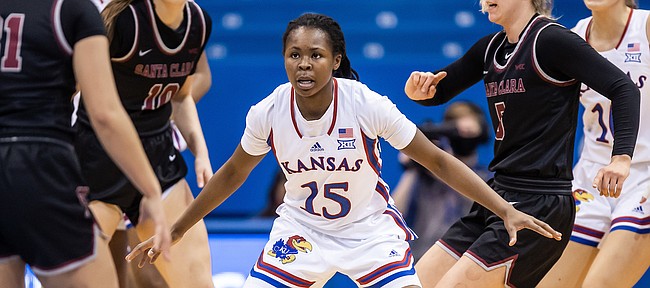 Riding a two-game conference winning streak and returning home for a clash with No. 14 Baylor at 2 p.m. on Sunday, Kansas women's basketball coach Brandon Schneider recently delivered a quick message to KU fans.
"We could use their help," Schneider said.
In the days following KU's upset at No. 13 Texas on Wednesday night, Kansas Athletics built an entire marketing campaign around trying to drum up more fan interest for the women's basketball team that is off to its best start in conference play in years.
Social media messages and videos circulated, with a couple of them surfacing on the Allen Fieldhouse video board during Saturday's KU men's game.
But Schneider believes that, if given a chance, Kansas basketball fans will find out that his team provides much more than an opportunity to hop on board with a trendy push to fill seats.
"I think that they'll enjoy watching this team play," Schneider said. "Our players ask all the time, 'Coach, what do we have to do to increase attendance?' And I believe it's their responsibility to, one, win games, and then, two, be the right kind of person in the community and be easy to support."
The KU women have big goals this season and have since the start. They believe they're an NCAA Tournament team. They think they can compete with anyone in the Big 12. And on Sunday, they have another opportunity to prove it, against one of the country's most successful women's programs of the past decade.
Schneider believes his team is looking forward to the challenge of facing Baylor. This time, despite the ranking, it's the Jayhawks who actually have the better resume.
KU enters at 11-2 overall and 2-1 in Big 12 play. The Lady Bears, meanwhile, come to Kansas at 10-4 overall and 0-2 in Big 12 play. Both have losses to No. 23 Oklahoma on their record.
"Our players have a tremendous amount of respect for what Baylor's accomplished over the years," Schneider said. "But any time you're competing against an historically dominant program, you've got to get over what's on the front of the jersey and just go play it like any other game."
Because of what's at stake, Schneider said he did not think his team would have much trouble replicating the "laser-like focus" that helped spark the upset of Texas. But he said he'd feel that way, with this team, no matter who it was playing next.
The fact that the Jayhawks have enjoyed some recent success and have a big-name opponent on the opposite bench seems to have moved the needle when they begin thinking about taking that next step toward becoming a winning program that draws good crowds game in and game out.
"Home-court advantage means a lot," Schneider said. "And winning games at home, if you're trying to be a part of the conversation for the league race (is important)."