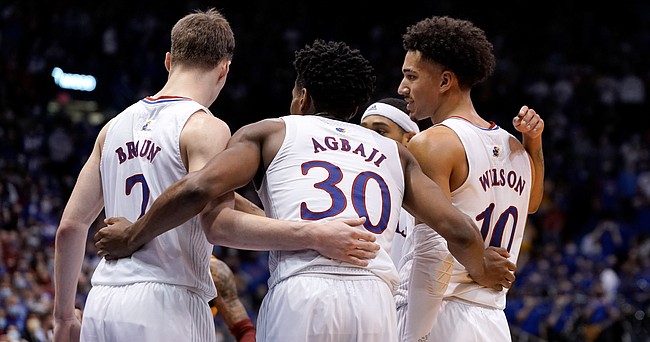 No. 9 Kansas Jayhawks (13-2 overall, 2-1 Big 12) vs. West Virginia Mountaineers (13-2 overall, 2-1 Big 12)
Time: 1 p.m., Saturday, Jan. 15, 2022
Location: Allen Fieldhouse, Lawrence, Kansas
TV: CBS | Radio: IMG Jayhawk Radio Network
Keys for Kansas
1. Just win
As the Kansas men's basketball team moves deeper into conference play, the Jayhawks continue to search for ways to improve and things they can tweak to get their production and efficiency at their peak levels.
While identifying those areas and working tirelessly on them can take up much of their time, junior guard Christian Braun took time to remind people that the bottom line was still the most important thing on KU's to-do list.
"Win," he said. "Going into these Big 12 games you don't really know what to expect. You don't know if you're going to hit shots, if they're going to hit shots and we're working on a lot of different defenses just to be ready for anything."
Bob Huggins' Mountaineers enter this contest with conference wins at home over Kansas State and Oklahoma and a road loss at Texas. Kansas coach Bill Self noted that this WVU team was different than many of Huggins' teams in the past simply because it does not have a mammoth front line to anchor it. But Self said the West Virginia guards were as good as any in the league and that he expected their intensity and effort to remain as high as ever.
"I'm sure Huggs feels the same way as I do in that he probably thinks, 'We're 13-2 and we haven't played our best yet,'" Self said Friday. "And I know I feel the same way."
Winning, at least temporarily, erases all of the bad and allows teams that do it to remain in the race with a conference that has by far the best average NET ranking in the nation.
"Sometimes it's hard to play your best if health doesn't allow you to," said Self noting the recent injuries that have hit his roster. "But I think we got good enough players that if we play like we're capable of playing together and the mindset is like it needs to be on the defensive end, I think that we can play at a higher level."
2. Embrace the grind
After a facing back-to-back defensive juggernauts in Iowa State and Texas Tech, the Kansas offense saw its season scoring average dip from 85.2 points per game in nonconference play to 67.7 in Big 12 play.
Self's message to those who were caught off guard by the dip or didn't exactly like it was simple — get used to it.
"I think that we need to learn to like those games and get comfortable in them," Self said. "Scores are going to continue to go down, at least I think. And we have to learn to like that and enjoy it."
Self said that could be difficult for this group because it tends to be more offensive minded and free flowing. But, as he has done with all of his teams, he will continue to emphasize defense, making others play bad and winning ugly when necessary to help increase the odds of success.
"(My second team) at Illinois, we won the Big Ten and I think we shot 41 or 42% for the year," Self recalled. "We knew that opponents had to shoot 37% in order for us to win. And (this team) hasn't felt that yet."
Self says other Big 12 teams have that mindset and approach this season, and he'd like to see the Jayhawks get there because it would be a sign of defensive improvement and give the Jayhawks a better chance at winning night in and night out.
"A low-scoring game keeps everybody in it," he said. "But a 10-point deficit feels like 17 and that's where I think our league is so good."
3. Play, don't think
Two of KU's most important players from a season ago continue to be slow to find their rhythm this season.
Senior big man David McCormack has yet to find his stride, which has limited his minutes in recent weeks. And sophomore wing Jalen Wilson also is still trying to get back to the level he played at a year ago.
Self thinks that both veterans would benefit a great deal from playing on instinct and not worrying so much about what they're doing or how it's going.
"I'd just like to see them play with a free mind," Self said. "I think they're both tied up."
Self has seen evidence of both players finding that sweet spot in recent practices.
"David was not good yesterday, he was a first-team all-leaguer yesterday; he was great," the KU coach said. "But it's one practice. And we've got to keep building off of that."
"And J-Will has done some really good things. I don't think he's strung together, consistently, the good things that he potentially can do. I think J-Will has all the pieces to put it together."
Marquee Matchup
KU senior Ochai Agbaji vs. West Virginia senior Taz Sherman
Saturday's game is a matchup of the top two scorers in the Big 12 Conference, with the leader, KU senior Ochai Agbaji, sitting at 20.6 points per game, and West Virginia's Taz Sherman right behind him at 19.9.
In addition to those two being their respective teams' Batman, each also has a Robin on the roster, with Christian Braun ranking fifth in the conference at 16.1 points per game and WVU's Sean McNeil in seventh at 14.6 points per game.
"They're both probably as good as anybody in our league at playing off the rocker step or the jab," Self said. "They both are really good at that. Those guys, they have a mindset to score."
The hard step after catching a pass opens up two options by knocking the defender on his heels for an easy jumper or by forcing the defender to come up and blowing by them.
"Everybody talks about CB (Braun) and Och, and rightfully so, about being as good of bookends on the wing as there is in our league," Self said. "But (Sherman and McNeil's averages add) up to the same amount of points as CB and Och. So we've got to guard those two guys."
Look for all four players to spend time matched up on each other throughout this one.
Jayhawk Pulse
Another day brings another tough game for the Kansas basketball program, against a WVU team that has won 10 of its last 11 games.
Regarded in recent years as one of the Jayhawks' top conference rivals, KU actually has had the upper hand in most of the recent head-to-head meetings between the two teams, winning four of the last five and nine of the last 11.
Kansas leads the all-time series 15-6 and the Jayhawks are 9-0 against the Mountaineers in games played at Allen Fieldhouse.
WVU is among the top programs in the Big 12 in field goal percentage with the ball (44% in conference play) and field goal defense while guarding the ball (41.5%).
According to KenPom.com, the Mountaineers are ninth nationally in defensive turnover percentage and even better — fourth in the country — in non-steal turnover percentage. That means their pressure defense, derived from their length and standing height, often forces mistakes that both lead to missed opportunities for the opponent and easy buckets for the Mountaineers.
The clash of KU's fifth-ranked offense and WVU's 20th-ranked defense, according to KenPom's efficiency ratings, likely will go a long way in determining the outcome.
KenPom lists KU as an 11-point favorite with an 83% win probability.
Probable Starters
No. 9 Kansas
G – Dajuan Harris Jr., 6-1, 180, Soph.
G – Ochai Agbaji, 6-5, 210, Sr.
G – Christian Braun, 6-7, 205, Jr.
G – Jalen Wilson, 6-7, 205, Soph.
F – David McCormack, 6-10, 265, Sr.
West Virginia
G – Taz Sherman, 6-4, 190, Sr.
G – Sean McNeil, 6-3, 205, Sr.
G – Kedrian Johnson, 6-3, 185, Sr.
F – Jalen Bridges, 6-7, 225, Soph.
F – Isaiah Cottrell, 6-10, 245, RS-Fr.