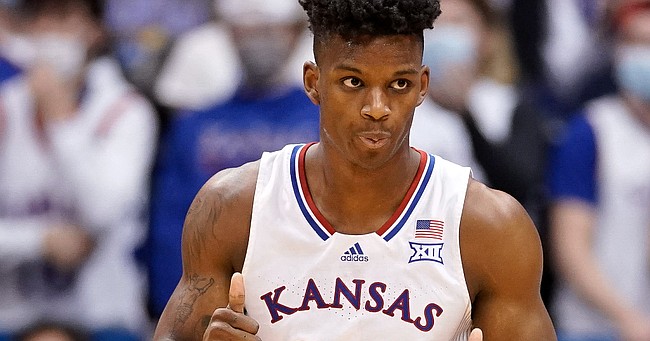 On Tuesday night, in a 62-61 home win over No. 15 Iowa State, Kansas freshman KJ Adams became the third Jayhawk to start at the 5 for KU this month.
He played just 10 minutes total — doubling his season average through the first 14 games — but did enough in the limited time he was out there to make using him in that role again a viable option for the Jayhawks moving forward.
It's no secret that Kansas coach Bill Self is still fighting to figure out what to do with KU's lone big man position on a game-in, game-out basis. And that spot, as much as any, is the reason Self referenced needing to piece things together until the Jayhawks figure out how they want to play.
Photo Gallery
Kansas basketball v. Iowa State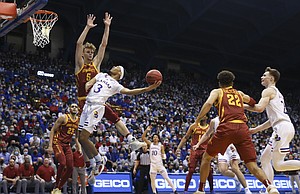 View a gallery of images from Tuesday night's game between the Kansas Jayhawks and Iowa State Cyclones at Allen Fieldhouse.
Having one player emerge — be it Adams or veterans David McCormack or Mitch Lightfoot — as the obvious option at the 5 would do wonders for KU's continuity. But don't expect Adams to ruffle any feathers while they try to figure it out. Right now, he's here for one reason — to play hard and help this team win.
"Rebound, move the ball and get as many assists as I can," Adams recently said when asked what his focus was when he stepped onto the court on game nights. "Just having a high motor for the team helps us (and) I think motor translates."
That idea was on full display during Adams' 10 minutes of ation on Tuesday night. He finished with three points, two rebounds, a turnover and two blocks in just under 10 minutes against the Cyclones. And while none of those numbers jump off the page at anyone, they were good enough to earn some high praise from a Kansas player whose numbers have wowed people all season.
"I thought he did really well," KU senior Ochai Agbaji said of Adams. "As a freshman coming in and starting in the third conference game of the season, there's a lot going on and it may be too fast, but he handled it well. I'm proud of him."
Asked what he liked most about Adams' performance, Agbaji immediately pointed to the one thing that Adams strives to deliver every time he checks into a game.
"(He brought) energy right from the jump," Agbaji said. "It was really special seeing him get the start (and) play those minutes in the first half, play those minutes in the second half."
Added Self after the game: "I thought K.J. did well."
Prior to the ISU game, Self acknowledged that the matchup with the smaller Cyclones could give KU an opportunity to use more of a five-out look, with a wing type at the 5 and four guards around him. And at 6-foot-7, 225 pounds, it's that type of matchup that Adams likely needs to log future minutes as KU's lone big man.
His strength and physicality give him the ability to hang with bigger bodies. But his lack of true big man height can limit his effectiveness.
Two of Adams' three points came in the game's opening minutes, when he finished a two-handed dunk in traffic off of an assist from Jalen Wilson. Less than a minute later, Adams challenged a shot at the rim by ISU freshman Tyrese Hunter and drew a huge roar from the KU crowd. He got the block up top but was whistled for a foul because of body contact below.

Two minutes later, he checked out for the first time and did not check back in until the start of the second half.
Up until Tuesday night, Adams' most meaningful minutes had come at the end of a few first halves. On occasion, that time has been limited to less than a minute, but, without fail, he always has seemed to find a way to impact the game just seconds after checking in.
"I think it's just the adrenaline of getting in there for the first time and trying to make things happen," he said of delivering in short spurts. "I pride myself on that."
His streak of doing that continued on Tuesday, with his strong showing early after getting the starting nod. And while there's little doubt that he will continue to push for more playing time while fighting to help his teammates at the same time, Adams seems content with whatever role he is given the rest of the way.
"I've been comfortable ever since I got here," he said. "I just knew that I was going to have to try my butt off just to get a little bit of playing time. (I know) I can always grow so I'm just excited to grow as much as I can here."