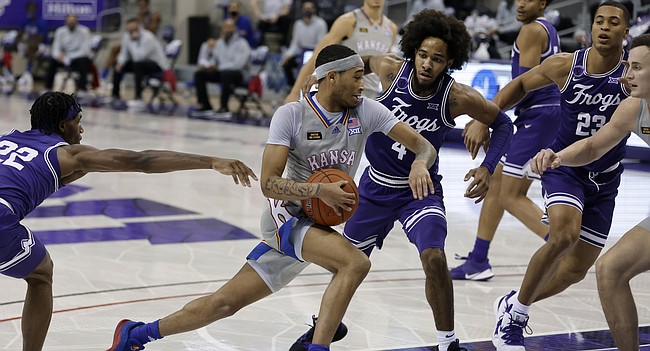 The Big 12 Conference on Thursday announced the make-up date for the Kansas men's basketball program's home game with TCU.
KU will play host to the Horned Frogs at 7 p.m. on March 3. The game will be televised by Big 12 Now/ESPN+.
Originally scheduled for Jan. 1 at Allen Fieldhouse as the Big 12 opener for both programs, the game was postponed because of COVID-19 issues within the TCU program.
The new date sets up a unique arrangement in the schedule, which actually surfaced because of a COVID-related issue last season, as well.
As things stand today, KU and TCU will play back-to-back games in a three-day span later this season. As originally scheduled, KU will play at TCU on March 1 (also on ESPN+) and the teams will head to Lawrence two days later for the make-up game.
The same sort of thing took place during the 2020-21 season, with Kansas and Iowa State later meeting in back-to-back games because of COVID issues in the ISU program.
KU's originally scheduled home game with the Cyclones, slated for mid-January of 2021 was moved to Feb. 13, 2021, two days after the Jayhawks were to head to Ames, Iowa, for their regularly scheduled road date with ISU.
KU won both games (97-64 in Lawrence and 64-50 in Ames) and Kansas coach Bill Self said then that the arrangement felt "a little bit like an NCAA Tournament (setting)."
He also noted that both teams were playing with the same challenges, negating excuses for poor play either way.
A couple of KU players a year ago said that the quirk in the schedule was challenging but that the bottom line was that both games still came down to which team executed better on game night.
"Playing the same team twice is always tough, no matter what," Jalen Wilson said a year ago. "So we're just going to have to be focused and locked in on both ends. If anything, we'll just be more familiar with their plays, their players, how to scout them and just what they do."
KU likely will take a very similar approach to its back-to-back with TCU later this season.
Those two games will give the Jayhawks three games in the first five days of March to close out the regular season. KU also plays host to Texas on March 5.
The 2022 Big 12 tournament is slated for March 9-12 at T-Mobile Center in Kansas City, Mo.