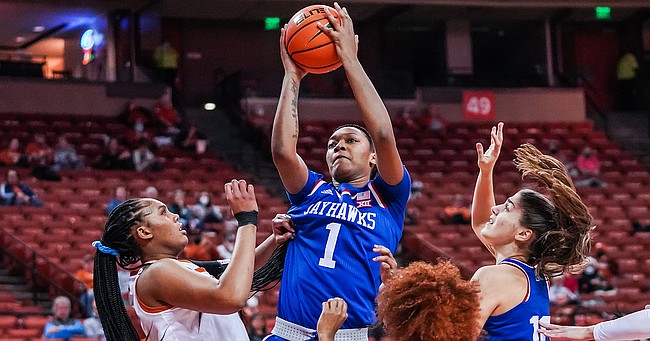 The Kansas women's basketball team picked up its first win over a ranked opponent since 2018 on Wednesday night, knocking off No. 13 Texas, 70-66 in overtime in Austin, Texas.
The victory marked KU's first win in Austin in 10 years.
"I'm just really happy for our players," KU coach Brandon Schneider said after the win. "They worked really hard. Their focus over the past few days has the best I have ever seen. It just says a lot about the growth of our team and the leadership of our team."
The Jayhawks (11-2 overall, 2-1 Big 12) outscored the Longhorns (11-3, 1-2) 11-7 in overtime and held Texas to 41% shooting on the night. Kansas also got to the free throw line twice as many times as UT (26-13), making 15 of them, compared to just eight charity makes for the home team.
KU also outscored Texas 19-14 in bench points and 13-0 in transition.
Although UT won the rebounding battle (38-32), KU's 36-14 edge in points in the paint proved to be a huge part of the upset victory.
Junior guard Holly Kersgieter once again led the scoring for Kansas, recording 19 points on 8-of-12 shooting. Aniya Thomas (11) and Zakiyah Franklin (10) also reached double digits for KU, which received nine points and eight rebounds from transfer forward Taiyanna Jackson, as well.
Nine of the 10 Jayhawks who played on Wednesday night cracked the scoring column and those same nine players all recorded at least two rebounds.
KU led 59-56 with 1:07 to play in regulation after Kersgieter drained her lone 3-pointer of the night off of an assist from Franklin. But the Longhorns tied it up at 59-all on a 3-pointer by Aliyah Matharu with nine seconds to play.
KU got a stop after Kersgieter's triple and had a chance to push the lead to two possessions, but Thomas missed a jumper with 29 seconds to play, which allowed Texas to tie the game and send it to OT.
Kersgieter scored six of her 19 points in overtime, helping Kansas claim leads of 66-61 and 69-63 before holding on for the win. Franklin opened the extra session with a 3-pointer to give KU a lead it would never relinquish.
The win was KU's second consecutive road conference road win after dropping the Big 12 opener to Oklahoma at home last week.
Next up, Kansas will play host to No. 14 Baylor at 2 p.m. Sunday at Allen Fieldhouse.