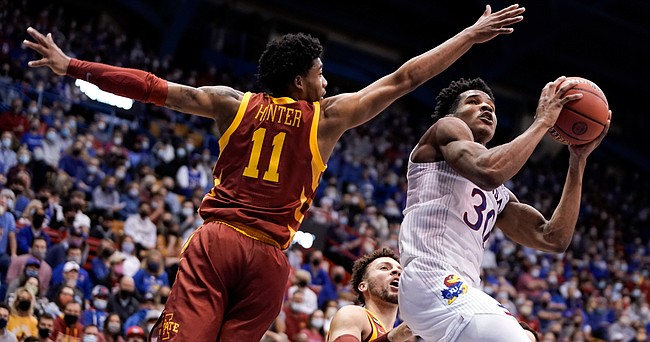 College basketball All-Americans and national champions are not made on a single night in early January, but there was Kansas senior Ochai Agbaji on Tuesday night with an opportunity to show the world that he's capable of being either.
In a game which the ninth-ranked Jayhawks led for nearly the entire second half, KU trailed No. 15 Iowa State twice by a point in the final minute. Both times, it was Agbaji who had the ball in his hands as the Jayhawks looked to reclaim the lead.
And that was just the way his teammates and the KU coaching staff wanted it.
Consider Kansas coach Bill Self's comments about the Jayhawks' final offensive possession, which began with 15.7 seconds to play after Iowa State had taken a 61-60 lead.
Photo Gallery
Kansas basketball v. Iowa State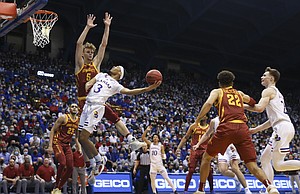 View a gallery of images from Tuesday night's game between the Kansas Jayhawks and Iowa State Cyclones at Allen Fieldhouse.
"I would've called timeout, but Och had the ball," Self said.
Although it was sophomore point guard Dajuan Harris Jr. who became the man of the night by knocking down a tough, line-drive layup with seven seconds remaining, it was Agbaji who created the opportunity.
Looking to drive left on Iowa State defender Gabe Kalscheur, Agbaji was cut off when Harris' man — freshman guard Tyrese Hunter — came off to help. Rather than force it, Agbaji made the smart, veteran play and flipped the ball to Harris.
Harris hit the tough shot and was celebrated by fans and his teammates as the game's hero, but he made sure to credit Agbaji for at least part of the game winner.
"He opened a little crease for me," Harris said.
That's what good scorers do. As much as their total in the point column every night is how they're measured, it's moments like that, where they create opportunities for someone else, that truly define their greatness.
Throughout his career, Agbaji often has been the one watching others deliver in those types of moments. Occasionally, he was on the receiving end of a pass or two just like the one he made on Tuesday night. But this is his time and his team, and everyone in the Kansas locker room knows that. Including Agbaji.
"I know all these guys trust me," Agbaji said after Tuesday's 62-61 victory. "They wanted me to go make a play. Coach called a play for me."
As those words left his lips, Harris and junior guard Christian Braun sat nearby, nodding their heads in agreement. Said Braun: "We trusted him (to make) a play."
Agbaji did the same thing about 30 seconds earlier, getting to the free throw line for a pair of free throws that gave Kansas a one-point lead with 25 seconds remaining that set the stage for the wild finish and Harris' heroics.
On that trip, Agbaji again started with the ball in his hands but this time chose not to give it up, driving hard to the rim and drawing the foul. That was the easy part. Hitting the free throws, with the game hanging in the balance, was the hard part. And Agbaji turned both shots into no-doubters.
Before he shot the second one, he shouted instructions to freshman K.J. Adams, who had just checked into the game.
After draining the second free throw, Agbaji gave up the jumper to Izaiah Brockington that put KU behind again. After the shot fell through, he immediately clapped twice, asking Jalen Wilson to inbound him the ball, pushing the pace and creating the opportunity for Harris with Iowa State on its heels.
He also challenged Iowa State's final shot and was one of the first players to give a celebratory shove to Harris at mid-court as the Jayhawks' celebrated the victory.
That last sequence, all of it coming inside of the final minute, was a good look at everything Agbaji has been for this Kansas team so far this season.
In addition to leading the Jayhawks in scoring at a Big 12-best 20.6 points per game — he scored 22 on Tuesday night — Agbaji has hit 53.3% of his shots and 47.5% of his 3-point tries (also tops in the conference), all while being the focal point of opposing defenses.
He's shooting 76% at the free throw line and averaging 4.6 rebounds per game, grabbing five or more in seven of KU's last 10 games, and has drawn some of the toughest defensive assignments, night in and night out.
Above all of it, he has made leading this team one of his top priorities and continued to put the team's success above any of his own achievements.
"He said we needed games like that, just executing down the stretch like that," Agbaji said of Self's message to the team after Tuesday's victory.
Agbaji, who now has started 92 consecutive games for the Jayhawks (good for eighth all-time), will look to lead the Jayhawks to another win on Saturday, when West Virginia comes to Allen Fieldhouse for a 1 p.m. tipoff on CBS.