Former Kansas basketball coach Roy Williams' return to Allen Fieldhouse on Tuesday night came with a whole bunch of firsts.
But the one that stood out to him above most came during the pregame festivities.
"It's a thrill," Williams said of his first game at Allen Fieldhouse since he left Kansas for North Carolina in 2003, a 62-61 KU victory over No. 15 Iowa State. "I'm sitting there tonight and they do the Rock Chalk chant and that's the first time I'd ever seen it because all the years I coached here I was always busy during that time."
Williams said his strongest memory of all of those years in KU's home venue was the home-court advantage KU had night in and night out.
"I just remember game days," he said. "I felt like a lot of times the crowd was not going to let us lose."
Photo Gallery
Kansas basketball v. Iowa State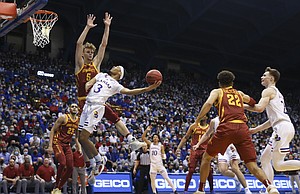 View a gallery of images from Tuesday night's game between the Kansas Jayhawks and Iowa State Cyclones at Allen Fieldhouse.
Williams and his wife, Wanda, entered the fieldhouse just after 6:40 p.m. and were ushered to their courtside seats like he was a member of The Beatles.
Williams walked with a cane because of a recent knee replacement surgery. And he had no shortage of people to say hello to on the way to his seat.
He flew in from North Carolina on Tuesday morning and came to the game after a pregame reunion at Six Mile with a handful of former players and a few KU donors. Asked if he ever thought he'd be back, Williams, who retired last April after 33 years as a head coach, said he never thought it would be possible.
"I thought I'd coach forever and go home one night and win a big championship or something and croak the next day," he said. "I loved coaching. There's nobody, I don't think, that's ever coached and loved coaching as much as I did."
Prior to tipoff, Williams stood at his seat and soaked up the atmosphere that was a part of the KU basketball experience throughout his 15 years with the program from 1988-2003. During the game's first media timeout, he was honored with a tribute on the video board and a standing ovation from the Allen Fieldhouse crowd.
"It was pretty dang nice," he said with tears welling in his eyes and his voice starting to crack. "(I was here) 15 years and I loved it. I really did."
Taking over at Kansas following Larry Brown's departure after the 1988 national title, the little-known assistant out of North Carolina led the Jayhawks to four Final Fours and two national title games while guiding the program to an overall record of 418-101. His .805 winning percentage ranks second all-time to Self (.817) at Kansas.
On Tuesday, he credited his early KU teams for helping him to a Hall of Fame career.
"The players took care of me," he said. "They really did. Those first two years those kids believed in what we were trying to do and they made Roy Williams feel like I could coach."
Williams finished his career with 903 victories, landing him in third place on the all-time Division I coaching list. He's the only coach in history to win more than 400 games at two universities and he owns the sixth highest winning percentage in NCAA history (.774).
Remy Martin, Zach Clemence sit
Kansas played Tuesday's game without senior guard Remy Martin and freshman forward Zach Clemence.
Martin missed his second game of the season with soreness in his right knee. Kansas coach Bill Self was asked on Monday if he was concerned about Martin's injury lingering for several weeks and he said he thought it would heal quickly and that Martin would be back to 100% soon. That came two days after Self said he hoped Martin would "get better fast," following KU's loss at Texas Tech.
Self said after the victory that Martin reaggravated his existing injury and was listed as "day to day."
Clemence's injury is new. He did not suit up and was seen during pregame warm-ups wearing a walking boot on his right foot.
Self said Clemence injured a toe on his right foot and would be out for
"I don't believe it's broken, but he did something to his toe that is going to require him to probably be out for a little time. I don't know if it'll be significant, but he couldn't walk on it today and he'll probably be in a boot for at least another day or two."
Pettiford back in action
Now clear from his bout with COVID-19, Kansas freshman Bobby Pettiford has focused on returning from the abdominal strain that has kept him sidelined since Dec. 6.
"Didn't we say 4-6 weeks and we're right at that number," Self said Monday when asked for a Pettiford update. "I think there's a chance he could get worked back in there pretty soon."
Pretty soon came Tuesday night, when Pettiford checked into the game midway through the first half.
Self said Pettiford practiced both Sunday and Monday and added, "I hope like heck that there's positive things from that. But to say that he would play, I don't know that I quite feel that yet."
Pettiford finished with no points and two turnovers on 0-for-1 shooting in 8 minutes of action.
Enaruna's return
Tuesday night marked the return to Allen Fieldhouse of another former Jayhawk, Iowa State junior Tristan Enaruna.
After playing for Kansas for two seasons, the Netherlands native left in the offseason to join the Cyclones. Self said then and now that he hated to see Enaruna go but that he agreed that a fresh start was probably best for the smooth 6-foot-7 wing.
Enaruna agreed and told Randy Peterson of The Des Moines Register that he left KU on good terms.
"The reason I transferred was because I felt like I needed a different environment to develop," Enaruna told reporters on Monday. "I learned a lot when I was over there. I had to take another step. I felt like it was going to be better for me to do that somewhere else."
Enaruna said new ISU coach T.J. Otzelberger was the first coach to reach out to him when he entered the transfer portal, and their past connection and the opportunity at ISU made it an easy choice.
"He thought it was a good thing for me," Enaruna said of Self. "It's not that he wanted me gone; he felt like I needed a different opportunity as well. I still have a good relationship with those guys (at Kansas)."
Tuesday was also a reunion game for current Jayhawk Jalen Coleman-Lands, who spent the 2020-21 season playing for the Cyclones.
No plan to pull the redshirt
With the Jayhawks still searching for answers in the front court, Self was asked this week if he had considered pulling the redshirt off of senior forward Cam Martin.
"Oh, no," Self said. "We did that with Ochai (in 2018), but we knew Ochai could impact it. You don't want to do that (here). Cam comes in, he misses shots, loses a little confidence, next thing you know he's not playing at all and you waste a year. So, that will not happen. I think we'd be better off playing Jalen at the 5."
In the next breath, Self said he believed the Jayhawks have enough options and talent up front in David McCormack, Mitch Lightfoot, Clemence and KJ Adams, who started at the 5 against the Cyclones.
"Those guys are capable of delivering," Self said. "I mean, there's no reason why our bigs can't get us 20 points and 12 rebounds a game. That average should occur because those big guys are good enough to do that."
The big question now is which big men will do it.
"We're (at) Jan. 10 and I'm trying to figure out which one or two of the four do we need to play the most," Self said. "We're kind of in that situation still."