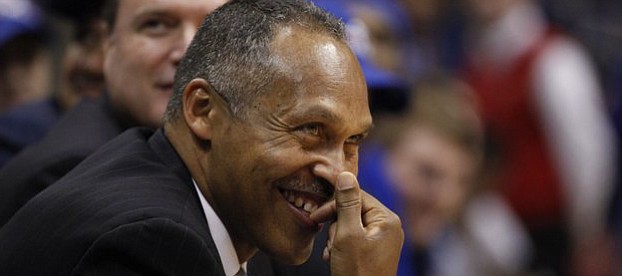 Kansas basketball assistant Norm Roberts, who missed last weekend's loss at Texas Tech with what was described as "a stomach bug," has tested positive for COVID-19.
KU coach Bill Self announced Roberts' positive COVID designation during a news conference Monday afternoon.
Self said Roberts tested negative for COVID on Saturday morning before the game but produced a positive test later that night upon returning to Lawrence.
"Thank goodness he was not around anybody and isolated," Self said of the veteran KU assistant.
A KU spokesman said Roberts traveled home with the team on Saturday but had not yet tested positive at the time of their departure from Lubbock, Texas. KU's policy throughout the season has been to test anyone with symptoms.
Self said Roberts will miss Tuesday's game against Iowa State — 7 p.m. on ESPN+ at Allen Fieldhouse — and is expected to return to the team "later on this week."
With it being Roberts' turn in the rotation to produce the scouting report for the Jayhawks' next opponent, KU's director of basketball operations, Fred Quartlebaum, now will handle that role.
"He's got a good book on them," Self said of Quartlebaum's understanding of the Cyclones.
Roberts is the second member of KU's current team test positive during the 2021-22 season. Injured freshman guard Bobby Pettiford tested positive a couple of weeks ago. In both instances, the issue was limited to a lone positive test. Self said no other Jayhawks currently had any COVID issues.
"I don't even know if anybody else has (any kind of ailment) going in, except maybe a little bit of a bruised ego after a poor performance on Saturday," Self said. "Other than that, we should be OK (and) ready to go."