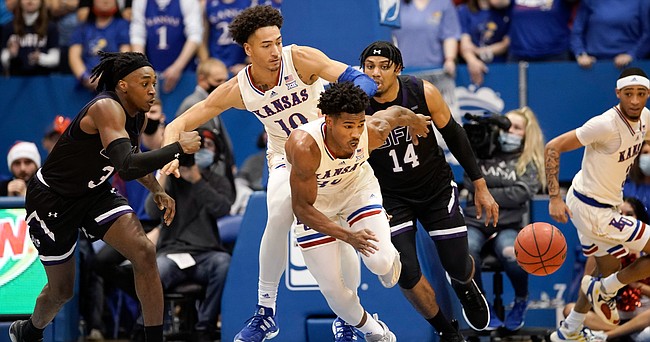 No. 9 Kansas Jayhawks (12-2 overall, 1-1 Big 12) vs. No. 15 Iowa State Cyclones (13-2 overall, 1-2 Big 12)
Time: 7 p.m., Tuesday, Jan. 11, 2022
Location: Allen Fieldhouse, Lawrence, Kansas
TV: Big 12 Now/ESPN+ | Radio: IMG Jayhawk Radio Network
Keys for Kansas
1. Make the hustle plays
Kansas basketball coach Bill Self said on multiple occasions that he was disappointed with the Jayhawks' intensity and effort from the opening tip in last weekend's loss at Texas Tech.
But there was more to it than that. That lack of fire from the jump carried over to the rest of the game, hurting the Jayhawks on offense, defense and in intangible areas.
Missing shots or giving up tough buckets to a good opponent are part of the game. But Self believes that winning in the effort areas is almost entirely up to how bad players want it.
"It's always been a given here (that) if it's a 50-50 ball we'll get 70% of them," Self said Monday. "And if you look at our team, other than CB (Christian Braun), who is the great 50-50 ball guy?"
Consider that a challenge to the rest of the group and don't be surprised to see the Jayhawks turned up more than they have been all season in this one.
"A big reason why we will get good defensively is if we can start being more active," Self said.
2. KU's guards must be good
Self was awfully complimentary of Iowa State guards Izaiah Brockington and Tyrese Hunter on Monday, calling them "as good as anybody in our league."
Brockington leads the Big 12 with six double-doubles so far and is averaging 17 points and 8.1 rebounds per game while shooting 49.2%, 41.2% and 80.3% from the field, 3-point range and free throw line.
Hunter, a freshman from Racine, Wisconsin, is third in the Big 12 in assists per game (4.8) and leads all freshman nationally with 32 steals.
That puts the onus on Braun, Ochai Agbaji, Remy Martin and Dajuan Harris Jr., to be equally as good or better.
Martin is still battling soreness in his right knee and could be limited again at tipoff. Harris has been pushed around physically a little more in KU's most recent games. And Braun had a quiet game against Texas Tech until late and Self said Agbaji's defense was not where it needed to be against the Red Raiders.
If all four guys aren't better against an ISU team that features a defense that Self said "right there with Texas Tech's," KU could have its hands full even at home.
"There's no guarantees you're going to win a game against a top-20 team, no matter where you play them," Self said on his Hawk Talk radio show Monday night. "We've got to be really good (Tuesday) night."
3. Time for more small ball?
With KU big men Mitch Lightfoot and David McCormack both struggling on both ends in the loss to Texas Tech, Self and the Jayhawks are still searching for the best solution to their woes up front.
While getting both of those guys to deliver better production is one answer — Self emphasized Monday that KU still wants and needs both bigs "to play well" — Self said he has started to consider playing small more often, with Jalen Wilson or KJ Adams at the 5 and four guards out there with them.
"That's not how I envisioned it going, but I do think there's a possibility that (we) could do that more," Self said. "Iowa State could be a team, depending on who they have at the 5, that you could do that with."
The Jayhawks played some of that small-ball lineup against Tech but mostly in the final 5-7 minutes while trying to catch up. Self said he did not know yet how effective the strategy could be with this team because they haven't used it enough.
"Last year I liked it because J-Will was the guy (at the 5)," Self said. "Maybe I'll like it more moving forward."
Marquee Matchup
Iowa State junior Tristan Enaruna vs. his old team and teammates
Tuesday's game will be a homecoming of sorts for the former Jayhawk, who played at Kansas in 2019-20 and 2020-21 before transferring to ISU.
The 6-8 native of Netherlands appeared in 55 games for the Jayhawks. But Self said he's a different player today than he was in a KU uniform.
Part of that, of course, is getting a chance to play. Enaruna has started all 15 games for the Cyclones so far this season, already logging more minutes this year (262) than he did in 25 games as a freshman. He played 329 minutes during his sophomore season at Kansas.
"I think it's opportunity, but I think he's more aggressive (too)," Self said before saying KU had never recruited a better individual person than Enaruna. "I think he's gotten better. I think he's I think he's stronger. I think he's more confident offensively, and they're playing him in a way that can take advantage of his size some and his athletic ability inside. I'm really happy for him."
Enaruna enters Tuesday averaging 6.8 points and 4.2 rebounds per game while shooting 55.4% from the field, 40% from 3-point range and 81.8% from the free throw line.
Jayhawk Pulse
Coming off a tough loss in Lubbock, Texas, last weekend, the Jayhawks will look to get back on track in front of their home crowd, which will include longtime KU coach Roy Williams.
Williams and his wife Wanda are expected to attend the game, marking Williams' first game in Allen Fieldhouse since he was coaching the Jayhawks.
KU leads the all-time series with Iowa State 186-66. The series dates back to 1908 and features KU owning a 96-16 record in games played in Lawrence and 55-10 at Allen Fieldhouse. KU has won four in a row over ISU and five of the last six.
KU opened as a 12-point favorite in the eyes of oddsmakers in Las Vegas and holds a 77-66 edge in the eyes of KenPom.com's predictive numbers, which is good for a win probability of 84%.
The Jayhawks are unbeaten at Allen Fieldhouse this season (6-0) and will be playing just their second game of the season against a ranked opponent. Iowa State, meanwhile, is 3-1 away from home this season and one of just three teams in the country with at least three wins against the AP Top 25. The program had one such win total in the previous two seasons combined.
Probable Starters
No. 9 Kansas
G – Dajuan Harris Jr., 6-1, 180, Soph.
G – Remy Martin, 6-0, 195, Sr.
G – Ochai Agbaji, 6-5, 210, Sr.
G – Christian Braun, 6-7, 205, Jr.
F – David McCormack, 6-10, 265, Sr.
No. 15 Iowa State
G – Izaiah Brockington, 6-4, 196, Sr.
G – Tyrese Hunter, 6-0, 178, Fr.
G – Gabe Kalscheur, 6-4, 198, Sr.
F – Tristan Enaruna, 6-8, 220, Jr.
F – George Conditt IV, 6-9, 234, Sr.