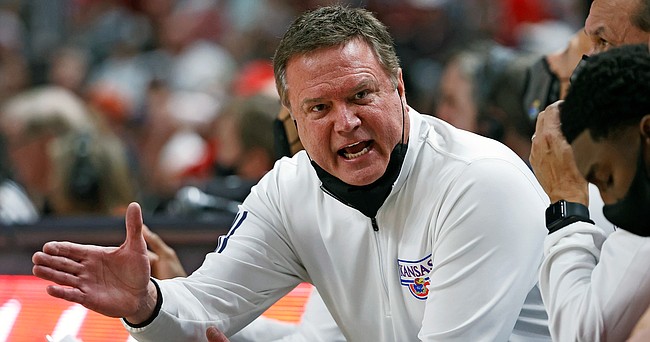 As the sixth-ranked Kansas men's basketball team moves deeper into conference play, it's clear that the Jayhawks have a few areas of concern.
And while 12-2 Kansas could stand to get more rim protection, better production at the 5 spot and tougher overall defense, KU coach Bill Self left Saturday's 75-67 loss at No. 25 Texas Tech looking for one thing.
"I'd like to go into a game, and I think our players would like to go into a game, kind of (knowing) what we're going to get," Self said.
Right now, the Jayhawks seem to be entering games knowing what they need to do but unsure of whether they'll be able to execute it.
Part of that can be attributed to the fact that this is a team with 10 newcomers still trying to come together. Part of it can be tied to players playing different roles than they're accustomed to. And part of it can be tied to issues with focus for 40 minutes and following the scouting report.
Regardless of what is causing the issues, which can last from anywhere to a couple of minutes per game to entire halves, KU sophomore Jalen Wilson believes that, right now, the reasons are just excuses.
"We have an older team, so people outworking us and guys getting more hustle points than us and offensive rebounds, those things shouldn't happen," he said. "We're mature. We've been here long enough to know what we need to do and how to approach a game so that just falls back on us."
The Jayhawks (12-2 overall, 1-1 Big 12) have talked throughout the season about defensive improvement being their biggest need.
Wilson mentioned it again in the aftermath of Saturday's loss, which featured Texas Tech outscoring KU 44-18 in points in the paint and shooting 51% for the game. And he did so while referencing that KU's offense, which ranks fifth in the nation in overall efficiency, according to KenPom.com, will always be there but that it won't matter if the defense isn't.
While so much of defense is personal pride, attention to detail and having a good grasp of the scouting report, Wilson said it doesn't come without proper effort.
"We've got to approach every game playing harder than the opponent, no matter who we're playing," Wilson said.
Added Self: "I thought we were poor right from the jump. I don't think we played as competitive as they did for 40 minutes. … Right now, we don't have enough guys that I would consider to be really solid defenders."
Given that challenge from their head coach and the fact that the Jayhawks' next game comes at home, after back-to-back road tests to open Big 12 play, history suggests that Kansas will put forth a better effort from the jump in response to the rough outing at Texas Tech. Few things have proven to bring out the best in the Jayhawks quite like playing in front of their home crowd after a tough loss.
Next up, Kansas plays host to No. 11 Iowa State (13-2, 1-2) at 7 p.m. Tuesday at Allen Fieldhouse.