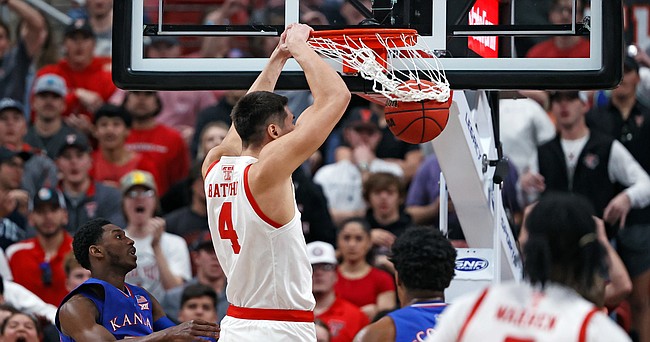 As sixth-ranked Kansas prepared to take on No. 25 Texas Tech in Lubbock, Texas on Saturday, the Jayhawks' focus was on the Red Raiders' defense.
But it was the Jayhawks' defense, or lack thereof, that had the biggest impact in Texas Tech's 75-67 victory at United Supermarkets Arena.
In addition to allowing Texas Tech to shoot 51% from the field — including a mark of 56% in the second half — the KU defense was bullied and brutalized for 44 points in the paint, providing very little resistance any time the Red Raiders got to the rim.
"It's not their fault we lost, by any stretch," said Kansas coach Bill Self when asked after the loss about KU's frontcourt. "I'm not going to put that on any position or any one guy or anything like that. We don't protect the rim, they score at will inside, we don't score inside and we don't rebound. That's not a great combination."
Starting at the 5 for the second game in a row, super-senior Mitch Lightfoot finished with zero points and zero rebounds in 10 foul-plagued minutes. He fouled three times and turned it over once.
Regular starting forward David McCormack didn't fare much better. He finished with four points and six rebounds in 14 minutes. Freshmen KJ Adams and Zach Clemence also played some at the 5, as the Jayhawks searched for anything that would work against Texas Tech's attack-happy offense.
The fact that Texas Tech (11-3 overall, 1-1 Big 12) played without its top two leading scorers only made the loss sting more for Kansas (12-2, 1-1).
"It's pretty obvious we got outworked today," KU sophomore Jalen Wilson said after the loss. "They brought the aggressiveness and brought it to us. They punked us."
Asked about the 44-18 edge for Tech in points in the paint, Wilson was less diplomatic than his head coach.
"That's horrible. Horrible," Wilson said. "With our length and our speed, stuff like that should never happen. That's just not going to be acceptable, especially with the goals that we have."
Starting in place of senior guard Remy Martin, Wilson got the Jayhawks off to a solid start on the offensive end. He scored the team's first seven points and finished with 20 points for the night.
Senior leading scorer Ochai Agbaji added 24 points while battling through foul trouble. Both had plenty of moments on offense that looked as though they might help KU pull this one out.
But every time the Jayhawks needed a big stop on the defensive end, they not only didn't get it, but they almost always gave up a layup or a momentum-changing three-point play that allowed Texas Tech to maintain control.
The Red Raiders led for more than 33 minutes in Saturday's game compared to just 1:29 with the lead for Kansas. That included a 33-25 lead at halftime, which Self said should've been four points instead of eight, and made Texas Tech the first team this season to take a lead into the half against the Jayhawks.
"We obviously didn't have them prepared to go against a team that really, really tried hard," Self said.
Added Agbaji: "They were more the aggressor."
The gap in effort and intensity was a huge factor in Saturday's game, and Self explained it by using the final numbers following the loss.
"If you'd have told me before the game that we would shoot 45% from the field, 38% from 3 and 83% from the (free throw) line and score 67 points, I'd say that'd be enough, the way they play," Self said. "But it wasn't. Obviously."
The only thing that resembled consistent defensive success for Kansas on Saturday surfaced early in the second half, when the Jayhawks went to a 2-3 zone to try to frustrate the Red Raiders. It worked for a handful of possessions, allowing KU to cut a 14-point deficit (51-37) down to five (56-51) with 7:35 to play. But the Red Raiders responded to that with back-to-back buckets at the rim, including a vicious dunk by Bryson Williams over Lightfoot, to keep KU from dreaming too big about a comeback victory.
As anyone who has followed his coaching career would have guessed, Self was not happy about the effectiveness of the zone either. He twice called it "crappy" in the postgame press conference and has made it clear throughout his 30-plus years in coaching that he would rather do just about anything than resort to a zone defense.
Despite being out of sync almost everywhere, Kansas kept charging and again cut the Texas Tech lead down to five at the 3:08 mark and four (71-67) with 1:09 to play, but the Jayhawks could never get over the hump.
Agbaji called the defeat part of the "learning process." And Wilson said the setback provided the Jayhawks with a clear picture of what they still need to improve.
"We have to focus on playing hard before anything else," Wilson said. "We've just got to focus on our defense and we'll be good. Offense is always going to be there for us, but defense is what we've got to (improve)."
For years, it was the Jayhawks' play on the road that set them apart from the rest of the Big 12 Conference at the top of the standings. But Self acknowledged after Saturday's loss that this particular team needs to take a different approach to games away from home moving forward, saying that
"I think we thought we could show up and think we play hard and that would be good enough. It's not," Self said. "We were not going to go 18-0 in our league. We were not going to go 17-1. That's not the type of league that we play in. Maybe Baylor's good enough to do that, but we're a team that has to grind it out away from home and we just didn't do that."