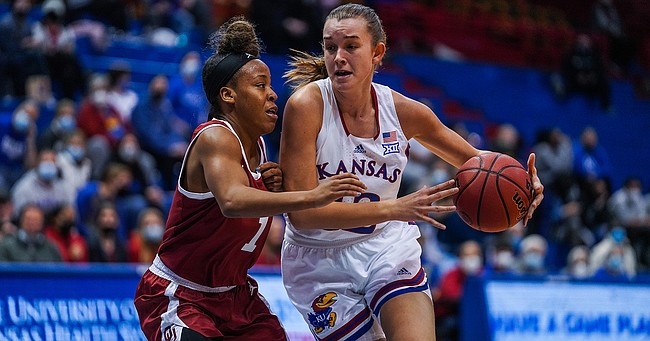 Playing for the first time in 19 days, the Kansas women's basketball team started fast and faded in an 82-68 loss to No. 23 Oklahoma on Saturday at Allen Fieldhouse.
KU's last outing came on Dec. 21, when they traveled to Wichita and came home with a 68-55 win over Wichita State. Since then, COVID-19 issues within the KU program forced one cancellation and two postponements, the latter forcing the delay of the start of conference play.
The Jayhawks (9-2 overall, 0-1 Big 12) led 26-14 after one quarter and 39-37 at halftime but were outscored by the Sooners (13-2, 2-1) 45-29 in the second half and 68-42 over the final three quarters.
The Jayhawks were led by four scorers in double-digits, including junior guard Holly Kersgieter (16 points), sophomore forward Ioanna Chatzileonti (12), junior center Taiyanna Jackson (12) and junior guard Zakiyah Franklin (11). Jackson added 12 rebounds to her 12 points to record her first career double-double.
"We had time to put in a game plan with practice and a shoot around and we just made too many errors for a night where you're not making shots," KU coach Brandon Schneider said after the loss. "We will take a bit of time tomorrow to learn from those mistakes and obviously we have a one-day prep for TCU on Monday."
Next up, KU will head out on the road for back-to-back games away from Allen Fieldhouse in the Lone Star State. The Jayhawks will play at TCU at 6:30 p.m. Monday and at No. 9 Texas at 7 p.m. Wednesday.
After that, the Jayhawks will return home for a matchup with No. 14 Baylor at 2 p.m. on Sunday, Jan. 16 before returning to the road for three of their four games that follow.