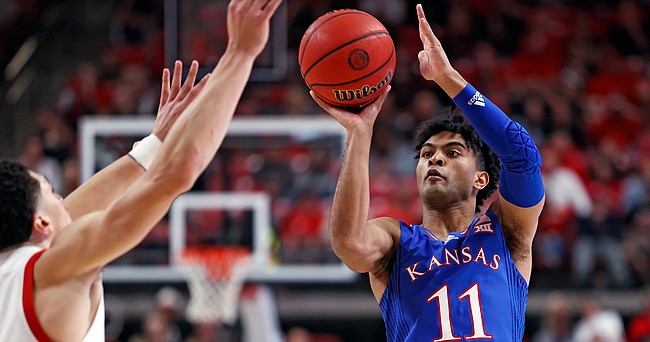 While most of the focus was on the 5 position in the Kansas basketball team's starting lineup, there was a change elsewhere that impacted Saturday's 75-67 loss at Texas Tech.
Sophomore wing Jalen Wilson started in place of Remy Martin, who played 12 minutes but was still feeling the effects of an injured right knee all the way up to game time.
"Remy told us this morning that he didn't know if he could play or not," KU coach Bill Self said after Saturday's loss.
He then called the move to go with Wilson "an easy decision."
Wilson responded by scoring 20 points on 6-of-8 shooting. He also hit 5 of 6 free throws in 32 minutes.
"It was good seeing Jalen make some shots," Self said after the loss. "But I wasn't happy at all with how he rebounded. I would much rather have Jalen Wilson at Oklahoma State than Jalen Wilson tonight. And he scored 20 points (here) and he scored 2 points there."
Wilson said he, too, was happy to see the ball go in the basket again, but added that, "when you lose it kind of drains everything out of you."
Added KU senior Ochai Agbaji: "(He was) really good, really aggressive from the beginning. He had a good first half and a good second half. But it doesn't mean much when you can't come away with the win."
For the second game in a row, super-senior forward Mitch Lightfoot started at the 5 for the Jayhawks, but neither he nor regular starter David McCormack could get much going on either end of the floor.
Roberts absent
Kansas assistant coach Norm Roberts was not in attendance at Saturday's game.
Self said Roberts had "a stomach bug."
"He was tested this morning," Self said. "It's not COVID, but he was told to stay away."
Roberts is the second KU assistant to miss a game because of illness this season. Kurtis Townsend also missed a game with a non-COVID illness.
Rotation update
One game after playing just eight players in a road win over Oklahoma State, Self played 11 players in Saturday's loss to Texas Tech.
All 11 played in the first half, with foul trouble and ineffective play on both offense and defense inspiring Self to try to find something that worked.
Prior to Saturday's game with the Red Raiders, Self was asked if trimming the rotation to eight at Oklahoma State was intentional or happenstance.
"I would say more game flow," Self said. "We played one (lead) guard a lot. So if you play with one (lead) guard a lot, there's not really a huge reason, unless somebody gets hurt or foul trouble, to play a third (lead) guard."
That meant Dajuan Harris Jr. and Remy Martin basically backed each other up. David McCormack and Mitch Lightfoot did the same at the 5. And KU rotated four other guards throughout three spots in between.
Texas Tech near the top
Saturday's win by Texas Tech was the Red Raiders' 44th in the last four seasons. That puts Tech third in the 10-team conference, just a few wins behind Baylor (47) and 10 behind Kansas' Big-12-best total of 54.
Texas, which lost at Oklahoma State on Saturday, is fourth with 36 wins in the past four seasons.
Agbaji honored
Agbaji was back at his old high school as one of the guests of honor for a special ceremony on Thursday night.
Agbaji, who starred at Oak Park High in Kansas City, Mo., before continuing his basketball career at KU, watched with pride as his jersey was retired at Oak Park during the school's game against North Kansas City.
With his jersey encased in glass, with his No. 30 in light blue on the white uniform, Agbaji shared the moment with fans on hands and then shared his thoughts with a couple of local television stations.
"This is my why, why I keep striving to be great, because I know all these people are watching," he told FOX 4. "I feel the support, I feel the love and that's what keeps me going."
He has started 91 games in a row since then — good for eighth all-time on KU's consecutive starts list — and, on Thursday, was named to the Wooden Award Midseason Watch List, featuring the top 25 players in college basketball this season. Agbaji has climbed into the top 40 on KU's all-time scoring list and the top 10 on KU's 3-point shooting list.
Beyond that, The Athletic's Sam Vecenie had him listed at No. 14 in the 2022 NBA Draft in his most released mock draft which was published on Thursday.
"I'm not sure what more Ochai Agbaji has to do to get people to buy into him in the public sector," Vecenie wrote. "He's averaging 20 points and five rebounds while shooting 50% from the field and 45% from 3. He's a potential first-team All-American. These guys go in the top 20 typically when they fit well within the NBA construct."
This and that…
Saturday's loss made KU 1-1 in Big 12 play for the first time since the 2018-19 season… The loss snapped KU's eight-game winning streak and made KU 12-2 or better overall to start a season for the 12th time in Self's 19 seasons in charge of the program… KU leads the all-time series with Texas Tech, 39-7, including a 16-6 mark in games played in Lubbock… The Jayhawks are now 6-2 in games played away from Allen Fieldhouse this season and 0-1 against ranked teams.