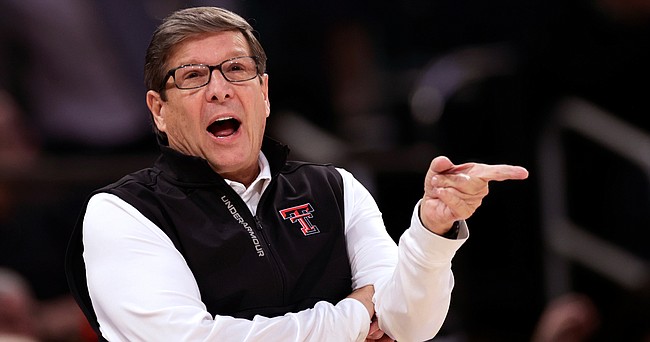 When former Texas Tech coach Chris Beard left the Red Raiders to become the head coach at Texas in the offseason, Tech moved quickly to name veteran assistant Mark Adams its next head coach.
The way Kansas coach Bill Self saw it, doing so was a brilliant move.
Long respected as one of the biggest reasons for Texas Tech's turnaround under Beard — and also at Arkansas-Little Rock before that — the shift to Adams has allowed Texas Tech basketball to move forward with few disruptions.
As he watched film and began to prepare for No. 6 Kansas' matchup with the 25th-ranked Red Raiders on Saturday in Lubbock, Texas — 3 p.m. on ESPN2 — Self made note of many of the same things that he had while scouting Beard's Texas Tech teams in the past.
"I don't see a big difference," Self said Friday. "I think, philosophically, they're very similar. That's why (Adams and Beard) were together and had those great runs. They may miss Chris in many ways, but they don't miss him in all ways because Mark does things very similar to the way Chris does and he's respected because they know the impact he's had on the program down there."
Known as the architect of the stout Red Raiders defense that helped the program reach an Elite Eight and the national title games in back-to-back years in 2018 and 2019, Adams' X's and O's paired perfectly with Beard's general philosophy on how to compete.
It's one that tugs at Self's heartstrings and one of the reasons the veteran Kansas coach has always enjoyed and braced for the challenge of facing Texas Tech in recent years, no matter when and where the games were played.
"First of all, it was a great hire," Self said of Tech picking Adams. "But the way they go about doing things, and the way Chris did things, was harder, faster, tougher. And, in my opinion, that's what wins at places like Tech. At Kansas, sometimes we get away from that a little bit because you think maybe you can recruit an elite guy. They've recruited two (near-)lottery picks, in (Zhaire) Smith and (Jarrett) Culver, that weren't really projected to be that and harder, faster, tougher gave them a chance to be lottery picks."
Smith was drafted No. 16 overall in the 2018 NBA draft and Culver went No. 6 overall one year later.
But the power behind Texas Tech's recent run as one of the toughest teams in the Big 12 has been not in its stars but in the way that every player on the roster approaches each game. They sell out for each other, fight for victory and keep coming no matter what the scoreboard reads.
That much was evident on Wednesday night, when the Red Raiders (10-3 overall, 0-1 Big 12) took No. 11 Iowa State to the wire in Ames, Iowa, despite having just seven healthy players.
Two of the Red Raiders who were absent that night were leading scorers Terrence Shannon and Kevin McCullar. Both are listed as game-time decisions for the matchup with Kansas (12-1, 1-0).

Like many programs in college basketball, the Texas Tech roster is made up of a blend of experienced players and transfers. It features five returners from the 2020-21 season, seven Division I transfers and one junior college transfer.
Adams has taken that talent and blended it together to resemble the Texas Tech teams of the past while adding little wrinkles here and there that give the team a fresh look. If anything, Self said this Texas Tech team's defense might be even tougher to match up against.
"I think that they're going to do more things, defensively, than what they did last year," Self said. "I think that they could press more, trap ball screens, switch ball screens, not switch. I think they could do a lot of things. The one thing that we know that they're positively going to do is keep the ball on the side and not try to allow (you to get to the) middle."
That kind of defensive intensity, which was on full display in their near-win at Iowa State, can take even the best offenses completely out of what they want to do.
To counter that, Self said having multiple ball handlers on the floor at the same time — like the Jayhawks typically do — can be part of the answer. The rest of it depends on execution and taking care of the basketball.
"The second half against Iowa State, they guarded hot," Self said. "I mean, (Iowa State's) 4 and 5 men were catching it at 40 feet. Iowa State had no rhythm just because Texas Tech guarded them so hard."
"Veterans are important, (but) I think ball handlers are probably more important," he added. "Because you have to be able to force help and make plays. If you allow people to play into you like that and you don't take advantage of them playing into you, then you're just going to play around the perimeter and not get anything."
Facing that kind of challenge is nothing new for teams playing in Lubbock. And Self believes that the defense-first approach that Adams has made a priority — both before and after becoming Tech's head coach — will keep it that way for a long time.
"I like seeing Mark coach," Self said. "He's paid his dues as much as anybody in our profession has. I think everybody down there is totally bought in to how they do things. The culture's good and it will continue to be good as long as Mark's there."
Probable Starters
No. 6 Kansas
G – Dajuan Harris, 6-1, 180, Soph.
G – Remy Martin, 6-0, 195, Sr.
G – Ochai Agbaji, 6-5, 210, Sr.
G – Christian Braun, 6-6, 205, Jr.
F – Mitch Lightfoot, 6-8, 225, Sr.
No. 25 Texas Tech
G – Clarence Nadolny, 6-3, 190, Jr.
G – Davion Warren, 6-6, 210, Sr.
G – Adonis Arms, 6-6, 205, Sr.
F – Kevin Obanor, 6-8, 235, Sr.
F – Bryson Williams, 6-8, 250, Sr.