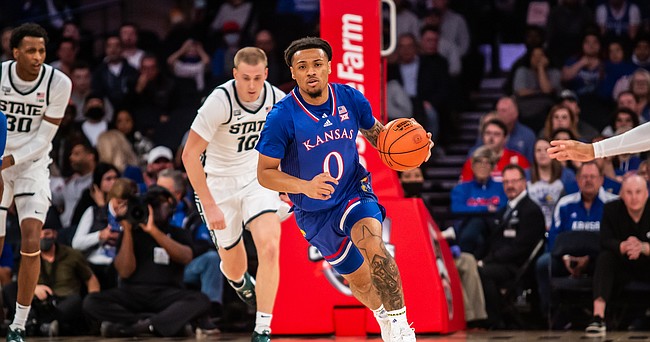 A few health, injury and lineup updates for the sixth-ranked Kansas men's basketball program as they head down to Lubbock, Texas, to take on No. 25 Texas Tech at 3 p.m. Saturday…
Kansas coach Bill Self said Friday morning that the Jayhawks were "COVID-free as of yesterday."
That designation included freshman Bobby Pettiford, who recently tested positive for COVID-19 while sitting out with an abdominal injury.
Self said the freshman guard was back with the team and out of quarantine but that he still had some work to do to recover from the injury that sidelined him in early December.
"He's around. He's back," Self said of Pettiford. "He's out of quarantine and did all the proper protocols to make sure he was ready to join everybody."
Heading into Friday's practice before their afternoon departure for Lubbock, Self said he expected everyone to go with the exception of Pettiford.
"I'm hoping that stays the same," Self said. "It's amazing to me how you can go from being, you think, fine to two hours later something happens and whatever and then you're not fine. But going into practice today we should have all our bodies."
Self also offered support for the reinstallation of a mask mandate at Allen Fieldhouse, announced by KU Chancellor Douglas Girod on Friday morning.
"If you like attending KU basketball games, which 16,000 do every single time we play, then you're going to have to mask up and respect that," Self said. "And if we respect it and handle it right, hopefully in the very near future that will be given back to us that we don't have to do that."
• That includes senior point guard Remy Martin, who has been dealing with a minor knee injury.
Self said Martin did not practice on Thursday but that he expected him to practice on Friday and play at Tech on Saturday.
"His knee was sore (and) bothering him," Self said. "But I anticipate him going today."
Martin, who injured his right knee on a drive to the basket in KU's win over Nevada, sat out of KU's win over George Mason last Saturday because of swelling and missed the 30-minute practice on Sunday. He was back on Monday, though, and played 25 minutes in KU's win at Oklahoma State on Tuesday night.
• Speaking of Tuesday night, Self said he had not given much thought to whether he would start Mitch Lightfoot, like he did at Oklahoma State, or go back to David McCormack at the 5, as he had done during the first 12 games of the season.
Thursday's practice, however, may have offered a small hint.
"In practice yesterday, we kept it exactly the way we started at Oklahoma State," Self said Friday. "I guess that could change. But, as of now, I'm seeing starting the same guys we did in Stillwater."