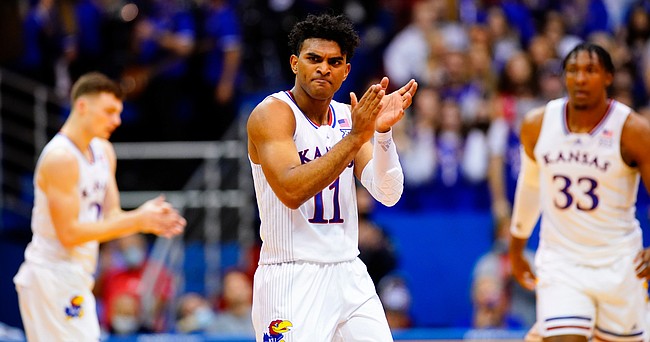 Remy Martin came to Kansas in the offseason with the reputation as a high-volume scorer who was most comfortable with the ball in his hands and never saw a shot he didn't like.
And now he's being called "too unselfish" by Kansas coach Bill Self and some of his teammates.
It's a fascinating shift in philosophy and mindset — in a short period of time — and it speaks to Martin's ability to adjust to just about any situation that arises on a basketball court.
The 6-foot, 175-pound transfer from Arizona State hasn't been flawless. And he probably will continue to make mistakes on both ends of the floor. But when it comes to executing the oh-so-important adjustment of thinking team-first above all, Martin appears to have that licked.
His numbers illustrate that.
In 12 games with the Jayhawks, Martin has taken just 84 shots and made 41 of them. That's good for a 48.8% shooting clip and, at 10.4 points per game, lands him as this team's third leading scorer.
Compare those numbers to what he did through 12 games in his four seasons at Arizona State, and it's easy to see that Martin has pulled back.
Here are those numbers:
2017-18: 46 makes in 85 attempts in 25 minutes per game.
2018-19: 50 makes in 131 attempts in 31 minutes per game.
2019-20: 73 makes in 170 attempts in 32 minutes per game.
2020-21: 69 makes in 149 attempts in 33 minutes per game.
So far this season, Martin is averaging just above the low mark for his usage at ASU, at 26.5 minutes per game with the Jayhawks. He has made 19 fewer shots and attempted just over half as many shots as his four-year average (134 attempts) through 12 games with the Sun Devils. Both are clear indicators that Martin can fit into a team as a part of the offense rather than needing to be the entire thing.
And he seems to be genuinely happy doing it. The reason is simple.
"My guys are doing well," Martin said following Tuesday's win at Oklahoma State before mentioning the three players closest to him on KU's season scoring list, Christian Braun, Ochai Agbaji and David McCormack. "CB, Och, they've been doing really well and then David today was great. So, I'm just trying to win a game. Maybe I'm unselfish, maybe not. But we're winning, so I have no complaints about it."
In addition to his shot volume being lower at Kansas than it was at Arizona State, Martin's turnover average is down. Through 12 games in his four years at ASU, Martin averaged 26.5 turnovers, with a high of 34 in 12 games as a junior and a low of 22 giveaways in 12 games as a freshman. So far this season, Martin has turned it over 24 times.
From the outset, Self said he thought one of Martin's most valuable traits would be his ability to bring passion and personality to the court. He has done that. He also possesses the kind of speed and quickness that few players in the country can match. That alone makes him a weapon at any point in any game, and it's also the reason that Self and many of Martin's teammates have urged him to look to score just a touch more.
"He's so unselfish," senior forward Mitch Lightfoot said of Martin. "We, as a team, have been trying to tell him, 'Hey, you're a bad man. Go ahead and reward yourself.'"
But it's not just points and buckets that Lightfoot and the Jayhawks are seeking by telling Martin to attack more. As long as he makes the right play and does it under control, even misses in the paint can lead to a good outcome for Kansas.
"He's so fast," Lightfoot said. "There has to be one-and-a-half people guarding him at all times — people jumping into driving lanes. So, he's got to reward himself. A couple of those layups he turned down, a couple of floaters, those are great shots because you're going to get the big guy to commit to you and that frees up (your) big guy for an offensive rebound. There's a multitude of reasons why he should take those shots."
Martin says he will. And he has maintained throughout the season that he still has that switch that can be flipped at any moment.
"When it's time for me to hit the shots, then I'm going to shoot it," he said after Tuesday's night.
That comment came roughly 45 minutes after he buried back-to-back jumpers that effectively ended the game and send hundreds of Oklahoma State fans to the exits.
"I know how the game's flowing," Martin said. "The team needed me to hit a couple shots to kind of close it out a little bit. I just took the chance and I'm happy (they) went in."
Self likes that mentality and, for the most part, has been very pleased with Martin's offensive production. It has not lined up with the Preseason Big 12 Player of the Year honor that Martin received in October, but it wasn't Martin or anyone in the Kansas locker room that handed him that recognition. And if things continue at the pace they're on, the postseason award won't be coming Martin's way either.
"You've still got 17 (conference) games left so anything can happen in those 17 games," Self said on Tuesday, when he was asked about Martin's Big 12 player of the year candidacy. "If we're fortunate enough to have a great run, the best player on the best team would obviously have a chance. But, statistically, he's been too unselfish to put himself in position where the media would think he'd deserve something like that."
Martin and the sixth-ranked Jayhawks (12-1 overall, 1-0 Big 12) return to action on Saturday against No. 25 Texas Tech in Lubbock, Texas. Tipoff is slated for 3 p.m. on ESPN2.