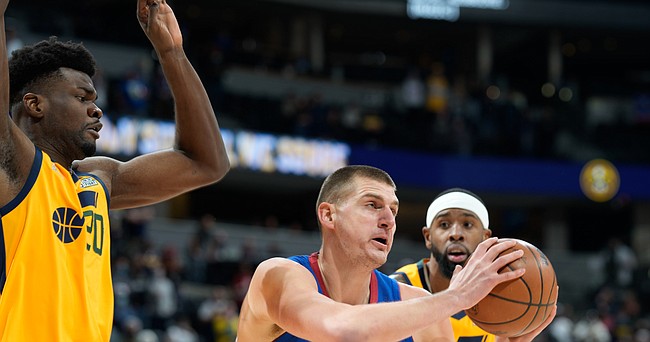 Former KU All-American Udoka Azubuike made the first start of his NBA career on Wednesday night, helping lead Utah past Denver in the Mile High City.
Starting in place of the injured Rudy Gobert, who was out with shoulder inflammation, Azubuike played 16 of 48 minutes in his first career start. Backup big man Hassan Whiteside (concussion) was also out for the Jazz on Wednesday night.
Azubuike's first start came in just his fifth game of the season and just the 20th NBA game of his pro career.
He missed all of December and the first two games of January because of an ankle injury suffered in a G League game and has been plagued by a series of injuries since joining the Jazz as a late-first-round pick in the 2020 draft.
Azubuike was not even cleared to play until Wednesday and he told The Salt Lake Tribune that news of his starting nod was "a last-minute thing."
"It was right before the game started," he told the paper. "That's when one of the coaches brought me along and was like, 'Yeah, you're starting.' At first, I thought it was a joke. I thought he was joking with me. I was like, 'What do you mean?' So it was just last-minute, showing me coverages, how to guard The Joker (reigning NBA MVP Nikola Jokic)."
While defense was his primary focus, Azubuike made 2 of 3 shots from the floor for 5 points while grabbing 1 rebound, 1 steal, a block and a turnover to go along with three fouls.
His final plus/minus number for the night was a team-worst -8 (he was one of just two Jazz players in negative numbers), but Utah (28-10) picked up a 115-109 victory over the Nuggets (18-18) and Azubuike's teammates believed he was a key part of it.
"He was really focused and ready. He gave us great minutes," Utah forward Bojan Bogdanovic said of Azubuike, per The Associated Press, after scoring 36 points and grabbing 13 rebounds in 40 minutes.
Utah coach Quin Snyder agreed, telling The Tribune: "For him to come in, his first NBA start, to play against arguably the best player in the world right now — I thought the minutes that he gave us were just really important minutes."

Jokic finished with 26 points, 21 rebounds and 11 assists, giving him his 64th career triple-double.
Azubuike called his first start and the chance to square off with Jokic "a crazy experience."
During the 2020-21 season, Azubuike played in 15 games, averaging 1.1 points, 0.9 rebounds and 0.3 blocks in just 3.8 minutes per game.
Through five games this season, he's averaging 1.4 points, 1 rebound and 0.2 blocks in 4.6 minutes per game.
Injuries and big man depth on the roster ahead of him have kept Azubuike from making much of an impact during his first two professional seasons. But the Jazz remain excited about his long-term potential and all parties involved are hoping for good health for the former KU big man from this point forward.
The Jazz, who currently have the second best record in the Western Conference, will be on the road again Friday night in Toronto, where they will look for their 11th consecutive road victory.