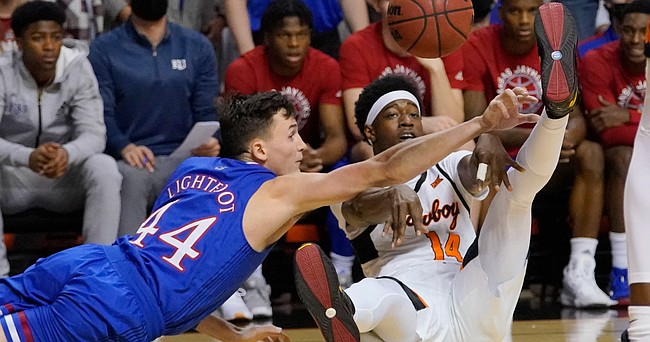 Stillwater, Okla. — Kansas senior Remy Martin was back in the starting lineup during the sixth-ranked Jayhawks' 74-63 win at Oklahoma State on Tuesday night, bringing a sense of the old with the new to the Jayhawks' starting five.
Martin joined regular starters Dajuan Harris Jr., Ochai Agbaji and Christian Braun in KU's first five, and that group, which has started together in all but one game this season, welcomed super-senior Mitch Lightfoot to the floor to start things off.
Martin missed KU's weekend win over George Mason with swelling in his right knee and he did not practice until Monday. After moving well in his regular warm-up routine, Martin took the floor with an extra wrap on his right knee.
He played 14 minutes in the first half and took just one shot (a miss) to go along with one assist and one turnover.
Asked after teh game how the knee felt, Martin said: "Pretty good. Always better when you get the win."
Document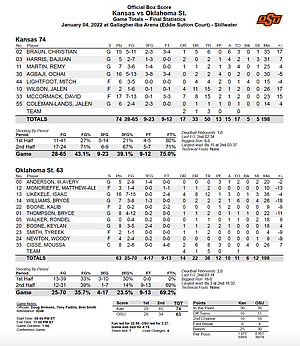 Asked if he was worried about it in the days leading up to Tuesday's victory, Martin said "not really."
"The trainers do a good job on me and make sure I'm out there, ready to play," he said.
Martin entered Tuesday's game, 28 points shy of 1,900 for his career and 10 3-pointers away from eclipsing the 200-make mark from behind the 3-point line.
He finished the game with 7 points and one 3-point make.
Lightfoot, meanwhile, took senior David McCormack's spot in the starting five, with Kansas coach Bill Self electing to "try something new" to see if he could get more efficiency from the 5 spot and take some of the pressure off of McCormack, who struggled on both ends of the floor throughout most of nonconference play.
Lightfoot jumped center for the Jayhawks — in place of Agbaji — and lost the tip.
He played the game's first six minutes and took a seat when McCormack checked in for him.
Lightfoot also started the second half but was subbed out at the 18:16 mark after fumbling a ball out of bounds on a pass in a pick-and-roll situation.
"It was good," Lightfoot said of starting his ninth game as a Jayhawk. "I was glad I was able to help us get off to kind of a good start and help set the tone for the game. It was exciting and I was glad we won."
Bryce Thompson reunion
Tuesday's game marked the first matchup between former Jayhawk Bryce Thompson and his old team.
Thompson, a former five-star prospect who played his freshman season at Kansas after a standout career at Tulsa's Booker T. Washington High, left Kansas following the 2020-21 season to play closer to home for OSU coach Mike Boynton.
Ahead of Tuesday's matchup, a couple of Jayhawks said they have kept in touch with their former teammate and will always be pulling for him.
"I've talked to him a little bit," KU junior Christian Braun said recently. "I know he's been hurt. Hopefully he gets back healthy and gets back to being Bryce. I think he has a really good mid-range game. He has a knack for scoring. I'm excited to see his success (at OSU)."
Prior to Tuesday's game, Thompson told the Tulsa World he tried to make his first matchup with Kansas just like any other game.
"There's going to be something there because I used to go there last year," he told the paper. "But, at the same time, I just try to take it and just do what I do."
Thompson checked into Tuesday's game at the 16:54 mark of the first half. He received a smattering of cheers from the crowd, some coming from OSU fans and a few from KU fans.
On his first possession in the game, Thompson scored on a put-back at the rim after a missed shot by a teammate.
By game's end, the former KU guard delivered eight points on 4-of-12 shooting in 22 minutes.
"It was fun," said KU senior Ochai Agbaji of facing his former teammate. "Like I was talking about the other day, we're going to have different matchups against guys that we had on our team last year and, obviously we want to get the best of it and beat them. But it was nice to see back out there playing."
Player of the Year watch
The start of conference play often marks the halfway point of the college basketball season, even if the number of games played does not exactly equal half of the total.
It also marks the time when people start getting serious about both national player of the year and conference player of the year watch lists.
Nowhere is that more obvious than at KenPom.com, where the analytics guru actually begins tracking the conference stuff with real data.
A pair of Jayhawks landed on KenPom's first top-five list for Big 12 player of the year. And the one at the top of the list might not be the one you think.
Junior guard Christian Braun leads the way, with senior and KU leading scorer Ochai Agbaji currently ranked fourth.
West Virginia's Taz Sherman (2nd), Baylor's James Akinjo (3rd) and Iowa State's Izaiah Brockington (5th) rounded out the top five.
Interestingly enough, on the same day that KenPom's list came out, national college hoops analyst Jeff Goodman dropped his current top five for national player of the year, and Agbaji was third on his list, behind Wisconsin's Johnny Davis and Ohio State's EJ Liddell.
This and that…
Tuesday's win moved KU's current winning streak to eight in a row and made Kansas 12-1 or better for the ninth time in Self's 19 seasons in charge of the program… KU is now 6-1 in games played away from Allen Fieldhouse this season and 37-36 in games played at Gallagher-Iba Arena. The win moved Self to 7-8 against OSU on the Cowboys' home floor and brought Self's overall record against his alma mater to 24-14, 23-11 while at Kansas… KU now leads the all-time series with Oklahoma State 120-60.