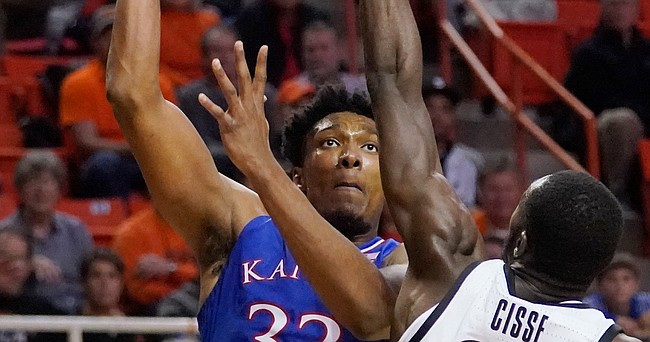 Long before he praised his bruising power forward for delivering 17 points and 15 rebounds in Tuesday's road win at Oklahoma State, Kansas basketball coach Bill Self said he did not know what KU senior David McCormack's role would be in the games ahead.
Luckily for Self, neither McCormack, who came off the bench, nor super-senior Mitch Lightfoot, who started in McCormack's place, seems to care much about who starts and who doesn't.
"Me and him (McCormack) were joking, that's kind of what you want to see out of that 5 spot, isn't it," Lightfoot said of the 23 points and 19 rebounds the two veteran KU big men produced in Tuesday's 74-63 win. "There's a lot of people online that were saying some stuff, but it's all good. We'll take that and we'll move on and we're going to help this team win games."
Forever a fan of reminding anyone who will listen that who starts a game isn't important, Self was at it again on Tuesday night in the aftermath of his team's 31st consecutive win in a conference opener.
"It doesn't really matter much," Self reiterated.
Asked then what might go into evaluating whether to stick with Lightfoot to start games or to go back to McCormack, who started the previous 12, Self painted the picture of a democratic approach to answering the question.
"Maybe I'll talk to the guys and see what they thought," he said. "We won a game on the road in a hard league against a quality opponent doing what we did, so I don't know exactly how we'll do it next. You guys make a bigger deal of that than what it is."
Be that as it may, Lightfoot said the opportunity to start for the first time this season and just the ninth time in his six-year Kansas career was a thrill.
"It means something to me, starting at Kansas," he said. "It's a responsibility and you've got to go out there and give it what coach expects out of you, maybe even a little bit more."
With that said, Lightfoot said it was the honor of starting and not the ego boost that made it matter. He couldn't care less which one of the two starts at the 5 for the sixth-ranked Jayhawks (12-1) on Saturday at Texas Tech or in the weeks ahead.
"I would say whatever's best for the team, whatever makes everybody the most confident," Lightfoot said while offering his input on Self's upcoming decision. "Start him, start me, start whoever. As long as we get better as a team then I'm completely fine with doing whatever.
"Every minute in a Big 12 game is valuable, especially a road game. (Starting is) something that I appreciate, but it could be either way. It doesn't bother me."
Kansas travels to Texas Tech this weekend, when it will look to go 2-0 in Big 12 play with two early conference road wins.
"A road win means a lot more, especially (with it being) your first win," McCormack said of KU's win on Tuesday night and the chance to do it again on Saturday. "It kind of just sets the tone for the rest of conference (play)."
Tipoff for KU-Texas Tech is slated for 3 p.m. on ESPN2.