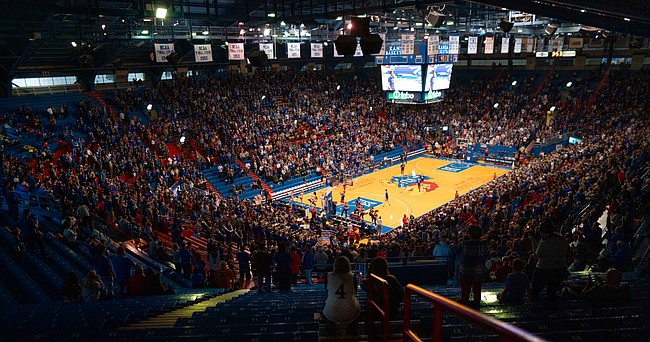 When asked Monday morning if any new COVID-19 issues had surfaced within the Kansas men's basketball program, KU coach Bill Self said there was "nothing" to report.
"That's as of this morning," he added. "But we've been certainly fortunate on that."
The question was relevant because of the recent news that freshman guard Bobby Pettiford tested positive for COVID-19 late last week.
Self said Saturday that Pettiford had been kept away from his teammates and that contact tracing efforts, which included players being tested, did not uncover more issues. KU officials did not say whether any tests had been conducted since Saturday. But it's clear that the Jayhawks have taken on a heightened sense of awareness with Pettiford testing positive.
"(We're) just being extra safe now, knowing it is in our team," senior guard Ochai Agbaji said Monday. "Sticking back to what we can control and just remaining as safe as possible."
Pettiford did not attend Saturday's game against George Mason and Self said the freshman guard has not been around his teammates since he started showing symptoms. One thing that has made that easier is the fact that Pettiford has been sidelined with an abdominal injury since early December.
Despite Pettiford's absence for either ailment, fellow-freshman KJ Adams said the Jayhawks had kept in touch with him at a distance.
"We talk to him all day," Adams said. "He seems to be doing fine and I think everybody with the staff is doing a good job with it, so no real worries with regards to that."
Throughout the season, KU's policy has been to test players when they show symptoms. Pettiford is the first Kansas player to test positive for COVID-19 since the start of the 2021-22 season, and Self said he anticipated that the team's testing protocol would remain the same in the wake of Pettiford's positive case.
In other non-COVID absence news, Self said KU senior Remy Martin did not practice on Sunday and his status for Tuesday's game at Oklahoma State remained up in the air.
Self said the Jayhawks went for about 30 minutes on Sunday but that Martin's swollen right knee did not allow him to participate.
Self was hopeful that Martin could practice Monday and be ready to play in Tuesday's Big 12 opener.
After KU's win last Saturday, Self said an MRI on Martin's knee revealed no structural damage.