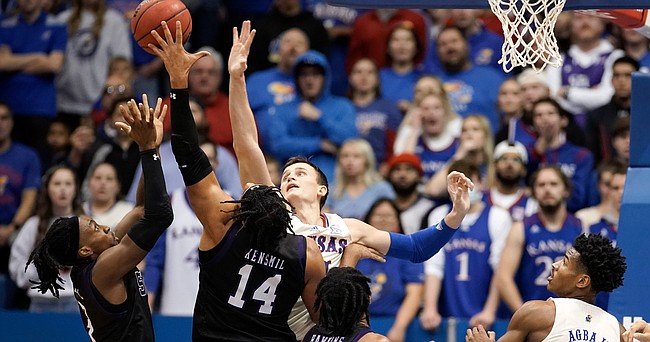 No. 6 Kansas Jayhawks (11-1) at Oklahoma State Cowboys (7-4)
Time: 8 p.m., Tuesday, Jan. 4, 2022
Location: Gallagher-Iba Arena, Stillwater, Oklahoma
TV: ESPN2 | Radio: IMG Jayhawk Radio Network
Keys for Kansas
1. Time to turn it up
The start of the Big 12 Conference schedule always requires a little added intensity, but Kansas coach Bill Self said on Monday that the Jayhawks would need to find an extra gear right out of the gate to handle the Cowboys.
For one, Kansas is opening conference play on the road in what historically has been one of the toughest places for the Jayhawks to play.
For two, Oklahoma State, which Self said was now "COVID clear" has been off for the past two weeks, and the Cowboys figure to be raring to go, both because of the chance to get back to action and with Kansas coming to town.
"We expect them to come out with great energy," Self said. "They haven't played in about two weeks. So, you could say that could be an advantage to us or you could say they'll be more turned up than they've ever been because they're so excited to play. And plus, it's the first conference game."
Regardless of what type of challenge Oklahoma State presents, KU senior Ochai Agbaji said the KU veterans have clearly explained to the newcomers what it will take to flip the switch to conference play.
Those conversations, Agbaji said, first surfaced weeks ago, when he and the other upperclassmen started to explain to their new teammates that the back half of the nonconference season was the time to start preparing to make the transition to Big 12 play.
"You know, (we've been) telling them that it is a different season," Agbaji said. "It's going to be amped up and the guys that we're going to go against are the same athletic ability as us. It's just going to be a challenge every night trying to score and defending, obviously. It's just time to turn it up to the next level."
2. Match OSU's athleticism
Self still remembers how much of a struggle it was last season, in a loss in Stillwater, for the Jayhawks to match OSU's speed and athleticism.
Although the season-ending loss to USC in the NCAA Tournament really hammered home the point, games like the one at Oklahoma State set the wheels in motion for Self and his coaching staff to find ways to get more athletic in the offseason. While that has been tested at times throughout nonconference play, the time to see how much it pays off is now here. And the Jayhawks will find out quickly how much better they have become in that department.

"They've got some nice pieces, and they're very athletic," Self said Monday. "I think that'll be a big key for us, being able to play to their quickness. We need to be turned up because they made us look slow last year."
Memories from that game — a 75-70 Oklahoma State win on Jan. 12 — figure to benefit the Cowboys this season, with so many of the same players still on OSU's roster.
Sure, Oklahoma State lost No. 1 overall NBA draft pick Cade Cunningham, but Mike Boynton's squad replaced him with a few players, including former Kansas guard Bryce Thompson.
Thompson already has missed time because of an injury this season, but he played 6 minutes in OSU's most recent game (a 72-61 loss to Houston on Dec. 18) and the expectation is that he'll play against Kansas.
"They haven't had all their team together all the time and it's hard to get rhythm when that's the case," Self said.
3. Limit the fouls, Mr. Lightfoot
Plenty has been made about KU senior Mitch Lightfoot sliding into the starting lineup for David McCormack in this one, but the new role won't matter much if Lightfoot can't stay out of foul trouble.
He's been largely successful at that so far this season, averaging just over 2.5 fouls per game. But he's still capable of spurts like the one he had against Missouri, when he picked up three fouls in about a minute to earn a seat on the bench for the rest of the game.
That was the only game Lightfoot has fouled out of so far. And he has only reached four fouls on two other occasions — the season opener versus Michigan State and at St. John's.
Given the fact that Self's desire to plug Lightfoot into the starting lineup is tied largely to his overall efficiency, there's a real chance that the sixth-year senior could see his minutes per game number double from 13 to 26 in this one. The only way it will, though, is if Self and his staff don't have to think much about Lightfoot's foul trouble.
If they do, regular starter David McCormack could be in line for 20+ minutes and freshmen KJ Adams and Zach Clemence also could be utilized more than they have been.
Self is in search of consistent production from the 5 spot, and he does not appear to care who gives it to him. Staying out of foul trouble and getting on the glass are two of the easiest ways to become a part of that answer.
"The biggest thing that bothers me is the two big guys combined for one defensive rebound (against George Mason)," Self said of Lightfoot and McCormack. "Ochai and CB (Christian Braun) should not be our leading rebounders."
Marquee Matchup
KU's backcourt vs. Oklahoma State senior Isaac Likekele
He's been around long enough for the Jayhawks to know what he's about, but that doesn't make it any easier to handle on the court.
In addition to being one of Oklahoma State's toughest and top play-making guards, Self said Monday that the 6-foot-5, 215-pound senior from Arlington, Texas, was "as physical a guard as there is in America."
"He's a load," Self said. "It's like a fullback or a linebacker."
And when he has the ball in his hands and is running free in the open court, he becomes even harder to handle. While littler guards like Remy Martin and Dajuan Harris Jr. may have a tough time against Likekele's physicality, they both possess the potential to frustrate him early after the catch.
"We've gone against him a lot," Self said Monday. "There's a couple of schools of thought on it. The one thing that a lot of people do is they kind of back off. But if you back off, you let him get a head of steam because he's really good at going downhill. I don't know that that's the best way to do it."
Look for Kansas to throw many different looks — and different players — at Likekele to try to keep him from getting comfortable and controlling the game with his ability to attack from anywhere on the floor.
The rest of his Cowboys teammates are capable of taking on that role, as well, but none of them do it with the same punishing style as Likekele.
"I think he's a good all-around player," Self said. "Kind of like a Marcus Garrett was for us last year."
Jayhawk Pulse
The sixth-ranked Jayhawks are currently riding a 30-game winning streak in conference openers, yet another mind-blowing streak that dates back to the 1991-92 season.
While KU's chances of winning significantly go up when they're on their home floor, the current conference-opening win streak is made all the more impressive by the fact that 18 of those 30 have come away from Allen Fieldhouse.
The last time the Jayhawks lost a conference opener came in the Sooner State, when they fell to Oklahoma, 88-82, on Jan. 8, 1991.
This will mark Oklahoma State's third crack at Kansas in its conference opener during that stretch, with the Jayhawks winning 76-61 in 1996 at OSU and 87-57 in 2007 in Lawrence.
They don't make them much tougher than this, though. Oklahoma State's home win over the Jayhawks last season gave the Cowboys their 13th victory over KU since 2000, which is tied for the most victories by any opponent in the country during that time frame.
KU leads the all-time series with the Cowboys, 119-60. That includes a record of 9-5 in the past 14 meetings. KU is 38-36 all-time against OSU in games played in Stillwater, with the series being even at 36 wins apiece in games played at Gallagher-Iba Arena.
Although the overall series dates back to 1926, KU is 30-13 all-time against OSU in Big 12 play and Self is 23-14 all-time against his alma mater, including a record of 22-11 while the head coach at Kansas.
The Jayhawks have won seven in a row since falling to Dayton in Orlando in late November, and KenPom.com lists the Jayhawks as a 6-point favorite, with a 73% win probability.
Probable Starters
No. 6 Kansas
G – Dajuan Harris, 6-1, 180, Soph.
G – Remy Martin, 6-0, 195, Sr.
G – Ochai Agbaji, 6-5, 210, Sr.
G – Christian Braun, 6-6, 205, Jr.
F – Mitch Lightfoot, 6-8, 225, Sr.
Oklahoma State
G – Avery Anderson, 6-3, 170, Jr.
G – Isaac Likekele, 6-5, 215, Sr.
G – Bryce Thompson, 6-5, 195, Soph.
G – Rondel Walker, 6-5, 180, Soph.
F – Kalib Boone, 6-9, 210, Jr.