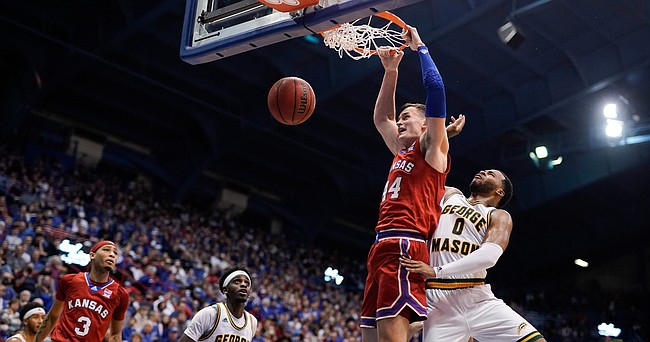 It's unlikely that George Mason basketball coach Kim English circled the names of Kansas reserves Mitch Lightfoot and Jalen Coleman-Lands on the white board during his final pregame talk with his team on Saturday.
But maybe he should've.
After weeks of watching the starting five — and, really, the team's top two players — carry the KU offense, the sixth-ranked Jayhawks received a couple of much-needed contributions from their bench during Saturday's 76-67 victory over George Mason at Allen Fieldhouse.
Coleman-Lands led everyone with 20 points on 7-of-9 shoooting, including 5-of-7 from 3-point range. And Lightfoot, in 21 minutes, made all seven of his shots and tied a career-high with 14 points. Together, the two shot 14-of-16 from the floor and combined for 34 points, six rebounds, four assists and just two turnovers.
Photo Gallery
Kansas basketball v. George Mason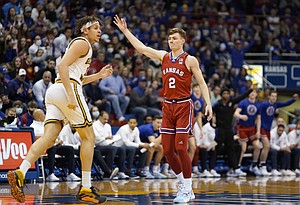 View a gallery of images from Saturday's game between the Kansas Jayhawks and the George Mason Patriots.
"Our starters were terrific against Nevada and probably that poor today. And our bench was awful against Nevada and, as bad as it was, we were probably even better than that today," KU coach Bill Self said after the victory. "We wouldn't have won the game without probably either one of them and both of them, collectively, gave us a chance to win."
Lightfoot's performance, though highly efficient and nearly perfect, was not all that unusual. The sixth-year senior has had plenty of games in the past where he has come in for KU big man David McCormack and provided a scoring or rebounding spark.
"The buckets I was getting, they were all set up by my teammates," said Lightfoot, who scored with a variety of jump hooks in the post and dunks on bursts to the basket. "They were the ones that allowed me to get easy baskets."
Coleman-Lands, however, did a lot of the work on his own. And Self marveled at how much better the super-senior transfer performed when he focused on filling up the stat sheet and shooting the shots when they came to him, rather than dribbling too much and looking for the ones he wanted.
"Of the times he looked to score, how many times did he bounce it," Self asked. "Not many. … He needs to shoot it whenever he's open (because) he's the best shooter on our team."
Coleman-Lands' 24:38 of playing time on Saturday was 10 minutes more than his output in any single game this season. Self said the fact that senior guard Remy Martin did not play because of a swollen knee made it easier to give Coleman-Lands more minutes. But Self also said he showed he deserved them.
Never one to complain about his usage, Coleman-Lands admitted that his prolonged time on the court allowed him a better opportunity to find his rhythm. Once he did, he was nearly unstoppable. There were shots in rhythm off the catch, step-backs off of one bounce. And even a couple of near-heat checks that never actually went up because of the George Mason defense's understanding that it would probably fair better with Coleman-Lands not shooting.
Despite the strong days by KU's two reserves, the Patriots (7-6) were in the game the entire way. A late first-half surge that featured a dunk by Christian Braun that just beat the halftime buzzer put Kansas up by 11 at the break. But GMU stuck around all the way down to the 3-minute mark. That's when Lightfoot delivered what might have been his biggest play of the game.
With just over 3 minutes to play, and Kansas leading by just five, GMU forced a miss of a drive along the baseline by KU's Ochai Agbaji. As the ball came off the rim, Lightfoot fought for it, secured the offensive rebound and fired a pass out to Braun, who let fly with a 3-pointer from the wing in front of the Kansas bench.
At first, it looked like the shot missed. But after a soft bounce, it circled the rim and fell through. That put Kansas up 69-61 with 3:11 remaining and effectively ended the game.
"Juan (Dajuan Harris), CB and Och and J-Will (Jalen Wilson), they were just out there," Self said of four of his starters. "They didn't play poorly, didn't play well. So, we needed a spark."
Coming off a month in which they became the first Jayhawks to average 20 points per game in a single month since Raef LaFrentz and Paul Pierce during the 1997-98 season, Agbaji and Braun combined for 25 points but on just 7-of-26 shooting.
KU big man David McCormack also struggled. He played just 11 minutes and missed all three shots he attempted, finishing with a -6 number in the plus/minus category. McCormack played just 4:17 in Saturday's second half.
While KU's starting five powered through an off day, Self left the arena pleased with the effort, both because his bench rose to the occasion and because Allen Fieldhouse was nearly full despite the game being scheduled a little more than 72 hours before tipoff.
Saturday's game was supposed to be the Big 12 opener for Kansas against TCU, but COVID-19 issues with the Horned Frogs program led to that matchup being postponed.
"It was a win on New Year's Day, so there's absolutely nothing that we can be negative about," Self said after the victory. "And the crowd was unbelievable. To have that many people at a game that was not part of the season ticket package, selling it in 72 hours, in minus-15 degree weather (with) ice all over the road and most of them have to come from distance; it's just incredible to me that our people show up like they do. That was people that just love KU."
Next up, KU (11-1) travels to Stillwater, Oklahoma, on Tuesday for an 8 p.m. clash with the Cowboys on ESPN2.