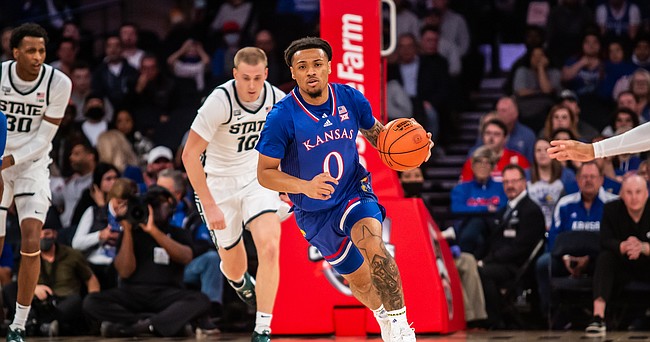 The freshman season of Kansas point guard Bobby Pettiford is officially over because of a lingering abdominal injury.
KU coach Bill Self announced Friday that the 6-foot-1, 190-pound from Durham, North Carolina, underwent season-ending surgery on Thursday.
During the past couple of weeks, Self often said that Pettiford's status dictated that he be used only in cases of emergency. As a result, Pettiford played a total of just eight minutes in the month of February and did not play at all in either of KU's last two games.
Self said Thursday's surgery was a success and that it was done to repair a core muscle in Pettiford's pelvic area.
"In these last couple of weeks, it's become apparent it was best to go ahead and have the surgery now," Self said in a release announcing the surgery. "Bobby should return to basketball activities in four to six weeks."
Pettiford played in 14 games during the 2021-22 season, including six Big 12 contests. He averaged eight minutes, 1.4 points and 0.9 assists per contest.
Although Pettiford did not play much lately, his absence puts even greater importance on starting point guard Dajuan Harris Jr., and top reserve guard Joe Yesufu. Both would figure to benefit from a return to the lineup by super-senior point guard Remy Martin, who has been out for several weeks with a bone bruise in his right knee. A timetable for Martin's return remains up in the air, but Self has said that the Arizona State transfer who opened the season in KU's starting lineup has practiced several times during the past week.
No. 5 Kansas (23-4, 12-2 Big 12) plays at No. 10 Baylor (23-5, 11-4) at 7 p.m. Saturday in Waco, Texas, in a clash that could have a major impact on the Big 12 title race.