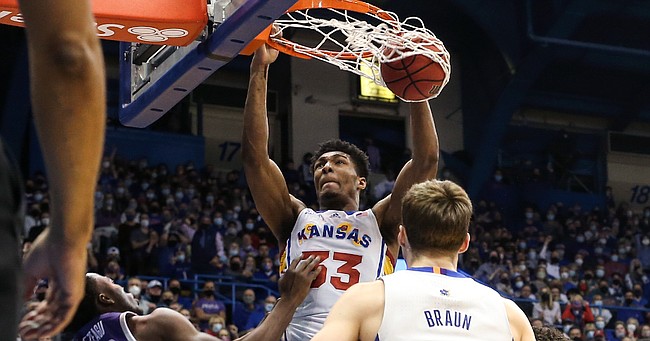 With fifth-ranked Kansas slated to play four games in an eight-day stretch starting Saturday, KU forward David McCormack's sore right foot has garnered a little extra attention in the past few days, Kansas coach Bill Self said Thursday.
"From what he told me, he aggravated it at the very beginning of the game," Self said of KU's win over Kansas State on Tuesday. "He looked like an old man as far as his movements. He didn't tell me about it, but I asked him and he said, 'Yeah. I didn't have it today.'"
McCormack, who missed most of last summer after having surgery to repair a broken bone in the injured foot in late March, has been dealing with soreness and managing pain throughout the season. But he has always been able to play through it, appearing in all 27 games this season while averaging 20.7 minutes per outing. Self believes that will continue to be the case.
"We think he's fine," Self said Thursday. "It's late February. He's exactly what we thought he would be right now."
While the Jayhawks (23-4 overall, 12-2 Big 12) expect McCormack to continue to give them the production and presence that he has for much of the Big 12 schedule during KU's upcoming sprint, Self said the hope was that McCormack would be able to get some extra rest in the next couple of weeks. Self also said a recent hard fall during KU's loss at Texas took a toll on one of McCormack's knees, which has led to him dealing with swelling and stiffness off and on in the past couple of weeks.
"If we have to rest him the Big 12 tournament, we'll rest him," Self said. "We just want him feeling as good as he possibly can going into the NCAA Tournament. And that's still very realistic. But he's sore right now."
In other injury news, Self said there was no update on freshman guard Bobby Pettiford, who continues to be bothered by an abdominal strain that kept him out entirely for several weeks earlier this season.
Pettiford's status of late has been in an emergency-only role and it remains likely that he will not play anytime soon.
As for the latest on injured point guard Remy Martin, who has missed 10 games this season because of a bone bruise in his right knee, Self said he remained hopeful that Martin would be able to return to action ahead of the postseason.
Martin practiced in limited fashion last Thursday and Friday and also practiced Monday. Self said Thursday he expected Martin to go again on Thursday, but his status for Saturday's game at Baylor remained uncertain.
"I do know that he's in getting treatment and all that stuff every day and I anticipate him practicing again today," Self said. "I just don't know what level or if he'll be able to go full go."
Asked if he had identified any specific drop-dead date for Martin to have to return by, Self said he did not want to make any concrete declarations like that because of KU's potential to need him in unique circumstances even if Martin is not able to return to full action before postseason play arrives.
"Even though he may not be what he could be if he was healthy, he still may be the best ball handler if the other team's pressing," Self said of a hypothetical situation that could inspire him to use Martin regardless of when he returns.
Still, the goal, Self said, was for Martin to come back sometime in the next week so he can shake off some of the rust and show his teammates and coaches what he's capable of handling moving forward.
"There's not a drop-dead date on him helping our team," Self said. "But I'll be more comfortable if I'm able to see him play before we get into postseason. That's where I think the coaching part comes in from a trust standpoint. He needs to get out there so we can see him doing good things so we believe he should be doing those things at crunch time, too."