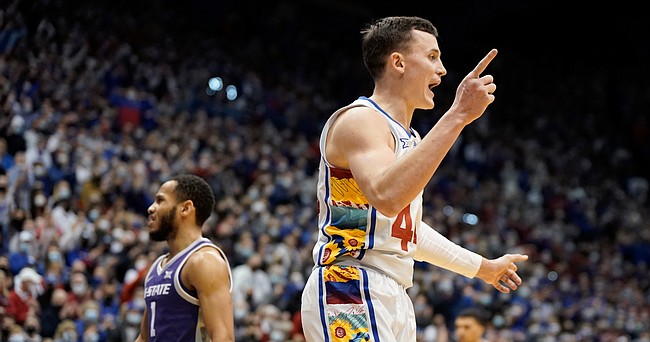 Ochai Agbaji, Christian Braun and Jalen Wilson have been responsible for more than half of the Kansas basketball team's scoring this season.
Yet on Tuesday night, in fifth-ranked KU's 102-83 victory over Kansas State at Allen Fieldhouse, they finally received some help off the bench.
"We had a four-headed monster tonight," said coach Bill Self. "It was Mitch."
Mitch Lightfoot finished with 13 points, one shy of his career high, in the win. Seven of those points were scored during a two-minute stretch in the second half when he made three shots, drew a foul and sank the free throw.
Photo Gallery
Kansas basketball v. Kansas State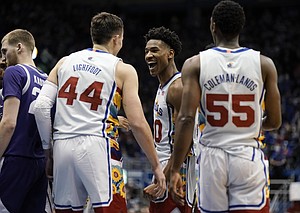 View a gallery of images from Tuesday's Sunflower Showdown between the Kansas Jayhawks and Kansas State Wildcats at Allen Fieldhouse.
Lightfoot, who also drew a charge and grabbed a rebound during that span, has often been Kansas' first player off the bench this season — usually out of necessity as starting center David McCormack battles inconsistency.
But the plight of McCormack, whom Self said was battling foot soreness Tuesday "so he wasn't really effective," underscores Kansas' problems with its reserves.
That crew frequently hasn't played well enough to earn Self's trust in bigger situations. And as Self desires to find chances to lessen the starters' workloads and have them play fewer minutes — a situation that is evaporating as the regular season draws to a close and the calendar flips to March — it seems the Jayhawks may finally be getting the much-needed consistency from Lightfoot and guards Jalen Coleman-Lands and Joe Yesufu that would allow him to do so.
"Definitely late in the season, guys stepping up to the table in big games like these when they matter the most, that's just good to see," Agbaji said. "I'm proud of my team for that."
Coleman-Lands played 13 minutes against Kansas State and knocked down all three of his 3-pointers to finish with nine points. Yesufu played 16 minutes and also scored nine points to match a season high.
Agbaji finished with a game-high 23 points, Braun had 20 and Wilson added 17, and the Jayhawks (23-4 overall, 12-2 Big 12) got 31 points from the bench against the Wildcats — their most against any conference opponent this season.
That may be a product of the quickened pace of the game and the high number of possessions they had. But the fact that the Jayhawks received 30.4% of their scoring from reserves in a conference game is second only to the impact the bench made in the Big 12 opener at Oklahoma State on Jan. 4, a 74-63 win in which McCormack scored 17 points off the bench.
"I don't want to say I don't have comfort, but I think our guys are totally comfortable playing to those guys' strengths," Self said Tuesday. "They want Jalen (Coleman-Lands) to shoot it every time he's open and they want Joe to be aggressive, and so I think our guys do a good job of giving them confidence."
Coleman-Lands, a super-senior who transferred to Kansas from Iowa State before the season, said acclimating to new teammates and embracing a new role have been obstacles to him achieving any semblance of consistency.
But he said that by having played so often at this point — Kansas is 27 games into the season, and he's averaging just shy of 10 minutes a game — that familiarity has started to show.
"These guys work their tail off throughout the game, and they have a history of playing together and things like that," Coleman-Lands said. "So, me getting acclimated and playing with these guys and just kind of finding my feet and just getting better as I progress — it's just really being consistent and having an opportunity and making the most out of it when I'm out there."
One of Kansas' biggest challenges in recent games has been finding time for Agbaji to rest. The Big 12's leading scorer with 20.2 points per game, Agbaji is averaging 33.6 minutes — a figure that has grown to 35.5 minutes in Big 12 games.
He played 34:43 on Tuesday against Kansas State, including 6:04 of the final 10 minutes, when Kansas' lead never dipped below 17.
Coleman-Lands has often entered as Agbaji's replacement, but he's not the same type of player. Yesufu and starting point guard Dajuan Harris Jr. aren't, either.
Yesufu, a transfer from Drake, has embraced more point guard duties in the past two games — and played well — with Remy Martin and Bobby Pettiford unavailable because of injuries.
After Tuesday's game, Self began talking about McCormack's performance but stopped. He recognized what the Jayhawks accomplished and acknowledged "it's hard to nitpick too much."
"I'm pleased," Self then said. "We were pretty good tonight. The ball moved offensively and guys definitely stepped up and made shots."