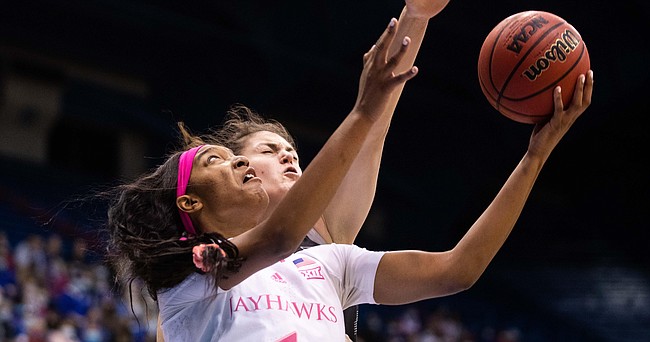 All good things must come to an end.
The Kansas women's basketball team's seven-game winning streak was snapped on Wednesday by No. 9 Iowa State, which held a consistent double-digit lead and won 85-59 at Allen Fieldhouse.
The Jayhawks (19-6, 10-5 Big 12) had not lost since their first matchup of the season against the Cyclones on Jan. 26.
Chandler Prater had 17 points off the bench and Holly Kersgieter had 14 points for Kansas, which has now lost its last 15 games against Iowa State dating to the end of the 2014-15 season.
Ashley Joens had 22 points and Lexi Donarski had 21 for the Cyclones (23-4, 12-3 Big 12), who hammered KU repeatedly from beyond the arc and shot 17-for-34, or 50%, on 3-pointers.
They entered the game ranked second in the nation with 10.6 made 3-pointers per game and third with a 38.3 3-point percentage.
"I thought Iowa State was terrific," coach Brandon Schneider said. "I didn't think we were our best. We got our butt kicked, and that happens."
Whereas Iowa State made 17 attempts from beyond the arc, Kansas went just 17-for-47 from 2-point range. It struggled to finish at the rim, especially in the second quarter, and though it was able to shut down the perimeter shooting in spurts, it wasn't enough.
"It's tough when they have four people out of five who can shoot the 3," Prater said. "Usually, on teams, you'll see one or two snipers, but they have four out of five who you've really got to guard and really got to keep your antennas up. It's tough."
Iowa State claimed a 17-point lead late in the first quarter because of its 3-point shooting, as it went 7-for-11 from beyond the arc in the opening 10 minutes. Joens, in fact, made her first four 3-point attempts, all within the first four and a half minutes, and Kansas didn't make a field goal over the final 6:50 until Kersgieter knocked down a jumper as the buzzer sounded.
Kersgieter's basket, and a pair of hustle plays by Taiyanna Jackson — a block on Beatrice Jordao and a dive for a loose ball that led to a held ball — drew the crowd back into it in the opening minutes of the second quarter.
But the Jayhawks made just one of 10 shots in a nearly six-minute span, and though Iowa State only went 4-for-15 in the period, it held a 38-26 halftime lead.
It didn't take long after halftime for that advantage to blossom. Iowa State embarked upon a 10-2 run over the first three and a half minutes and forced Kansas to call a timeout after Joens knocked down a 3 in transition for a 48-28 lead.
Kersgieter made the Jayhawks' first 3-pointer with 2:35 left in the quarter — they had been 0-for-8 — and she and Chandler Prater each scored six points in the period, but Iowa State pushed the lead to 22 points at 62-40 when Jordao made a left-handed hook shot while unguarded underneath the basket.
Kansas trailed 62-42 entering the fourth quarter, and although it was able to surge early behind a pair of 3-pointers from Prater that trimmed the deficit to 11 at 64-53, Iowa State responded with two of its own. Its lead peaked at 28 points in the closing minutes.
"We played great today," said Iowa State coach Bill Fennelly. "The score is not indicative of how good they are at all."
Ioanna Chatzileonti had 11 points and nine rebounds for the Jayhawks, who shot 31.7% and were outrebounded 44-37.
Jordao and Emily Ryan each scored 10 points for the Cyclones, who shot 46%. They won the first game between the teams 77-62 in Ames, Iowa, on Jan. 26.
KU's seven-game winning streak, which has carried it to the cusp of its first NCAA Tournament selection in nine years, was its longest in conference play since it won seven games to close the 1996-97 regular season. It was seeking to win an eighth consecutive conference game for the first time since the NCAA began sponsoring women's basketball in 1981-82.
The Jayhawks will be in action again Saturday at No. 5 Baylor at 2 p.m. They lost 82-79 in the first meeting on Jan. 16 after leading by four points with less than 14 seconds remaining.