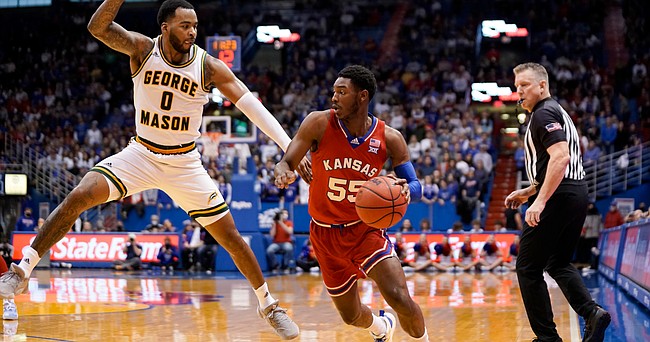 Less than 12 hours earlier, KU basketball player Jalen Coleman-Lands helped hang 102 points on rival Kansas State in Allen Fieldhouse. So, over a late-morning breakfast with teammates, it should come as no surprise that credit is a key topic of conversation.
Credit for that slick pass. Credit for that deep 3. Credit for that monster block.
No, not that type of credit. That credit won't even pay for breakfast.
For that, you had better understand money a little bit. That's why Coleman-Lands gathered about 30 student-athletes from Lawrence and Free State high schools — plus a handful of his own teammates — at the Jayhawk Club on Wednesday morning
"I'm just trying to expose them to financial literacy and what that means to them," Coleman-Lands said.
Yes, Coleman-Lands is talking about actual financial credit, like the type you need to get for a loan or the type that determines how much you have to pay on your credit cards.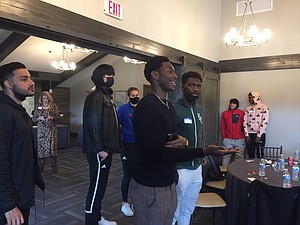 Come to find out, the super-senior who transferred this season to KU from Iowa State talks about it a lot. While hitting about 40% of his 3-pointers and averaging about 4 points a game off the bench for the Jayhawks, Coleman-Lands also has found time to start a financial literacy organization called Athelites House.
If that sounds like a feat to pull off during the middle of a Division 1 basketball season, Coleman-Lands might disagree. This is the second foundation he's created during his career. While at Iowa State last season, he started a nonprofit called FigurePrint.
Athelites House — he spells it that way, presumably, to highlight the "lit" in literacy — is an offshoot of FigurePrint, which focuses on helping families talk about tough topics. Money can be one of those topics, so Coleman-Lands has decided to focus on that subject during his stay in Lawrence.
Coleman-Lands is a believer that everyone needs to have some financial literacy, but he is particularly interested in working with young student-athletes because he can see how they could go through their entire schooling and never pick it up.
"Being in a time-constraining sport, you don't have too much time for anything outside of that sport," he said.
Plus, he thinks having athletes talk about nonathletic topics with young student-athletes might be a good system for helping them learn. That's where several of his current KU teammates, plus athletes from several other KU programs, played a role. Ochai Agbaji, Christian Braun and Jalen Wilson all were at Wednesday morning's event, but it was Coleman-Lands who was doing the teaching.
He moved those three athletes around like a coach on a clipboard. He positioned them at various tables in the banquet room, then had the high school students practice networking skills on the basketball stars.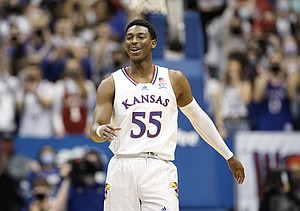 Wednesday's session was the third workshop in the program, which Coleman-Lands began about two months ago. The first couple of sessions involved topics like how to write a check, understanding the different services offered at a bank, and the ins and outs of credit and loans and other such topics.
Wednesday's session, however, was more focused on how to use a network of people to create and seize opportunities. During the exercise, Coleman-Lands was reminding students of concepts like BET — Body language, Eye contact and Tone. Plus, he would tell them to ask a lot of questions because people love to talk about themselves. And, don't forget about the "twins," a word reminder of the importance of finding commonalities between you and the person you are talking to. And, for heaven's sake, leave a number. Make sure they know how to get in touch with you.
Coleman-Lands said he's big on creating systems to help kids learn and doing it in a way that isn't just a lecture. He said the education system may not always be making that connection with kids.
"It is one thing to talk to someone about it, but to walk them through a bank or help them actually open up an account so they have something to show for that knowledge, is different," he said.
Coleman-Lands hopes that Athelites House can create a system to help student-athletes better gain financial literacy. In creating the new organization, he already has formed some partnerships that he hopes will allow the organization to spread. He's partnered with Wichita-based Intrust Bank, plus the Lawrence chamber of commerce, and he said he's working with the Boys and Girls Club.
When asked about what's next for the organization, he gave a response that sounded a lot like the business executive that his resumé suggests he's aiming to become.
"Scale, scale. This is a great turnout. I'm going to continue to build with this cohort, and from this point on, we are going to continue to grow," Coleman-Lands said, mentioning the possibility of taking the program to Topeka, Wichita and perhaps communities much farther away.
Coleman-Lands is in his final year of college basketball eligibility, already playing longer than most because of an extra year of eligibility athletes were given due to COVID disruptions. He's in his sixth season of collegiate basketball, and during that time has earned two degrees and soon will have another from KU. He has an undergraduate degree in marketing from DePaul University, a master's degree in management information systems from Iowa State, and is working to complete a master's in sports management from KU.
How Lawrence factors into Coleman-Lands' future plans is unclear — being on a national championship basketball team probably would create a lot of opportunities locally — but he said doing this type of community-building work would be part of his plans wherever he ends up.
"This is something I'm passionate about," he said. "I've always wanted to impact my community, and doing so locally, I think that is the best way to do that."