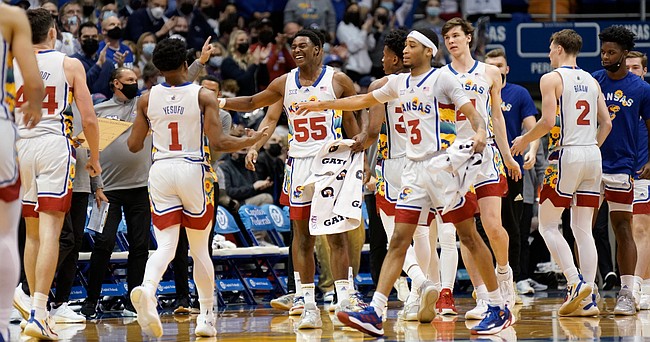 Look at the statistics and they'll show you that No. 5 Kansas is one of the best transition teams in all of college basketball.
The Jayhawks, at 121, rank third nationally in KenPom.com's offensive efficiency rating metric (points scored per 100 possessions) and a huge chunk of that number comes from how often and how successful the Jayhawks score in transition.
Ask the Jayhawks themselves where they rank on the run and they might very well tell you that they're the best team in the country, not just one of the best.
"We just thrive in that," senior guard Ochai Agbaji said after Tuesday's 102-83 win over Kansas State at Allen Fieldhouse. "We love to play that way."
Added KU junior Christian Braun: "We like when teams try to push the pace with us. I don't think any team in the country can play that fast with us. We're a good team in transition, and if teams want to play like that, we'll score 100 points."
Photo Gallery
Kansas basketball v. Kansas State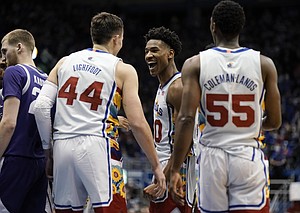 View a gallery of images from Tuesday's Sunflower Showdown between the Kansas Jayhawks and Kansas State Wildcats at Allen Fieldhouse.
That fact was on full display Tuesday night at Allen Fieldhouse, where the Jayhawks ran past a Kansas State team that appeared powerless to stop them.
Not only did the Jayhawks reach the century mark in their latest win in the Sunflower Showdown, but they also shot 64% for the game, scored 1.29 points per possession (their fourth best mark of the season) and broke the game open by turning their defense into offense with the relentless approach you see in some kind of timed layup drill at practice.
While the Jayhawks (23-4 overall, 12-2 Big 12) knew heading into Tuesday's game that they were capable of putting up big numbers in transition, the game turning into a track meet was the last thing they expected.
"Most teams that we play are probably more opportunistic (with) transition," Kansas coach Bill Self said after the victory. "And tonight, K-State wanted to push the issue. I personally think it surprised us, to be honest.
"I've got to give (K-State coach) Bruce (Weber) credit," Self added. "I didn't expect them to come in and say 'We're going to outrun them.' But they did. And there for a while it felt like they could. But then we finally settled in and we shot the ball so well."
While Self acknowledged being surprised by Kansas State's willingness to try to run, he certainly was not disappointed when he saw it.

"It's nice to play a game like that," he said. "Teams that play fast like to play against teams that play fast. … I was just shocked that there were that many possessions in the game."
For years, Self has put the bulk of his emphasis on his team defending others and taking them out of what they want to do. But this group, which is still a work in progress defensively, is clearly stronger on offense.
While that has run counter to what much of the rest of the Big 12 has been about this season — eight of the 10 teams rank in KenPom's top 40 in defensive efficiency and all 10 are in the top 54 — Self has shown the ability to embrace it instead of fighting it.
"I thought we'd always play better if we played fast," Self said Tuesday night. "To be real candid with you, there's been many, many years here where we were one of those teams that tried to slow people down. This is just a year where our offense is better than our defense."
Agbaji, who leads the Big 12 in scoring (20.2 points per game) and is the leader of KU's offensive attack, said
"From the beginning of the season, I think, with the makeup of our team and the speed that we had, we knew that if we got a rebound it would just be an advantage because we run so fast," Agbaji said. "Everyone would fill the corners and run lanes hard. When we do that, that's when we're at our best and really dangerous."
Although the Jayhawks' ability to put pressure on opposing defenses by running as often as possible has contributed to their offensive efficiency rating, it's important to remember that transition points are only part of that equation.
The Jayhawks shot 65% on 2-point shots on Tuesday night, bringing their season total in that department to 56.5%. And that's without a dominant presence inside like Udoka Azubuike, who made shooting 70% for a season seem normal.
When you combine those two factors — killer transition with high efficiency inside the 3-point arc — you find a team like this one, which currently ranks third nationally in offensive efficiency and currently trails only the 2011-12 and 2016-17 teams (both at 121.9) in the Self era.
While the Jayhawks continue to tinker with and fine-tune elements of their offense in hopes of becoming even harder to guard, perhaps the best way to understand just how impressive Tuesday's offensive performance was is to hear from the other side.
"They just kept scoring and kept scoring and putting it on us and we couldn't do anything about it," K-State senior Mike McGuirl said after the loss.
Added Weber: "We had no answers tonight with them. I told our guys after, learn from the best. They are the best right now. They move the ball, they all have advanced their games."