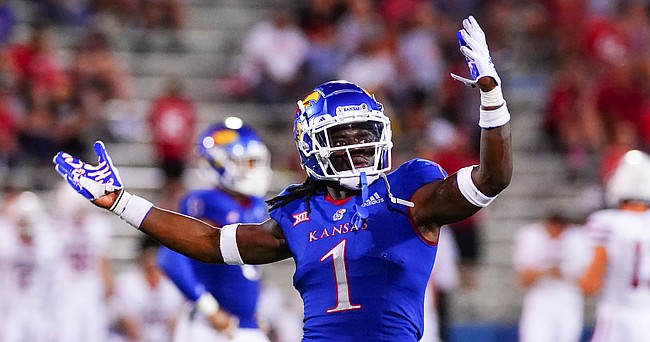 Rich Miller was relentless.
A starting linebacker on the Kansas football team, Miller knew he couldn't let an opportunity pass once a childhood friend of his, Kalon Gervin, decided to transfer from Michigan State.
Miller reached out almost immediately to let Gervin know the Jayhawks needed him. He then stayed in touch for months, offering reminders of their time playing youth football against each other in Detroit and remaining in contact even after Gervin decided on Wisconsin in October.
"I still didn't let up on him," Miller said. "I was like, 'Watch our games and see if this is what you want to do.' Finally did it, got him to take a visit, and it was history after that."
Gervin, a cornerback, flipped his commitment to Kansas in mid-December. In January, he was one of eight transfers to enroll at the university — and one of three whose decision was heavily influenced by a player on the team who had been a friend for years.
Running back Ky Thomas, from Topeka, chose to transfer to KU from Minnesota last month in part to play alongside Lawrence High grad Devin Neal. Middle linebacker Eriq Gilyard, who decided to leave UCF, was sold on the university by safety Kenny Logan, whom he knew from their days growing up on Florida's First Coast.
All three players are expected to assume significant roles for the Jayhawks in the fall. Coach Lance Leipold, entering his second season, said their decisions demonstrate not only that the players he inherited want to be in Lawrence but that they want others to be part of the experience as well.
"It goes to the quality of the young men that we have in our program and knowing what it takes ... and embracing competition, whether it be at your position or whatever, that we need to add to our program and always have to," Leipold said.
Logan, a safety from St. Augustine, used to drive an hour north to Jacksonville with a few friends to watch Gilyard play for Trinity Christian Academy, a high school that has won six state titles in the last 12 years.
Like Gervin, Gilyard decided to transfer early in the season. He made his decision known on Oct. 6 in a social media post that caught Logan's eye.
"I was chillin' one day and then I'd seen it, so I texted him like, 'What's up? What's your plans?'" Logan said. "We just got to talking and I was like, 'Come up here. Come play with us.' It just went from there."
Logan hosted Gilyard, who is a year older than him, during an official visit to Kansas in early December. He mentioned the close friendships he had formed with many players, including the half-dozen on the team also from Florida, and pointed to how competitive the Jayhawks were late in the season. Gilyard committed a week later.
Thomas' recruitment was slightly different. Although he remained at Minnesota through the Guaranteed Rate Bowl on Dec. 28 and shared his decision to leave a week later, he turned to Neal, a former youth football teammate, for help through the process of finding a new home.
The Jayhawks had already received a commitment from one running back — Sevion Morrison, a Tulsa native who had been at Nebraska — but that didn't matter to Neal.
He served as the host for Thomas' visit to Kansas in mid-January, much like Logan did with Gilyard. They rekindled their relationship and spoke about the future, and Thomas was sold. He committed that weekend, with classes set to begin three days later.
"We knew that he was a super-good running back and he played really well last year," Neal said. "It was even cooler to think that when he reached out to me and said, 'I'm seriously considering KU,' it meant a lot to me because I knew I would love to play with him again."
Unlike his teammates, Miller didn't get the chance to show Gervin around KU. He was attending a professional networking opportunity for Big 12 athletes in Dallas the first weekend of December, when Gervin was visiting. That meant teammate Cornell Wheeler, who is from the Detroit area, served as Gervin's host.
But just like he had for months, Miller remained on top of what was happening on campus. That Saturday night, Gervin called Miller to let him know he was on board, then shared his decision on social media a week later.
As someone who also transferred to Kansas — he followed Leipold from Buffalo before last season — Miller knows the adjustments his teammates should face.
But so far, he hasn't seen any.
"I feel like we almost hit the lottery with who we brought in because everybody came in and straight bought in," Miller said. "There's been no questions. Everybody's bought in and you can't even tell they're transfers no more. I don't even look at them like transfers. We're all here together."