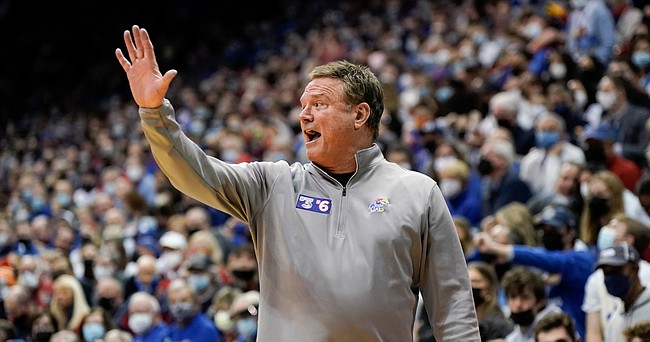 With the 2022 NCAA Tournament roughly three weeks away, Kansas basketball coach Bill Self and Kansas State coach Bruce Weber explained before Tuesday's 102-83 Kansas win at Allen Fieldhouse why they believed the Big 12 Conference was deserving of as many bids as any conference in the country.
"Saying five or six in this league (are deserving of an NCAA Tournament berth) would be penalizing a league that has no bottom feeders," Self said.
He went on to explain that the strength of the Big 12 this season, from top to bottom, along with the conference's double round-robin format, has eliminated so-called easy wins against teams at the bottom of the standings.
Self said that in many conferences, teams at the top and in the middle can all but chalk up five or six easy wins a year because the teams at the bottom have no chance of going to the tournament. That allows those teams to finish at or above .500 in the conference standings, which often leads to a trip to the NCAA Tournament.
"In this deal, West Virginia has a good chance to go to the NCAA Tournament," Self said of the team sitting in last place in the Big 12 entering Tuesday night. "I think you could make a case that 7-11 (in the Big 12) would positively get you in the tournament. 8-10's a lock. 7-11 should be. And if a team has an unbelievable nonconference (schedule) and goes 6-12, you could make a case (that they belong in, too)."
Regardless of how far down the justification goes, Weber said he thought the majority of the Big 12 teams were worthy of a ticket to the Big Dance this season.
"I can't believe we would not get seven teams (in)," he said. "I keep telling our guys if we can find a way to get there I really believe we can have success. I think we belong in the NCAA Tournament. Obviously, we've lost close games. That's our fault. I think we're a good enough team, but we've got to get there."
Both Self and Weber said the quality of the coaches and players in the conference was as good as any in the country. And that, in Self's mind, has created a conference that is a beast when it comes to defense.
"The coaches in this league are superb," Self said. "Across the board, you've got to beat people. They're not going to beat themselves. And then defense travels. We've got eight or 10 teams in our league that could win games by keeping the score under 60 — the first one to 60 wins. And there's a lot of people in America that do not like playing against that style. It always keeps you in the game, but it can also keep the other team in the game. And that's why you have so many close games. It's a great league. It deserves all the credit it receives."
Sunflower swag
Tuesday's game featured the Jayhawks wearing a specially designed, sunflower-clad uniform to honor the late LaVannes C. Squires, the first Black player to suit up for the Kansas basketball team from 1951-54.
The alternate uniforms were part of an Adidas initiative to honor Black Excellence.
White with blue Kansas letters and red numbers, they featured a heavy dose of sunflowers protruding from the letters on the front and down the sides of both the jersey and the shorts.
Photo Gallery
Kansas basketball v. Kansas State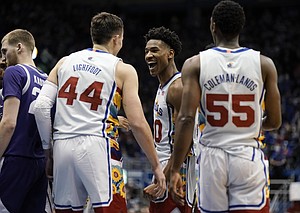 View a gallery of images from Tuesday's Sunflower Showdown between the Kansas Jayhawks and Kansas State Wildcats at Allen Fieldhouse.
"Without you, there's no us," said KU super-senior Jalen Coleman-Lands in a pregame video unveiling the uniforms on KU's social media channels. "Thank you for paving the way and laying the foundation. From the past to the present, on behalf of KU basketball, thank you. This is for you, LaVannes."
Several members of Squires' family were honored Tuesday in an on-court recognition. They included: daughter, La Tanya Squires, niece Gwen Squires, mentee Goulade Farrah and great nephew Joshua Smiley.
Asked about honoring Squires on his "Hawk Talk" radio show on Monday night, Self said: "LaVannes Squires is important to the history of this program. Primarily, he paved the way. He opened the doors for many to follow. If you look big picture, he's important to the history of college basketball because if he hadn't come here I doubt that Wilt (Chamberlain) would have ever come here. We're very proud to have LaVannes' family here because the sacrifices that people make for the good of others should always be noted and respected."
For the second time this season, both teams honored the players who broke the color barrier at their respective schools during the 1951-52 season by wearing warm-up shirts featuring the names Squires and Wilson on the backs. Like Squires at Kansas, Gene Wilson was the first Black player to suit up for the Wildcats during the 1951-52 season.
In addition to the shirts and the special uniform, coaches from both programs wore patches with the jersey numbers (3 for Wilson and 6 for Squires) on their game-night gear on Tuesday.
Academic honors
A record seven Jayhawks were named to the Academic All-Big 12 team on Tuesday, with five landing on the first team for 2022.
Senior David McCormack (communication studies), juniors Christian Braun (communication studies) and Michael Jankovich (finance) and redshirt-sophomores Dajuan Harris Jr. (liberal arts and sciences) and Jalen Wilson (communication studies) all earned first team recognition. Seniors Ochai Agbaji (communication studies) and Chris Teahan (liberal arts and sciences) landed on the second team.
McCormack was a first-team selection for the third consecutive season, while Agbaji, Braun, Harris, Teahan and Wilson made the squad for the second year in a row and Jankovich for the first time.
In all, this year's Academic All-Big 12 men's basketball team included 32 players. Nineteen received first-team honors (3.2 grade-point average or better) and 13 were second-team picks, with a GPA between 3.0 and 3.19.
Coaches talk Juwan Howard
Coaches across the country have responded this week to the postgame fracas involving Michigan coach Juwan Howard that led to Howard being suspended for the rest of the regular season after striking a Wisconsin assistant coach.
"It was bad," Self said when asked about the incident this week. "Hated seeing it. It's very unfortunate. The problem is a lot of players are going to be involved with something that had nothing to do (with) between the lines. It's unfortunate. I know everybody could wish they could hit the replay button on that."
Added Weber: "For our game, it's disappointing. It's not good for anybody. I feel bad for everyone involved and for our game."
This and that…
Tuesday's win gave Kansas its 23rd win of the season, marking the 32nd time in the last 33 seasons — dating back to 1989-90 — that KU has reached the 23-win mark… KU now has reached 12 conference wins for the 22nd consecutive season… The Jayhawks now lead the all-time series with their in-state rivals, 203-94. That's the most wins in NCAA Division I history by any team over a single opponent… The Jayhawks are now 93-35 all-time against K-State in games played in Lawrence, including 52-18 at Allen Fieldhouse… The Jayhawks are now 13-1 at Allen Fieldhouse this season, with the only loss coming to Kentucky… Kansas coach Bill Self is now 39-6 all-time against Kansas State.