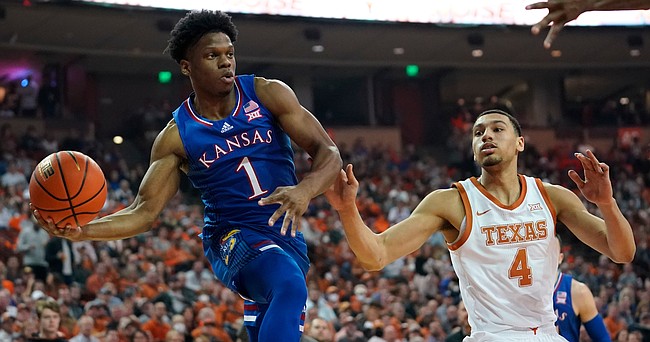 Joe Yesufu was quick to put into perspective the weight of what it's like to be a point guard at Kansas.
"It's a big responsibility," the sophomore said Monday. "Guys before like Frank Mason, Sherron Collins, all those guys — you have to live up to that or you have to try to be better. The point guard spot over here is real tough."
Yesufu's list could easily also include Kirk Hinrich, Jacque Vaughn and Mario Chalmers, but until the last few weeks, that lineage wasn't something Yesufu had to consider.
Yet with starting point guard Dajuan Harris Jr., a redshirt sophomore, needing to play fewer minutes to keep him fresh, and super senior Remy Martin and freshman Bobby Pettiford still managing injuries, Yesufu has increasingly been filling that role.
He played 12:39 off the bench in the 71-58 victory at West Virginia on Saturday, including 6:30 when he wasn't sharing the court with Harris, and finished with four points, two assists and one rebound.
Yesufu's primary responsibility for much of the season has been as an athletic perimeter defender who can provide shooting and athleticism off the bench.
He'll be counted upon to do that again during Tuesday's game against Kansas State at Allen Fieldhouse — and he'll have to capably replace Harris as well.
"Running point, I've been doing that my whole life," said Yesufu, who transferred from Drake to Kansas after last season. "I just haven't done it here much. Just put me in that situation a few times and I start to get a hang of it. It's muscle memory."
Yesufu had a bit of a breakthrough performance in the Jayhawks' 70-61 victory at Iowa State on Feb. 1, when he played a season-high 22:32 in Ochai Agbaji's absence and scored seven points, including a pair of crucial late 3-pointers. Afterward, he spoke often about how he believed the performance would boost his confidence.
In the five games since, Yesufu, who had played intermittently earlier in the season, has been one of coach Bill Self's top options off the bench. Yesufu scored eight points in 14 minutes off the bench in a loss to then-No. 20 Texas on Feb. 7, then played another 22 minutes in the win against Oklahoma State on Feb. 14.
Self said Yesufu's greatest challenge when running the offense is, well, running the offense, but that can be understood.
"Whenever Joe is not thinking, he's a pretty athletic and pretty effective player," Self said. "Whenever he's got to think, 'OK, now where do I go? What do I do? How do I set this up?' when 90 percent of the year he's practiced being off the ball, I think he wants to do right so bad that he doesn't want to screw up and I think he kind of gets locked up a little bit and it doesn't allow him to be himself. ...
"Our offense isn't so complicated that it's really hard to remember or things like that, but sometimes, the plays can be. Maybe (we) don't run as many plays, things like that. But that's in no way a knock to him. He's being asked to do something that he hasn't practiced."
Yesufu has, for much of the season, been the Jayhawks' fourth point guard, which means he has had a better shot of earning minutes when playing off the ball.
But Martin's return from a bone bruise in his right knee is uncertain — he hasn't played since the Jan. 29 loss to Kentucky, though we practiced in a limited fashion late last week — and Pettiford is continuing to experience discomfort related to an abdominal injury that cost him nearly a month earlier this season.
The timing of Yesufu's emergence may be beneficial for Kansas. He caught the coaches' attention nearly a year ago after he averaged 23.5 points while playing nearly every minute of Drake's two-game NCAA Tournament run.
Being the Jayhawks' point guard, even in limited minutes, doesn't seem like something he can't handle.
"I have to be ready for the situation," Yesufu said. "Next man up."