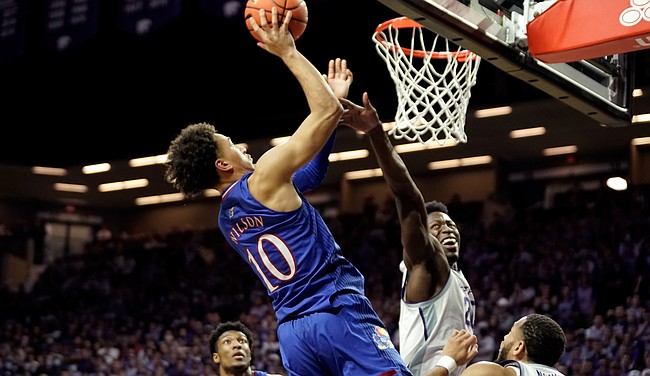 No. 5 Kansas Jayhawks (22-4 overall, 11-2 Big 12) vs. Kansas State Wildcats (14-12 overall, 6-8 Big 12)
Time: 8 p.m., Tuesday, Feb. 22, 2022
Location: Allen Fieldhouse, Lawrence, Kansas
TV: ESPN
Radio: IMG Jayhawk Radio Network
Keys for Kansas
1. Put the clamps on Pack
The Jayhawks all remember clearly how hot Kansas State guard Nijel Pack was in the first half of the first meeting between the Jayhawks and Wildcats.
The 6-foot sophomore from Indianapolis scored 22 of his game-high 35 points in the first half, connecting on six first-half 3-pointers, with many of them coming on wide-open looks.
"That will be an emphasis, to take away as many looks off the catch," Self said of allowing Pack to shoot rhythm jumpers.
Added KU sophomore Joe Yesufu: "Ball screens. We couldn't defend ball screens that well that game. It was easy (for them) to get to their spots. We just made them really comfortable, and then when they got comfortable, they believed they could win."
It's not just as simple as trying to fix that one thing, though. Anytime teams emphasize guarding the perimeter, especially against smaller, quicker guards, that opens up the potential for them to blow by defenders with the dribble.
"If they touch the paint, that opens everybody else up," Self said Monday. "We just have to guard a lot better."
As strange as it might sound, with Kansas having two likely all-Big 12 first-teamers in its backcourt, Kansas State coach Bruce Weber said he was hoping that this game would be decided by guard play.
"I hope that's a factor in the game," he said. "We had the special half against them at home. Nijel was magical."
2. Dominate the glass
Weber remembers all too well how big the Jayhawks' advantage on the glass was in KU's first meeting with the Wildcats.
"That was the difference in the game, obviously," Weber said Monday when looking ahead to Tuesday's rematch. "They just punked us on the glass last time."
The final numbers showed KU out-rebounding K-State 45-23 in that one. But it was the Jayhawks' 18-7 advantage on the offensive glass that really stood out. The reason? KU senior David McCormack recorded eight of those offensive boards in a game which he finished with 15 overall.
"It's unbelievable," Weber recalled of McCormack's production back in January. "I don't know if I've ever seen anyone get eight in a game. He's one of the best in the country at getting offensive rebounds."
Asked Monday where this Kansas team ranked on the list of his top rebounding squads, he said he would not call it one of the best KU's ever had.
"But, I don't know that there's been a lot of teams that's out-rebounded their opponents (20 of 26) games," Self said. "We've looked pretty good rebounding the ball, except when we've lost."
The Jayhawks are 20-0 this season when they win the rebounding battle and 2-4 when they don't. Putting that into perspective, KU is now 409-50 all-time under Self when it out-rebounds the opponent.
So clearly that statistic has been big for the Jayhawks over the years. But in a matchup like this one, against a smaller Kansas State squad, it can — and has been — the biggest difference between winning and losing.
Per KenPom.com, the Jayhawks rank 21st nationally in offensive rebounding percentage (34.6%) and the Wildcats rank 202nd in preventing offensive rebounds and even worse (234th) in getting them.
3. Transition times three
Here's the thing about this KU team's transition offense, particularly as it relates to the matchup with K-State: It's a major strength for the Jayhawks in any game; it wreaked havoc on the Wildcats in Manhattan and, when unleashed at Allen Fieldhouse, it can be devastating to opponents.
The Jayhawks love that. Weber is aware of it. And he's made finding a way to survive it a major point of emphasis for the Wildcats this week.
"I think the biggest thing is keeping them out of transition," Weber said Monday, adding that the Wildcats would prefer for this one to be played in the 60s.
As for the specifics of what a Kansas team on the run can do to its opponents, Weber and his Wildcat teams have seen it far too often. Weber, who owns a 3-21 all-time record against Kansas, has never won at Allen Fieldhouse. But he has been in close games there. And he believes a few of them have had a common theme.
"It's a fine line," he said. "You have to have discipline but you also have to play fearless. If you start getting tight, the crowd gets going, they'll get steals, deflections, they'll get transition, lob dunks and then it gets louder."
The Jayhawks thrive off of that energy and they view it as their responsibility to give the home crowd a reason to roar.
Jayhawk Pulse
While the Jayhawks are playing to position themselves to take home another conference title, the Wildcats are playing for their lives.
After last Saturday's overtime loss to Oklahoma State, K-State coach Bruce Weber said he hoped like heck the Wildcats can find a way to get into the NCAA Tournament because he believes they can make some noise if they get there.
The K-State resume has a handful of quality wins but it also includes a couple of bad losses. Nothing would help KSU's case more than winning on the road at a top-five program.
That, of course, is easier said than done, this year and every year.
"I think K-State should be on the inside of the (NCAA Tournament) bubble," Self said Monday. "I know if they're successful tomorrow night they will be solidly in the field. This will be a huge game for them, just as it is for us. So it should be a very competitive, high-energy game."
Kansas owns a 202-94 all-time edge in the Sunflower Showdown. The Jayhawks have won six straight over K-State and 14 of the last 15 matchups.
No matter who's on the roster, the Jayhawks tend to always make this one about representing Kansas fans everywhere and winning for Jayhawk fans across the state. But with this potentially being the last game in a six-year run of rivalry games for KU senior Mitch Lightfoot, this one will mean a little more than normal for at least one current KU player.
"It's been incredible," Lightfoot said of his time in the Sunflower State rivalry. "It's been six years of it and I've played a bunch of games against them and enjoyed every single one."
Asked for his favorite memory in the series, Lightfoot said his favorite game against K-State was a 73-72 home win over the Wildcats in 2018. He also gave a nod to a two-point KU win at home one year earlier by saying simply, "Svi didn't travel either. That's a good one. That's a really good one."
That, of course, was a reference to former Jayhawk Svi Mykhailiuk's driving layup at the buzzer to win in 2017.
Self, KU's upperclassmen and the Kansas coaching staff will use those moments, and countless others, to explain to KU's newcomers why this one is so important.
"We'll do our best to do everything we can to get them fired up and talk about the rivalry," Self said. "But the reason they'll play so hard isn't because of the rivalry. The reason they'll play hard is because they know that they're dangerous and they know that we've got to play them to get to the finish line.
"We know that they could have very easily won the first game — maybe should have — so that has our attention even before you talk about the rivalry."
Probable Starters
No. 5 Kansas
G – Dajuan Harris Jr., 6-1, 180, Soph.
G – Ochai Agbaji, 6-5, 210, Sr.
G – Christian Braun, 6-7, 205, Jr.
F – Jalen Wilson, 6-8, 225, Soph.
F – David McCormack, 6-10, 265, Sr.
Kansas State Wildcats
G – Nijel Pack, 6-0, 180, Soph.
G – Markquis Nowell, 5-8, 160, Jr.
G – Mike McGuirl, 6-3, 200, Sr.
G – Mark Smith, 6-4, 225, Sr.
C – Davion Bradford, 7-0, 270, Soph.